8 Things You Need to Know About Honolulu's White Fairy Tern
White fairy terns are so much more than just our cute feathered friends.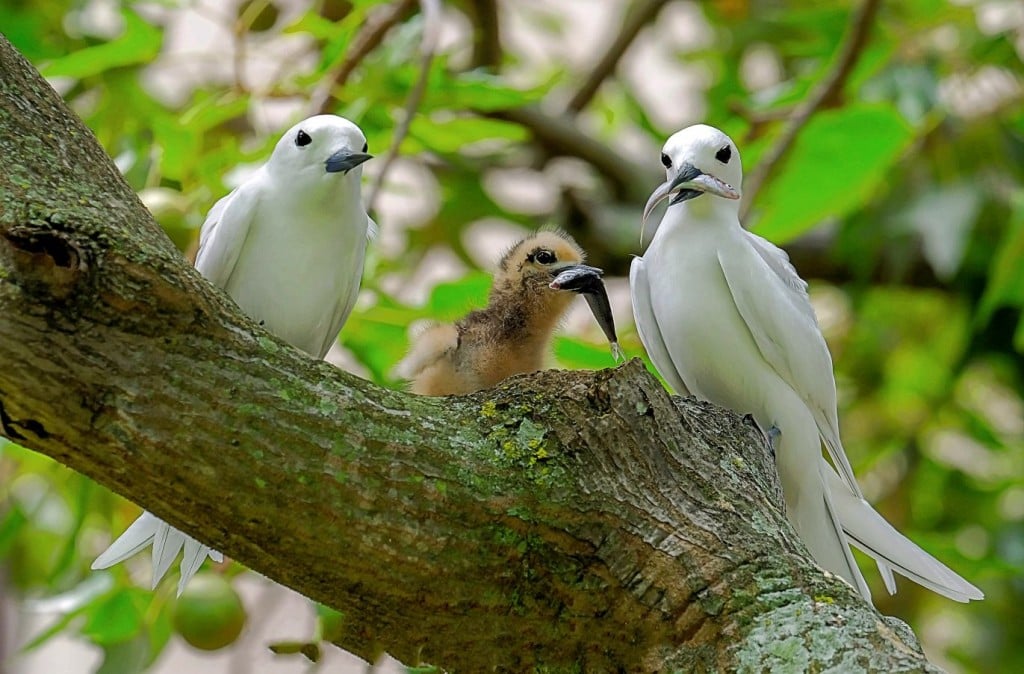 Have you seen them fluttering around Honolulu's busy streets? White as snow, Honolulu's white fairy terns are a common sight. But these birds are more than just adorable avians with pale feathers, dark black eyes and really cute chicks. They're connected to Hawaii's history and culture, and have become icons of adoration for many of the city's residents and visitors. Below you can learn more about what makes the white fairy tern so special.
1. City slickers
Although white fairy terns can be found throughout the Northwestern Hawaiian Islands—small atolls and uninhabited islands—the only main Hawaiian island these birds can be found on is Oahu. And instead of deciding to nest in the calmer, more tropical parts of Oahu, the white fairy tern rests its wings along the busy streets of Honolulu, from Niu Valley to Sand Island.
2. Local celebrities
Since the white fairy tern has decided to call Honolulu its home, Mayor Mufi Hannemann designated it as the official bird of the City and County of Honolulu in 2007. There's even a free-to-the-public annual summer festival, the Manu O Ku Festival, which highlights the bird and teaches the community about it through games and interactive workshops.
3. The Bird of Ku
Although the white fairy tern is often called just that, the bird has another name in olelo Hawaii (Hawaiian language), manu-o-Ku, which translates to "the bird of Ku." In Hawaiian mythology, Ku is one of the four great gods and is worshipped as the god of war.
4. Birds of a feather flock together
Certain individuals love the manu-o-Ku so much that they've started conservation groups, such as the Hui Manu-o-Ku, which describes itself as "a group of dedicated conservationists and citizens who have come together to observe, protect and raise awareness about manu-o-Ku." Another prominent group is Na Hoaloha o ka Manu-o-Ku (The Friends of the White Fairy Tern), where you can find hundreds of photos of the bird on its ever-updated Facebook feed.
5. Land ho!
Although seeing a white fairy tern now may just cause folks to take out their phones and start snapping photos, sighting a manu-o-Ku had a very different meaning for old-time Hawaiian navigators. Traditional seafarers would use the bird's direction of flight–as well as the time of day–to help them navigate toward land, as the white fairy tern will fly out to sea in the morning to feed and then return to land at night.
6. Seafood diet
Like seafood? Well, the white fairy tern loves it, and forages in inshore and offshore waters for small fish and squid. The next time you see a manu-o-Ku, try looking closely and you might see it carrying some aquatic prey in its beak. This is because adult white fairy terns will often catch multiple fish or squid to bring to their chicks.
7. Their chicks are so cute
Seriously. Look at these little puffballs. After about 45 days, the chick will be old enough to fly, however, it will still stay near its home tree as it expands its range of flight.
8. Here's how you can help
If you want to get involved with conservation efforts for the white fairy tern, Hui Manu-o-Ku has great resources on how to help. Through its website, you can report unmarked nesting trees and submit nest observations after reading the organization's volunteer training packet.