Hawaii Has the Only Anna Miller's in the U.S. and Its Pies are Still Amazing
This throwback diner in Aiea, Oahu, which opened in 1973, is one of the last links remaining in the California chain.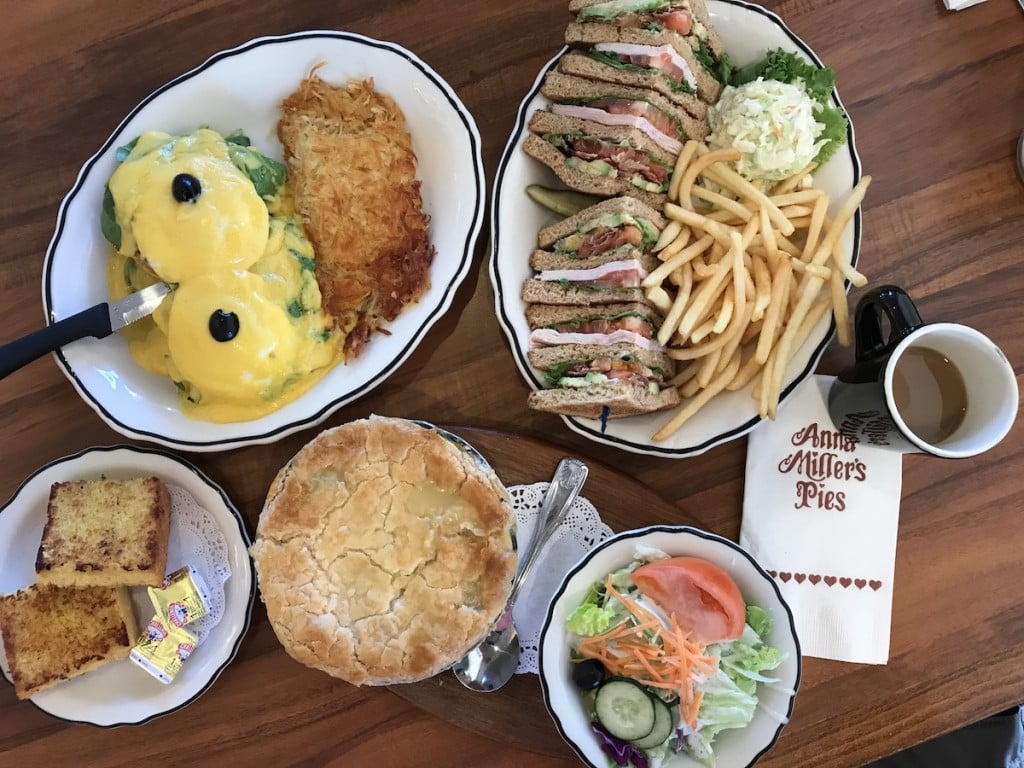 Growing up on Oahu, there are few places that I would frequent as a kid that are still around. There's no more Castle Park in Pearl City, Kanda Lunchwagon at Kewalo Basin is closed, and I'll never see a movie again in a theater in Waikiki.
But a favorite restaurant of mine growing up was Anna Miller's, one of oldest tenants of Pearlridge Center in Aiea, about 12 miles west of Waikiki. The circular diner had always reminded me of a UFO, and its pies—the bakery whips up about 30 different ones—are still definitely out of this world.
Founded by Stanley Miller, Anna Miller's first opened in Northern California in the late 1960s. (He named the restaurant after his grandmother.) Miller opened five more on the Mainland, then decided to start one in Hawaii in 1973. In total, there were 10 Anna Miller's restaurants in its heyday; today, in the U.S., only the Hawaii location remains. (There's an Anna Miller's Restaurant and Bakery in Shinagawa, Japan, that opened in 1983.)
View this post on Instagram
Not much has changed with the 24-hour restaurant since it opened (including the maid-style uniforms the waitresses wear that, believe it or not, inspired a whole sect of cosplay in Japan). The menu still boasts a huge selection of diner-style dishes, from a pastrami Reuben with sauerkraut and Swiss cheese ($13.29) to eggs Florentine with turkey and fresh spinach topped with two poached eggs and Hollandaise sauce ($13.99). There are local favorites, too, including the loco moco with grilled onions ($13.99), teriyaki burger with lettuce and tomatoes ($12.99) and saimin with your choice of Spam, ham or shrimp ($6.99). And there aren't too many places anymore that serve such old-fashioned dishes like chicken pot pie stuffed with chunks of chicken and veggies in a rich cream sauce ($13.99) and shrimp Louie salad with bay shrimp on a bed of mixed greens with tomatoes, sliced hard-boiled eggs and cucumbers ($9.99).
But what I remember most—and the reason I still go back—are the restaurant's Pennsylvania Dutch pies, baked fresh daily. The menu boasts more than 30 different fruit, cream, specialty and seasonal pies. The most popular are the banana cream, haupia-chocolate, lemon meringue, custard and Dutch apple. In season—which is now, March through October—the fresh strawberry pies are the restaurant's top seller. During the holidays, Anna Miller's bakes mincemeat pie—one of the few (if not only) places on the island to get this savory British pie.
"It really makes a difference that all of our pies are baked fresh every day," says Wade Hashizume, the restaurant manager who has worked at Anna Miller's since 1976, starting as a baker. "That's the big thing."
And it's one of the reasons I still go there after all these years.
Anna Miller's, Pearlridge Center, 98-115 Kaonohi St., Aiea, Oahu, (808) 487-2421, annamillersrestaurant.com