8 Tips for Planning a Maui Destination Wedding
Aim for the off seasons, send out your invitations early and please, please wear sunscreen.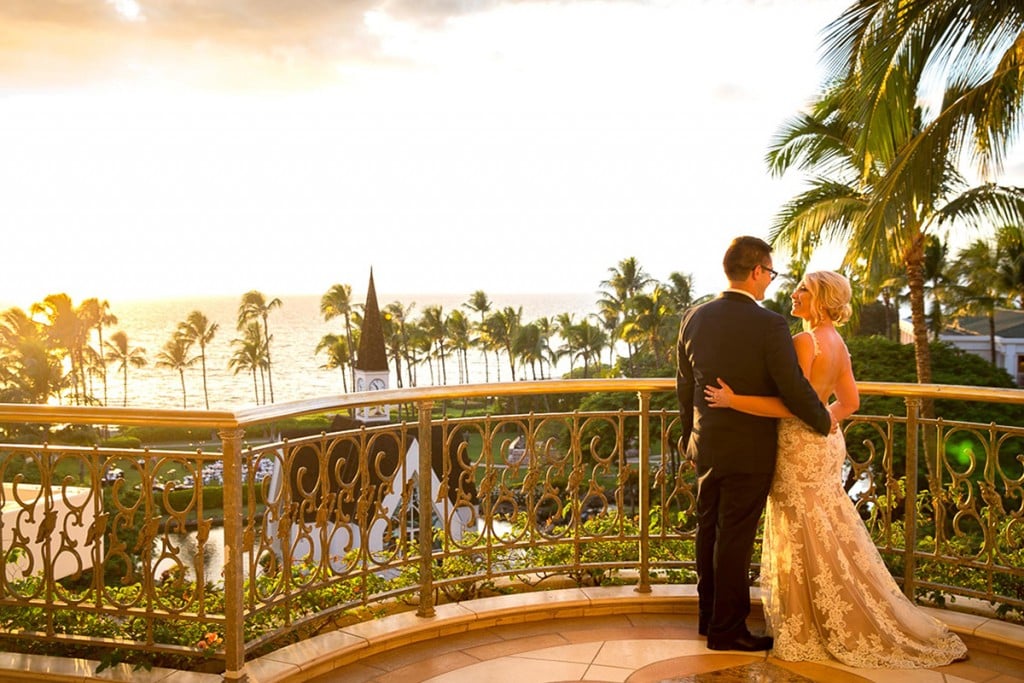 Planning a wedding yourself is difficult enough, but a destination wedding to a tropical island such as Maui? Oh boy. If you're set on doing it yourself, knowledge is power, and Simple Maui Wedding, which handles everything from location planning to getting beach permits, knows its stuff. Here are some tips from this Maui-based wedding planning team on how you can make your dream destination wedding a reality.
1. Set a Budget
When it comes to destination weddings, there's a huge range of prices, depending on what you're looking for. A smaller, more intimate wedding on the beach may only cost a few thousand dollars, while a grander wedding at a venue with a high guest count can easily reach $20,000. Be sure to give your budget a little extra wiggle room, as destination weddings, in particular, are full of extra expenses including travel costs, hotel room rentals and meals and activities for your guests.
2. Give Your Guests Plenty of Time
Don't sit on those wedding invitations; mail them out as early as possible. Simple Maui Wedding recommends sending invites in the mail an entire year before the wedding at the earliest, nine months at the latest. Asking your friends and family to fly all the way to Maui is a tall order, and they'll need time to see if the trip fits into their schedules and budgets.
3. Find Ways to Save
The perfect Maui wedding doesn't have to break the bank. Just like planning a vacation, there are plenty of small cost-cutting maneuvers you can implement to make sure your wallet is as happy as you are on that special day. Beach weddings, for example, will significantly cut down your overall wedding cost; however, your guest count must be 30 or below to obtain a permit (more on that later). Another tip is to have your reception at a restaurant instead of renting out a venue and having to spend on catering and seating. (FYI: Tent rentals aren't cheap.)
4. Aim for the Off Seasons
One of the best things about getting married on Maui is that there is no bad season in regard to weather. Winter looks just like fall, and although hurricanes and tropical storms are more common from June through December, most of the time it's blue skies and sunshine. That means you can avoid planning your wedding during peak travel seasons—summer and winter—and aim for either spring or fall. This will save you—and your guests—from paying a premium for airfare and accommodations.
5. Go Local
Hiring your own wedding vendors sounds great, but Simple Maui Wedding suggests that it's best to go local. Although you likely won't be able to vet them in-person, a local Maui vendor will know how to deal with the unique problems that can arise when getting married on a tropical island. An off-island photographer may not know how to work with Maui's lighting, and a Mainland makeup artist could have trouble dealing with the hot and humid weather. Local vendors on the other hand deal with these challenges on a daily basis and are well-equipped to make sure everything goes as smoothly as possible. And since they're on-island, you won't have to pay to fly them in.
6. Plan ahead for beach weddings
Getting married at the beach sounds easy, but like everything involved with wedding planning, there are a lot of factors to account for. Here's the lowdown: Don't do midafternoon ceremonies; it'll be extremely hot and sunny and you'll probably have to hand out sunscreen to guests. Aim for early morning or, better yet, late afternoon, so you and your party can catch that spectacular Maui sunset. In terms of location, Wailea has some of the island's best beaches. It's also considered one of the drier areas on Maui, so you can fret a little less about the possibility of rain. Of course, you'll also need a permit to get married on the sand, and that can be difficult to obtain on your own. You'll have to go through DLNR's application process while also getting private event insurance directly from the state.
Maui has a number of oceanfront resorts that can accommodate any kind of beach wedding—and some, including the luxe Grand Wailea Maui, a Waldorf Astoria Resort, offer the option to exchange vows with your toes in the sand at stunning Wailea Beach. (It's one of three distinct venues the resort offers.) The resort also offers guests enrolled in its Hilton Honors program a chance to rack in thousands of Honors points with its Wedding Room Block offer. Reserving 10 to 14 rooms will get you 30,000 Honors Points, 15 to 19 rooms awards 50,000 Honors points and 20 rooms or more will bring in a whopping 70,000 Honors points, all of which can be used on future Hilton reservations. (Honeymoon, perhaps?) You and your guests can also stay next door at the Hoolei at Grand Wailea, a collection of luxury two-story, three-bedroom townhomes each with a full chef's kitchen, private elevator and garage, and spacious private lanai (balconies) with views of Maui's gorgeous sunsets. It'll feel like home—only better.
7. Wear Plenty of Sunscreen
It's hard not to spend every waking hour on Maui outdoors, in the sun. That's what you do on vacation! If you do decide to spend plenty of time outside, wear sunscreen and reapply every 90 minutes. If you don't, you might end up saying "I do" with a massive, lobster-red sunburn, which is a funny story to tell your kids 30 years later, but not a great experience in the moment.
8. Consider Hiring a Wedding Planner
This is a once-in-a-lifetime event, so do you really want to be stressing about catering or flowers on your special day? If you hire a reputable wedding planner like Simple Maui Wedding, which works with vetted wedding vendors, you can walk down the aisle—or through the sand—without any worries. The Grand Wailea, a Waldorf Astoria Resort also makes it easy for couples with its thoughtfully designed wedding packages and having the Hoolei at Grand Wailea villas right next door means you won't have to walk far to get your wedding night started.