9 Ways Every Visitor Can Travel Green in Hawaiʻi
There are plenty of ways travelers to Hawaiʻi—or anywhere—can promote sustainability and eco-conscious living, Earth Day or not.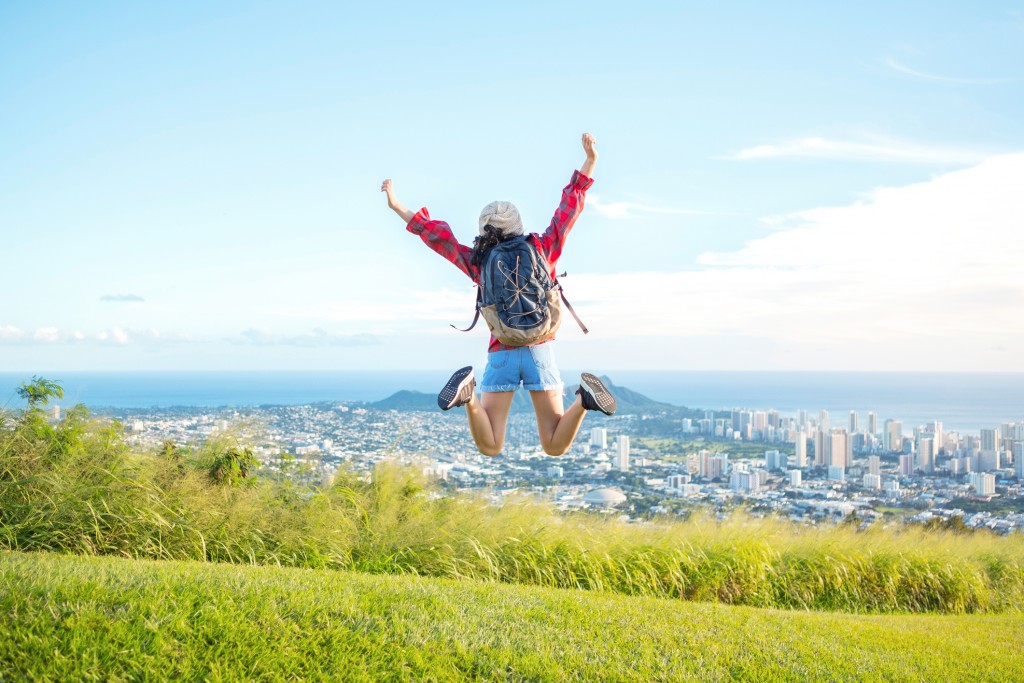 There are no two ways about it, traveling is an environmentally taxing process. From plane rides to eating out for almost every meal, going on vacation can create a lot of waste, affecting local pollution levels as well as reinforcing the world's waste problem at large. Fortunately, there are a number of ways that visitors can offset their carbon footprint and travel "green," or with the ecosystem in mind. So if you'd like to mālama 'āina, which in the Hawaiian language means to care for the land, here are a few ways you can help keep Hawaiʻi beautiful on this Earth Day—or any day.
1. Bring a (Reusable) Bag
Whether you're off to the beach, headed on a hike or just going for a walk, bring a reusable bag with you. Not only can this act as a trash bag for any waste you make, but it's also a great place to put trash you find out in public. Lei-Ann Field of the Hawai'i Visitors & Convention Bureau also recommends emptying your bag in the waste disposal area of wherever you are staying, instead of filling up public trashcans that could overflow.
2. Plant a Tree
To help offset the large amount of carbon emission that it takes to get to Hawaiʻi, think about planting a tree during your visit. Of course, you can't just go out to Kapiʻolani Park and plant one—but you can work with certain conservancy groups on island, like Gunstock Ranch on Oʻahu's North Shore (above), to help make Hawaiʻi even greener.
3. Malama Hawaiʻi—and Save Some Money
Mālama Hawaiʻi, a new voluntourism program made up of a partnership with the Hawaiʻi Tourism Authority, conservations groups and hotels from across the state now offer visitors the chance to mālama the ʻāina and score deals at participating hotels. These voluntourism opportunities come in the form of a beach cleanup, an afternoon maintaining a fishpond or weeding at a botanical garden.
4. Use the Right Kind of Sunscreen
In 2021, Hawaiʻi became the first state in the nation to ban the sale of reef-damaging sunscreens, specifically those that contain oxybenzone and octinoxate, two chemicals that have been scientifically proven to induce coral bleaching, harm and even kill young coral larvae. Of course, you can still bring your own sunscreen into Hawaiʻi, but if you do, be sure to check its ingredient list and make sure it won't harm the coral reefs that support our underwater ecosystem.
5. BYOU (Bring Your Own Utensils)
A sneaky polluter, disposable utensils may seem harmless, but create tons of waste and can end up in our oceans and on our beaches. So cut out the middle man by just bringing your own utensils!
6. Hike Responsibly
To prevent the spread of invasive species and protect native wildlife, only hike on marked trails—those with signage by the city or state, recommends Field. You can go a step further by brushing off your shoes before entering and exiting a hike, which also helps prevent transporting invasive species from one hiking area to another.
7. Immerse Yourself in the Community through Voluntourism Programs
"Volunteering can introduce you to local folks that you would never have had the opportunity to meet," says Keone Kealoha, executive director of Kanu Hawaiʻi, a local nonprofit that provides tools and opportunities for people to connect with volunteering opportunities. "These potential friendships and memories can even become a defining point of your visit."
8. Eat (and Shop) Local
Whenever you travel, buy local products and eat at restaurants that support local farms and food producers. Not only will these goods be unique and the food super fresh, you will be supporting the local community. Plus, buying products that have been flown or shipped into the Islands increases their carbon footprint.
9. Travel with Aloha
Sometimes, the best thing you can do when looking to travel green is just being aware, and traveling with aloha. That means picking up your trash, opting for a Biki or walk instead of driving, buying local, not standing on the reef, staying away from endangered wildlife like turtles and monk seals. Yes, it is a lot to think about, but if you can question your choices, even those that seem insignificant, you could make a world of difference and promote change in not only yourself but in others as well.