A hike into Molokai's lush Halawa Valley to its 250-foot Moaula Falls
The guided hike with Mystical Molokai reveals an Eden rich with early Hawaiian history and idyllic natural wonder.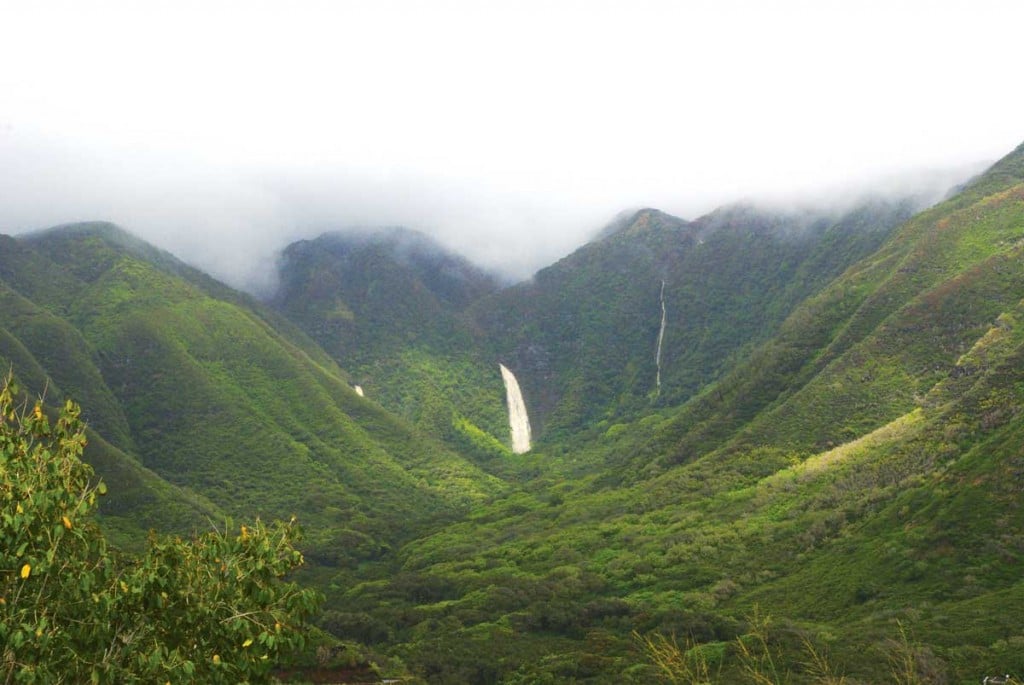 There's an alluring scent unique to the Windward Sides of all the Hawaiian Islands and Halawa Valley, on Molokai's east side, is rich with it. The scent—a marriage of fragrant flowers, humid air and damp jungle—permeates just about everything in the valley.
I breathe deep as we begin ascending the hiking trail to 250-foot Moaula Falls, a double-tiered cascade roughly 4 miles in from the sheltered cove of Halawa Valley's half-mile-wide, ocean-fronting mouth. Navigating through an ever-thickening forest of trees blanketed by drops of spring rain, I relinquish all thoughts of the outside world. There's no cellphone reception here, no roads, no earmarks of modern humanity. Lengthy rock walls constructed by hand, stone by stone, generations ago weave around us like tentacles as we move deeper into Halawa.
Molokai's most beautiful valley is a lot like the little-visited island itself. It is calm. It is quiet. It is nature as unblemished and untrammeled as it gets in the Islands. To many who have walked its lush interiors, Halawa Valley is Molokai.
Halawa is the largest and most cathedral-like of four windward valleys carved into the famously majestic sea cliffs of Molokai's rugged north side. Our arrival on the valley floor followed a slow descent down a steep, winding access road with our guide, Eddie Tanaka Jr., whom we'd picked up 20 minutes earlier at his home, as his business card offers.
A 30-minute drive east from Kaunakakai, Molokai's main town, took us past early Hawaiian fishponds, simple homes on secluded beaches, unique rock outcrops and views of Molokai's neighbors—Lanai and Maui—on the way to Tanaka's home.
A well-regarded one-man outfitter operating under the business name Mystical Molokai, Tanaka's guiding prowess is his day job. A musician, too, Tanaka's debut album (which shares the name of his tour business) was in the running for a 2012 Na Hoku Hanohano Hawaiian music award when we met.
Land in Halawa is privately owned, requiring an approved guide, such as Tanaka, to accompany visitors along the low-impact adventure to back-of-the-valley Moaula Falls. Local lore says that anyone wishing to swim in the pool at the bottom of the waterfall must first place a ki (ti) leaf in the water. If it sinks, you shouldn't swim. If it floats, you're good to go.
We won't be swimming today. Due to recent heavy spring rains, dark water pours furiously down the falls, still in the distance. On the trail, we weave through dewy native plants, sacred shrines and former home sites while Tanaka delves into the valley's history.
"Halawa was a flourishing community of taro farmers until the tsunami of 1946," says Tanaka, of a massive wave generated by an earthquake in Alaska's Aleutian Islands that devastated Hawaii's north- and east-facing coastlines. "No stores. No money. They grew their own food. When taro got wiped out, Hawaiians had to leave the valley and life changed."
Only a handful of families still live in Halawa Valley.
Continuing deeper in, I notice changes in the flora. Medicinal noni trees dominate at first, before giving way to kukui groves and, finally, a field of sacred ki plants. Tracing the banks of Halawa's main stream, we pass burial grounds marked by moss-covered rock walls. Tanaka kneels at a rectangular rock formation.
"This is a rain shrine," he says. "Back in the day, Hawaiians would come here after heavy rains, and say, 'Thank you for the rain, but we've had enough,' and place a small rock inside."
Tanaka does the same as heavy clouds begin to loom offshore behind us.
Carbon dating shows Halawa may have been settled as early as 450 A.D. It is also home to more shrines and heiau (temples) than any other single location in Hawaii. The sites were used for ceremonies, celebrations, sacrifices, prayer and other customs central to Hawaiian culture
As we near Moaula Falls, a raised flat area appears in front of us, secured with rock walls and marked with a central rock altar. Tanaka says this is where annual makahiki season festivities took place. An early Hawaiian New Year celebration following the harvest season, makahiki honored various gods and, in particular, Lono, a major deity connected to agriculture, rainfall, fertility and music.
"They'd bring fruit as an offering. If it was good, they could compete in the events," explains Tanaka.
Before a stream crossing, we pass two large boulders, arranged near each other.
"Those are birthstones," shares Tanaka. "Mothers would give birth on those. They're aligned in a position conducive to giving birth."
A few steps later, I'm waist-deep in the rushing stream searching for solid footing beneath the water's surface. Once ashore again, the thunder of Moaula's cascade grows louder as we move barefoot through a tunnel of trees. We emerge from the dense foliage to a full view of the waterfall.
A breeze wraps us in Moaula's cool mist. Despite the falls' impressive force, it is soothing and serene. We remain still and take all of it in for a few minutes.
After a second stream crossing, Tanaka leads me to a split-level flat area surrounded by more rock walls, constructed by pre-contact Hawaiians. The ground here was once a platform for makahiki hula performances. He gestures at a gradual incline, overgrown with vines and coffee trees.
"That's where spectators sat. It was set up in stadium style," he says.
During our descent back out of the valley, we retrace our steps mostly in silence. I bask in the serenity the valley exudes. At the bottom of the trail, where we began three hours earlier, Tanaka asks to say a prayer. We form a circle, as he speaks gently in Hawaiian.
Later, toward day's end, as we cross a worn footbridge surrounded by taro patches, Tanaka says, "The thing with Molokai is that nothing is unknown anymore. But it's all very sacred.
"And that's what we want to preserve."
Mystical Molokai, (808) 558-8396, mysticalmolokai.com.