A Life Aquatic: Exploring Undersea Maui with Jean-Michel Cousteau's Ambassadors of the Environment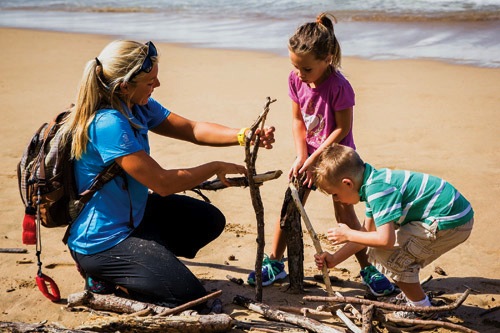 It's Friday morning and I'm boning up on my knowledge of Hawaii reef fish and coral I hope to encounter in Kapalua Bay.
Libby Erickson, a naturalist with kids' eco-adventure program Ambassadors of the Environment, is giving me the lowdown on identifying a few species of each before we get snorkeling. Parrotfish, for example, which Erickson says we can all thank for chewing up bits of coral along with their algae dinner, digesting it and pooping out hundreds of pounds of white sand annually. Then the yellow tang, Moorish idol, butterflyfish, humuhumunukunukuapuaa—Hawaii's official state fish—and many more.
We study sea cucumbers and red slate pencil urchins, which she promises I'll get to touch in their habitat; spiky wana urchins, which I won't; and several types of colorful coral.
"Coral is named after what it looks like. So there's cauliflower coral, lobe coral, brain coral, plate coral, finger coral, antler coral. You can see where I'm going," says Erickson, laughing.
She explains how coral gathers sunlight on its surface, how very few reside in deep water because of that and why shallow, warm Kapalua Bay is home to an impressive population of the marine invertebrates.
"As you get deeper, you see more coral species growing wider instead of higher so they have more surface area and collectors for sunlight," she says. "And everything out there depends on that coral to survive, whether it's for home and shelter or for food. We do, too."
Erickson patiently makes sure I'm copacetic on my snorkeling equipment and how to snap photos with the cool blue digital camera I've been provided with for my "Cities Under the Sea" snorkel and underwater photography class. The class is one of about two-dozen family-friendly—though ultimately kid-focused—activities offered by the Ambassadors of the Environment program at the Ritz-Carlton Kapalua resort.
Each two- to three-hour activity is committed to delivering not just a fun morning on Maui's renowned surf and turf but some actual Hawaii-specific environmental science and lessons in taking care of our home planet as well.
Though long separated from childhood, I listen raptly to Erickson's marine lessons, which continue from Ambassadors' eco-conscious learning center at the resort right up until we enter Kapalua Bay.
My brain stuffed with facts, "Now it's all about relaxing out here and enjoying the view," says Erickson. But pooping parrotfish knowledge is entertaining at any age.

The author's encounter with a collector urchin in Kapalua Bay. Notice its spike-collected coral treasures. Photo by Derek Paiva
Ambassadors of the Environment co-founder Jean-Michel Cousteau bursts into laughter when I recall my Maui ocean exploits to him a week later with childlike wonder.
"We make it fun. If it's not fun, we lose the attention," says Cousteau, of Ambassadors' curriculum, which he helped create. "The beauty is that children absorb information and it never goes away. I remember things almost to the day, of my father taking me out to either scuba dive or snorkel or whatever. Ask me what I did last week and I'm not sure I remember."
Cousteau's father was, of course, renowned French marine explorer, scientist, filmmaker and multi-hyphenate Jacques-Yves Cousteau, who for much of his 87 years lived, breathed and, above all else, respected the ocean and all things aquatic and taught his children to do the same. A career ocean explorer, educator and avid environmentalist, Jean-Michel, 75, founded the Ambassadors of the Environment program with marine biologist Richard Murphy in 2008, largely to inspire in children what his father inspired in him.
The Ritz-Carlton Kapalua is one of four properties in the global hotel chain offering the program. Ambassador activities at Kapalua, however, focus solely on Hawaii land and sea ecosystems, their relevance to Hawaiian culture and life in the Islands, and larger relationship to life on Earth. Naturalists trained in curriculum developed by Murphy and Cousteau—who update the activity menu and materials regularly, and annually visit each Ambassadors resort—lead all activities. Even better, you do not have to be a resort guest to book an activity.
Ritz-Carlton Kapalua Ambassadors activities include everything from a science hike in the West Maui Mountains above the resort and coastal exploration treks to a stargazing/navigation class and an evening tidepool hunt called "Creatures of the Night." A Hawaiian wilderness "Survivor" class blends skills such as building a shelter with materials found in nature and learning how to eat in the wild with lessons on how early Hawaiians made use of their natural environment while also caring for its future. The goal of all activities is awakening a resolute passion in children to be better stewards of Earth's natural resources and more attuned to living life sustainably.
Explains Cousteau: "Our goal is not just to entertain and educate the kids, but [prepare them for] the day they become the decision makers of the world. Hopefully, they will be making much, much better decisions than we have done. Already, we know that when they go home [from Ambassadors] they educate their friends, neighbors and parents to better take care of our life support system, which happens to be the ocean. That's what it's all about."

Tidepool exploration at Kapalua Bay. Photo: Ritz-Carlton Kapalua
Peering beneath Kapalua Bay with Erickson, a trio of small, deep indigo fish with prominent white spots on their front and tail ends, swims up close to my mask as if inspecting me.
"Those are domino damsels," says Erikson, as we both surface. "They think they're a lot bigger than they are. They're really territorial so they just swim up to you trying to defend their homes."
She disappears underwater and returns with a gleaming, brown-spotted cowrie shell. It's my first time seeing a cowrie shell with its resident cowrie sea snail still inside.
"This is pretty cool," says Erickson, as we snap photos. "You don't see these this close to shore too often. This little guy better hope a shell collector doesn't find him."
Erickson returns the cowrie to the bottom of the bay as I secretly hope the next humans it meets will be other environmental ambassadors like us. And younger ones, at that.