A Modern Hawaiʻi Residence Flourishes with High-End Amenities and Design
An island home on a grand scale.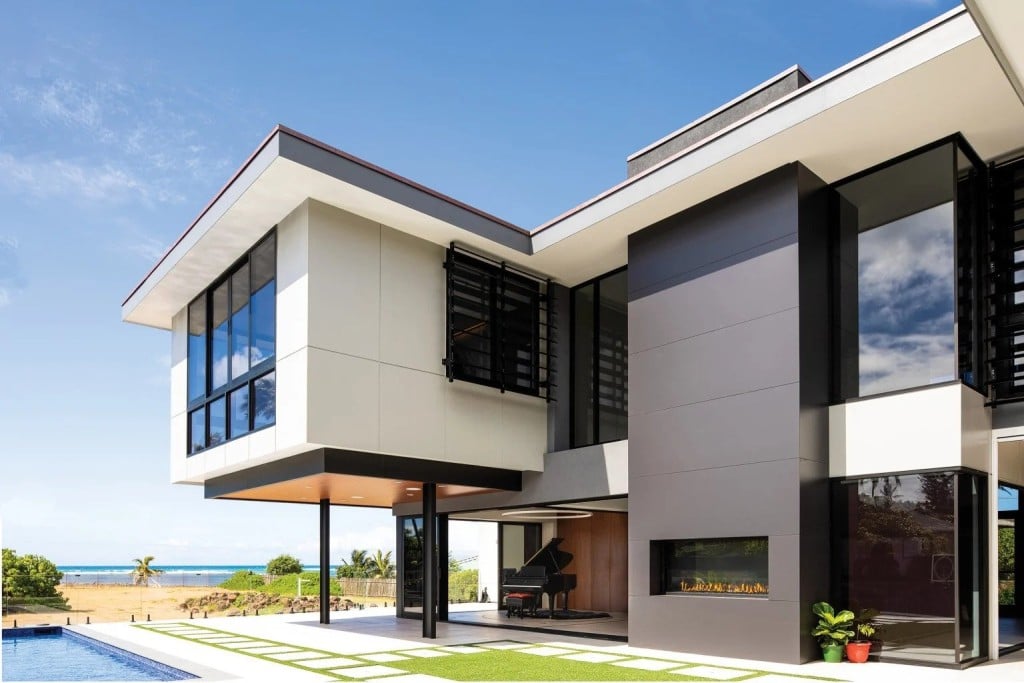 For homeowners Tony Migura and Blair Boone-Migura, their modern residence was a long time coming. The couple had searched high and low for the right place to call home until they decided that the best way to achieve their dream house was to create one from scratch on an empty lot by the ocean.
"The idea was to bring a little New York to the Islands," shares Migura, and they needed a team that could design and build their vision of a modern island home. They enlisted the help of architect Jim Schmit after admiring his work on Bali Lofts in Hawaii Kai and a home on Farmers Road in Kahala, as well as Chris Johnson, the builder on both projects.
However, before team members could start constructing on the proposed land, which was originally one lot split into three, they had to clear some hurdles. Among them, they had to ensure that the home would adhere to FEMA flood zone requirements. "Due to FEMA requirements, (it was) built on post and pier elevation," says Johnson. And "it had to have a secondary concrete foundation to improve water flow in the house." The team worked with a civil engineer to ensure it was all up to code.
After dealing with permits and planning for 14 months, the team was able to begin building. The end result is breathtaking: A two-story, window-filled home that beautifully captures the view and encourages entertaining with indoor-outdoor living spaces.
"We named our house 'Villa Emilie' after both our grandmothers who were named Emilie," shares Migura. "Our grandmothers were such a big part of our lives and after they both passed we wanted to honor their memories."
A small set of semi-floating stairs out front leads you to an 8-foot pivot door, the main entrance into the home. Once inside, an accent wall of book-matched Panda White Marble Slab from Bella Pietra Design, which provided the majority of the stone and tile for the home, grabs your attention.
"The homeowners wanted something very sleek, modern and one of a kind. They have homes in New York and you can really see that reflected in their design, sophisticated style," shares Meagan Jensen of Bella Pietra Design. "Also they wanted to create distinct moments of wow factor, which we think they achieved all throughout this beautiful home."
Around the corner is the main living room with a 21-foot-high ceiling. Behind the accent wall is a TV and on the opposite side of the room is a gas fireplace, both clad in black Neolith from Pacific American Lumber. These elements set a warm, inviting tone for the entire space.
Next to the living area is the piano room that's climate controlled to maintain the proper temperature for the piano, which sits on a turntable. This allows the homeowners to look out at the ocean while they practice and into the living room when entertaining guests.
Sliding glass doors surround the entire space, allowing full access to the outdoors. "Everything has a circular flow," shares Schmit.
Situated between the living area and kitchen is a dining room that offers its own indoor-outdoor experience. There, a sunshade can be lowered to keep the elements out or raised to bring them in.
The kitchen itself is cozy and connected, thanks to the lowered ceiling and medley of dark gray, white and wood tones. The space is equipped with appliances from the Dacor Modernist Collection from Ferguson Bath, Kitchen & Lighting Gallery and clean European cabinetry. "Architecturally, it has a nice contrast and gives a beautiful appearance and details," says Johnson.