A new budget-friendly hotel opens on the North Shore of Oahu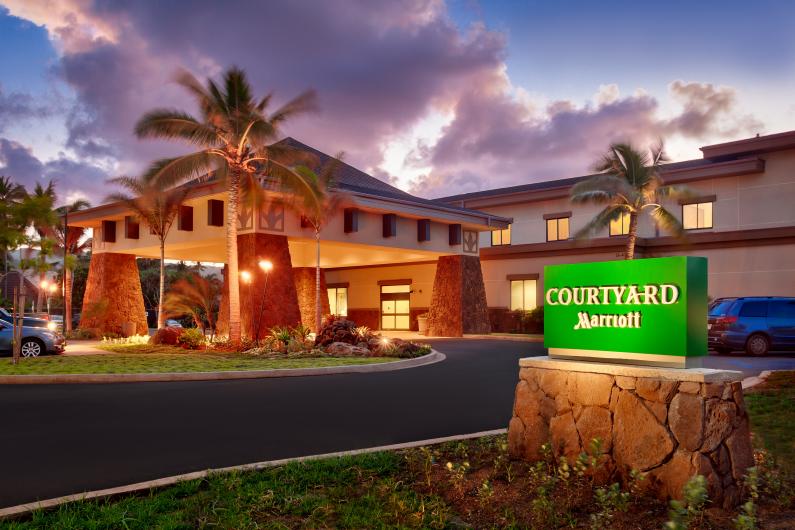 Seasoned travelers to Hawaii who are looking for a completely opposite experience from Waikiki will love the new Courtyard Oahu North Shore. This 144-room hotel opened on June 29 and is located adjacent to the Polynesian Cultural Center in the sleepy, little town of Laie on Kamehameha Highway, providing guests a quieter and more rural experience.
"We've combined style and comfort with innovative technology to appeal to today's travelers looking for an authentic Hawaiian experience away from the hustle and bustle of Waikiki," says Milton Lafitaga, director of sales of the Courtyard Oahu North Shore.
Like its mainland counterparts, the Courtyard Oahu North Shore has a simple and modern design that makes for ideal accommodations for business travelers. This property features a 24-hour business center, fitness center, two meeting rooms, complimentary Wi-Fi, daily deliveries of the morning newspaper and no resort fees. In addition, this property also boasts the only 24-hour Starbucks on the North Shore in the lobby's Bistro—a counter-service and kitchen serving breakfast, sandwiches and a handful of plates.
According to Assistant General Manager Micah Casey, the opening day of the Bistro generated the second highest gross sales in a single day in Courtyard Marriott history, and it still draws crowds. Every day, locals line up in the morning to get their caffeinated drinks and breakfast before their commute to work. On Thursday nights, during football season, the high school football team Kahuku Red Raiders comes to the Bistro for its very popular rack of rib dinner for $20 a head. Although the menu is small and simple, we can confidently say the bacon burger is delicious and the ribs must be tasty if a whole football team frequents this place weekly. One thing to note: Laie is a dry town, so the hotel doesn't sell or serve alcohol on the property.
The Courtyard Oahu North Shore is also great for vacationing families who want to spend time seeing the sights on the North Shore. Kids will also love the hotel's 80,000-gallon waterfall swimming pool that is only 4-feet deep.
There are only 65 employees that work at the Courtyard Oahu North Shore and the majority of them live in or around Laie. So there is the feeling that a whole community is hosting you as soon as you walk in. It's a feeling reminiscent of the early days of hospitality in the Islands when the entire hotel staff knows your name and says "hi" in passing. It's that genuine aloha that comes from being born and raised in a small, beach town on the opposite side of the island from Waikiki.