A new Kauai food truck gives acai bowls a local twist with poi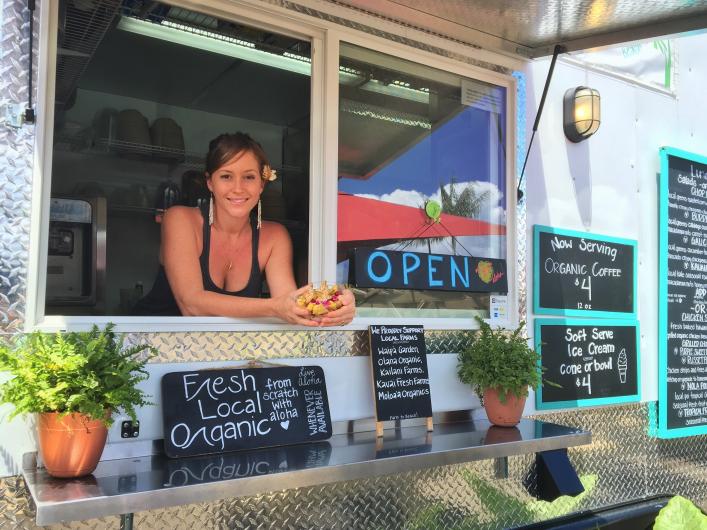 Acai bowls crowned with crunchy granola and fresh banana slices are Hawaii's unofficial sweet treat. (We dare you to find a smoothie hut or breakfast cafe that doesn't serve up these tropical grinds.) Although healthy and nectarous, the purple acai berry is sourced from Central and South America. Recently, this got Kauai farm-to-fork enthusiast Sara Carsia thinking about creating something as equally delightful as a bowl of acai, but made with ingredients that are 100 percent local.
As it turns out, there's another purplish food, one that's farmed in Hawaii, that makes for a great acai alternate: Poi, the slightly sweet, starchy paste made of pounded kalo (taro) root. On it's own, fresh poi tastes a bit like mashed sweet potato. But when Carsia cuts it with coconut milk, the goopy staple takes on a bright sweetness and a much lighter consistency, similar to yogurt. Topped with gluten-free, homemade granola, fresh seasonal fruit (think pineapple, dragonfruit and star fruit) and a generous drizzle of coconut-honey syrup, Carsia's fresh take on poi transforms the ancient Hawaiian staple food into a trendy, homespun delight. She calls it 'Nola Poi, and she's selling beautifully crafted bowls of it on Kauai's North Shore for $10.
Carsia is owner and chef at Fresh Bite, a new food truck parked off Kuhio Highway in the surf town of Hanalei, just footsteps from Hawaii's most productive kalo patches. Almost every food item Fresh Bite serves is organic and local to Hawaii, with 90 percent of those ingredients sourced from farms within a 15-mile radius.
"I love acai, but it's imported from so far away," says Carsia, a new mom who operates Fresh Bite with the help of her husband, sister and parents. "We're not getting ingredients from Peru and Mexico. I love strawberries, but I can't have that on my menu because strawberries have to be imported from somewhere else. That's not what we're about."
Fresh Bite is a locavore's dream. Open from 9 a.m. to 4 p.m. Thursday through Monday, the food truck, which is parked next to Hanalei Liquor Store, serves vibrant, handcrafted comfort food with a commitment to local produce. Instead of Vermont maple syrup, the cafe tops its pancakes with coconut-honey. The housemade satay sauce substitutes Hawaii macadamia nuts for foreign-grown peanuts. One of the only imports at Fresh Bite is the garlic.
Menu items are as healthy as they are delicious. Breakfast, served from 9 to 10:45 a.m., includes the Jurassic, a sweet potato hash topped with local, all-natural steak, white cheddar, two eggs and housemaid chipotle ($14). The Garden Isle Greens is a fresh-baked Hawaiian sweet roll sandwiched with tomato, sautéed greens, avocado, eggs and honey mustard ($9).
Lunch offerings include the Chop Lee: local greens, roasted corn, avocado, green onion, tomato, crispy chickpeas, chopped egg and ranch dressing served as a salad or wrap ($10). For meat eaters, the Chicken Sandwich grills an organic chicken breast and tops it with lettuce and tomato served on a fresh-baked Hawaiian sweet roll ($10). For kids, there are chicken strips ($7) and fries ($5), as well as soft serve ice cream cones ($4). The imaginative 'Nola Poi is served all day.
"Poi is such a beautiful product, and it's locally pounded," Carsia says. "It's really good for your digestion because it's fermented. And the way we cut it with the coconut milk and a few secret ingredients, most people really love it."