A Night Under the Stars with Yoga Floats
Stand-up paddleboard yoga can be difficult, but with Yoga Floats, the challenge is a part of the fun.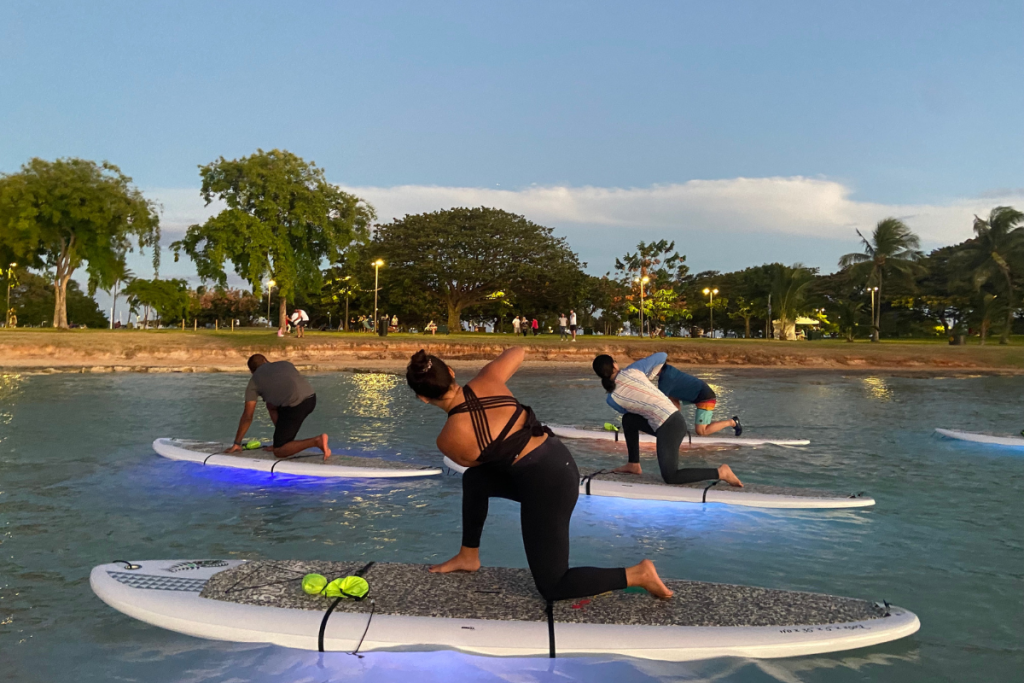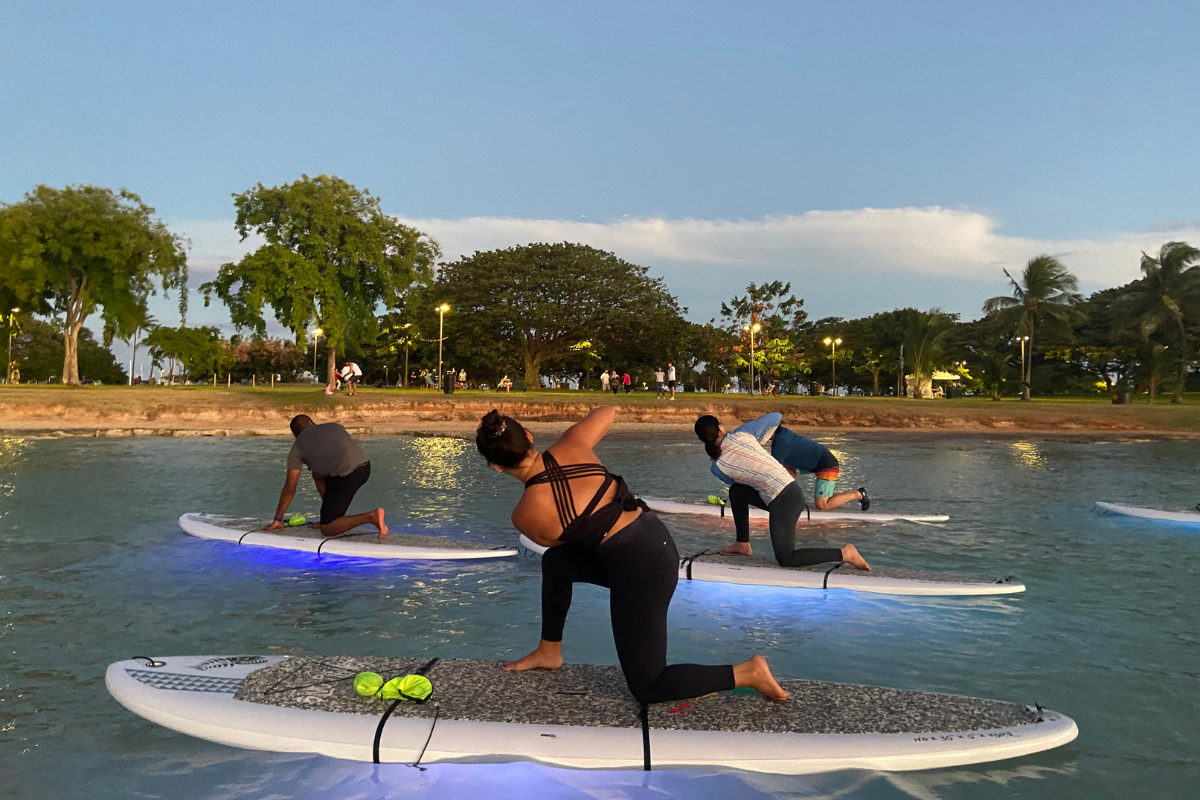 Trendy yoga practices sometimes come across silly as Instagram feeds are full of goats, wine and vinyasa flows. But founder of Yoga Floats, Kelsey Moore, assures me that stand-up paddleboard yoga is not another one of these gimmicks.
The elementary school teacher-turned-small business owner started Yoga Floats shortly after moving to Oʻahu in 2009 and has continued her career as an educator but in a new classroom—the ocean.
"I ended up taking a standup paddle yoga class, and it was so wonderful and so inspiring that I remember thinking, I wish I could do this every day. And then I kind of had this moment where I was like, I can do this every day," Moore recalls.
Moore's revelation led to Yoga Floats, which launched in 2016. This SUP yoga company welcomes yogis of all levels and backgrounds—a perfect invitation for someone like me whose background in yoga only started shortly after March 2020. But I've always been intrigued by SUP yoga, especially after scrolling through my Instagram feed of effortlessly balanced yogis atop paddleboards.
Yoga Floats' Light Up the Night class immediately attracted me. The evening yoga class seemed like a one-of-a-kind yet peaceful experience. Yoga Floats also considers its Friday night class even more exceptional than typical weeknight classes. On Fridays, Hilton Hawaiian Village Waikīkī Beach Resort's firework show lights up the sky as the class progresses. And, with the fireworks recently making a comeback, I figured this was a perfect way to see my first post-pandemic firework show in Waikīkī. After booking the 7 p.m. class feeling excited and slightly overconfident, my sister and I jumped in our car and headed to Magic Island at Ala Moana Beach Park clad in our usual yoga attire.
We unintentionally arrived at the park around 6:20 p.m. but it took us about 45 minutes to find parking—picnics, paddling practices and surf sessions accounted for the packed lot. After we found a spot, it was easy to locate the Yoga Floats' van and crew behind lifeguard Tower 1E.
The check-in to the class was followed by a quick rundown of how to balance on the paddleboards by our funny and encouraging instructor Takako Carter. Once the training was complete, we lugged the heavy boards to a shallow section of Magic Island. You'll want to wear clothes you don't mind getting wet. If you get cold easily, wear a long-sleeved rash guard as it can be chilly in the water after sunset.
Although the classes are advertised as slow and calm, I found the experience not all about relaxing and unwinding, rather more of a balancing challenge; this isn't necessarily a complaint.
Once in the water, everyone attaches an anchor to his or her board to ensure that no one physically drifts away during the class. However, the anchor doesn't ensure total stillness, especially in windier conditions. Unbeknownst to my fellow yogis and me, we signed up for a class that was during high tide—not an ideal condition for SUP yoga. As a result, our boards underwent frequent bouts of movement and tilting. Some yogis even bumped into other classmates. This aspect of the practice isn't great for people who get seasick easily. But Carter told us that it was "just one of those nights" where a usually relaxing session can be quite difficult.
Excluding the wobbly board, the class itself is quite simple: start with a few deep breaths with closed eyes and some cat-cows. But, as soon as Carter told us to "make our way to Warrior 2," the challenge had officially begun. Standing up on the board was difficult enough in the unstable conditions, but adding yoga poses to the mix even prompted someone behind me to yell, "My quads are on fire!"
Despite having a slight background in yoga, I found myself moving into modified positions for more balance because my quads were also—you guessed it—on fire. This is just part of SUP yoga, though. Moore tells me that SUP yoga has a lot of physical benefits, as well.
"It's adding, stabilization and balance to any pose. There are already balancing poses in yoga, but this makes warrior pose a balance [position], which isn't normally a balance [position]," Moore explains. "You're finding all these small stabilizer muscles in your legs and in your core, to really help assist you with your balance."
But, regardless of experience, the entire class was able to do the poses without falling into the ocean. And with lots of jokes and tips sprinkled in by Carter, we all had a good time. We were even able to laugh at ourselves after sneaking a peek at some of the photos Carter took during class.
I found the best part about this experience wasn't the yoga, the glow-in-the-dark boards or even the short fireworks show in the middle of class. Rather, the most remarkable moments were the times when we found ourselves lying on our backs, facing up to the stars with the sound of the waves gently crashing against the shore.
During class, it was easy to nervously laugh as I focused on staying dry. But I kept remembering that doing yoga on a paddleboard in a little Oʻahu lagoon was something quite special—exactly what Moore found so enthralling when she started Yoga Floats. My advice? Spend an evening with Yoga Floats and endure a challenge to enjoy a moment of gratitude.
For more information about Yoga Floats, visit yogafloats.com.