A Step in Hanalei's Past
Kaua'i's Ching Young Village Shopping Center has persevered and evolved along with its tight-knit community.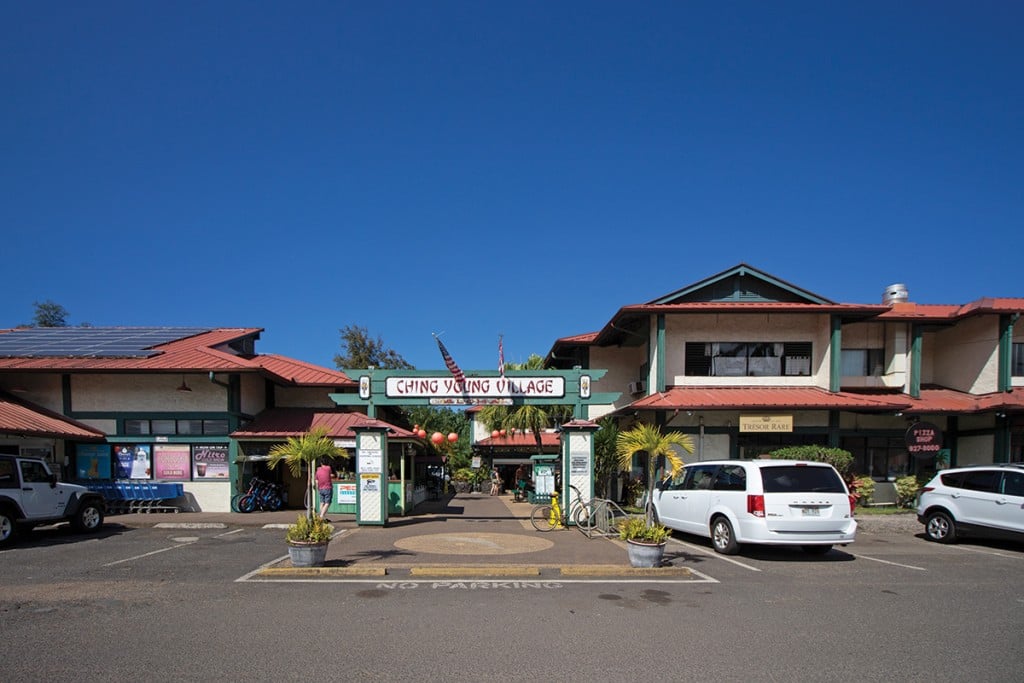 Walking through the Ching Young Village Shopping Center is like taking a step back in time. With mom and pop shops that have called the center home since the 1980s and '90s, the plaza captures Hanalei's charming mix of small-town spirit and surf culture.
Generations of residents and visitors have come to cherish browsing through quaint boutiques and noshing on local fare at the family-operated shopping center. Since the '90s, Backdoor Surf Shop has been a Hanalei favorite for rad alternative surf and skate apparel. Pedal n Paddle, one of the first tenants to take up residency in the shopping center in the '80s, continues to prep eager beachgoers with every seaside essential imaginable. Likewise, the Village Snack Shop & Bakery is a mainstay from the '80s. The hole-in-the-wall establishment is sought out for its chile pepper chicken and chocolate haupia pie.
Spinning Dolphin, a silk-screening shop, is also from the '80s. The owner, Melanie Kuebler, tells me that not much has changed at the shopping center. "It's just like when we first bought the shop," she says. "But the shop was already here 10 years before we bought it, and we bought it 28 years ago. Both my husband and I were artists, so it was the perfect transition for us."
The shop maintains a loyal following of out-of-state customers, with returning travelers often finding their way back to Spinning Dolphin and the Ching Young Village Shopping Center. "I've seen families grow up," Kuebler says. "One year, a mom and dad will come in with two kids, the next year it's three, a couple years later it's four."
The shopping village is like old-school Hawai'i, the one seen on vintage postcards. And that same nostalgic appeal is reflected in the fashion too. Kuebler notices her younger clientele gravitating toward her designs from the '80s. "They're vintage and that's what they're going for—retro but on a new shirt!" she says.
Despite its focus on the past, the Ching Young Village Shopping Center has grown tremendously from its start more than a century ago as a family-owned general store.
"I don't think my grandparents would recognize the place if they came back today," says Michael Ching, the center's manager and a third-generation Hanalei resident. His grandfather started the original general store.
"My earliest memory of the shopping center starts probably about 1960 when we operated a small, general merchandise store in Hanalei. It had produce, meats, canned goods, fishing supplies, plumbing supplies—a little of everything," Ching tells me. "But we have to go back in history a little more."
Ching's grandfather, Ching Young, immigrated to Kaua'i from China at the turn of the century. In 1906, Ching Young and his brother leased a small plot of land in Hanalei to start a general store and rice mill, and in 1911, he renamed the businesses the Ching Young Store and Ching Young Rice Mill.
Meeting through a traditional Chinese matchmaker, Ching Young married Dang Ha Ching. Together, they had eight children, and it was up to his wife to provide for them after Ching Young died in 1933. And she did, with help from the general store and mill, which she continued to operate.
In the '50s, Michael Ching's father, Lawrence Ching, bought the store from his mother. With his wife, Jennie, and two sons, Lawrence Ching led the general store through periods of change and development on the island. When he acquired the store, rice was no longer the main crop in Hawai'i: Now, sugar was king. The Chings pivoted to meet the needs of local sugarcane workers. And it evolved again in the '60s, spurred by an influx of new arrivals to Kaua'i. Sugar was still big business, but now tourism propelled the economy. Lawrence Ching renovated the store, adding the Hanalei Post Office to serve the local community and budding visitor industry. By the late '70s and early '80s, he started developing a shopping center.
"We developed the property in the 1980s and it was completed in 1982, just in time for Hurricane 'Iwa," Ching recalls. At the time, the Category 1 hurricane was the state's costliest storm.
Ten years later, in September 1992, Hurricane 'Iniki made a direct hit on Kaua'i. The Category 4 hurricane caused $3 billion in damage to the state, killed several people and knocked out power for weeks in some places. The Ching Young Shopping Center suffered severe structural damage and took two years to rebuild. But the original Ching Young Store built near the turn of the century suffered only minor damage and was still standing.
The weeks following Hurricane 'Iniki were tumultuous. Homes had been destroyed and families displaced by the thousands. Determined to lift his community's spirits, Lawrence Ching brought the town together by hosting a small contest. That humble, healing act became a beloved neighborhood tradition.
"Right after Hurricane 'Iniki, my dad said, 'There's so much difficulty, let's do something that makes the kids happy and start a Halloween costume contest. We'll give the children a dollar each and a bag of candy,'" Ching recollects. "It was his favorite event."
And now, once again, the town has rallied together, only this time over the COVID-19 pandemic. Among the shopping center's merchants, there's an exceptional camaraderie. "It's like family down here and it always has been—but we're even more like family now that we've been through these disasters," Keubler says. The Spinning Dolphin owner recalls sitting in the courtyard of the mall talking story with fellow merchants when there was no business due to the pandemic. "We just got to know each other even more than we knew each other before."
For 25 years, Michael Ching has been at the helm of the Ching Young Village Shopping Center. "Since 1997. Can you believe that?" he asks me. And since 2020, he's been navigating the shopping center through the pandemic. "It was really hard," he admits.
Ching worked with his tenants to ensure they remained open throughout the pandemic. At one point, he even lowered the rent to ensure the mom-and-pop shops could survive. "We're family-operated," he says. It's that simple.
As visitors return to Kaua'i, they naturally find themselves in Hanalei and the Ching Young Village Shopping Center. "They come in and say, 'We're glad you're still here,'" Kuebler says. "I say, I'm glad I'm here, and I thank Michael Ching."
Ching Young Village Shopping Center, 5-5190 Kūhiō Highway, Hanalei, chingyoungvillage.com.
This story was originally published in our 2022 Spring issue. Buy a copy here.