ABC's "Modern Family" cast shooting season finale in Hawaii, sharing on Twitter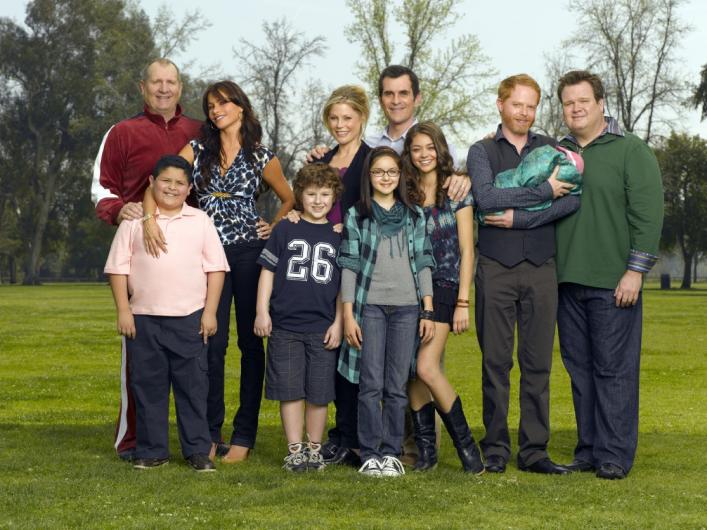 The cast of ABC's hit comedy Modern Family has been in Hawaii all this week filming the series' first season finale.
They've been holed up at the Four Seasons Resort Maui at Wailea, which is conveniently serving as both their home-away-from-home and workplace for the Hawaii shoot. (Yeah, we're all pretty jealous of them, too. And we live here!)
How did Modern Family's writers concoct a storyline that brought all three of the show's interrelated families to Hawaii?
Executive producer Steve Levitan told Entertainment Weekly that the episode's plot revolves around a birthday vacation in Hawaii that family patriarch Jay Pritchett (Ed O'Neill) plans with his wife Gloria (Sofia Vergara).
"Jay thinks that he and Gloria are going by themselves for this romantic getaway, and she surprises him by inviting the entire family," Levitan explained to Entertainment Weekly.
We've also heard scoops of a plotline with Mitchell Pritchett (Jesse Tyler Ferguson) desperately attempting to lure his partner Cameron Tucker (Eric Stonestreet) to an Upcountry Maui lavender farm. (We've contacted Alii Kula Lavender, the only lavender farm we know of on Maui, and are waiting for confirmation.)
As fans of Modern Family, we're certain hilarity will ensue when the finale airs on ABC in late May. The actors, at least, seem to be having a great time on Maui.
Like almost everyone with a Twitter account visiting Hawaii, the cast has been overloading the social networking site with tweets, photos and videos boasting of the fun they're having here.
HAWAII Magazine—no stranger to Twitter—searched out all of the cast members we could find with an account and began following their tweets. No big plot revelations were revealed in any of them. But we did get a kick reading about the fun that cast members—most of them on their first-ever Maui visit—were having both on and off the set.
For example (printed verbatim):
Jesse Tyler Ferguson (@jessetyler): "We promise, the whales jumping out of the ocean under the rainbow & r location this week is not a special effect. http://twitpic.com/17e1p9 "
Jesse Tyler Ferguson: "On the plane @SofiaVergara called the stewardess a 'plane waiter'. HahaHa! I'm obsessed with her language barrier!!!"
Sofia Vergara (@SofiaVergara): "I want to live here http://tweetphoto.com/13759223"
Sofia Vergara: "Hawaii!!!! Delicious http://tweetphoto.com/13719221"
Sarah Hyland (Haley) (@Sarah_Hyland): "Just so happy. It's paradise. I'm never leaving."
Sarah Hyland: "Not gonna lie. I teared up looking at this view. http://twitpic.com/179bin"
Nolan Gould (Luke) (@Nolan_Gould): "Spent all day shooting scenes in the pool. I am a little pruney."
Ariel Winter (Alex) (@arielwinter1): "Poolside in MAUI!!! Yeahh!!!! http://twitpic.com/17kre9"
Ariel Winter: "Good morning everybody!!! It is a BEAUTIFUL day in Maui! The sun is shining, there is no wind! This is the life!!! 🙂 hehe"
Eric Stonestreet (@ericstonestreet): "Ahhhhhh http://tweetphoto.com/13843091"
While you're following the Modern Family cast on Twitter, make sure you're also following HAWAII Magazine. Click here.