Above the clouds with Maui's only paragliding tour
With Proflyght Paragliding, you'll get a bird's-eye view of the island.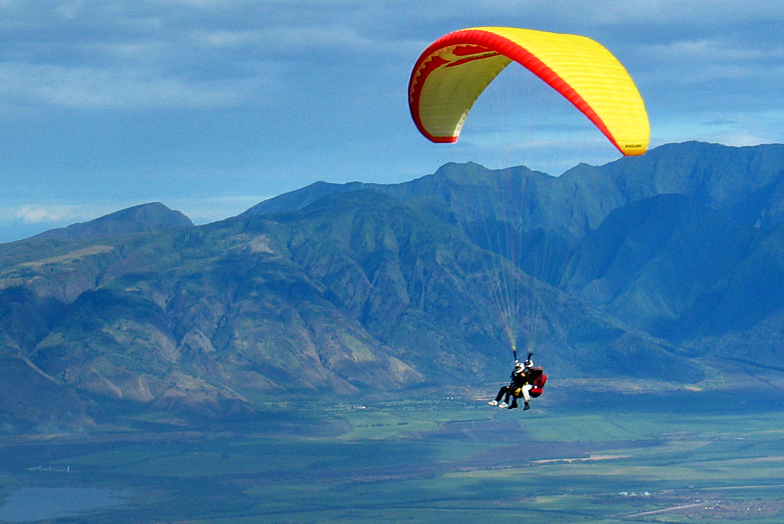 Every morning, courageous visitors face one of mankind's ultimate fears and go soaring off the side of Maui's famous Haleakala Volcano, their toes dangling as high as 3,000 feet above land. Under the guidance of local company Proflyght Paragliding, this expedition will test your mental fortitude. But if you're brave enough to take the leap, the euphoric feeling you're left with once you land will make it all worth it.
Paragliding is the act of flying using a parachute-like apparatus called a paraglider. NASA invented the first paraglider as a descent method for rescued lunar capsules, and today it's used all around the world by adventurists who enjoy spending time in the sky.
On Maui, Proflyght Paragliding is the only certified paragliding tour company and offers both tandem and solo instruction. Island resident Dexter Binder has owned and operated Proflyght Paragliding since 2002, and has safely flown (and landed) more than 12,000 individuals.
A flight with Dexter and his crew of certified pilots is nothing short of exciting. Their friendly demeanor and safety-first attitude helps settle any nerves before takeoff. Once I put on my helmet and the pilot strapped me into the chair-like harness, we waited for just the right moment to launch.
In the air, I saw so many views of Maui. To the right, lush greenery of the Kula forest. A quick turn to the left, and there was the clear, blue Pacific Ocean. Then, in front of me, the amazing West Maui Mountains. The clouds were so close you'd think you can touch them. The slow and steady nature of paragliding is relaxing and allowed me to take in the scenery before it was time to touch down. If you're lucky, the instructor may include a spiral dive before landing, which has you spinning in a tight radius before descent.
Back on the ground, I was smiling ear to ear. Unlike skydiving, which provides more of an adrenaline rush, paragliding left me feeling happy and content.

There are currently two flight options available: one at 1,000 feet for $151 and one at 3,000-feet for $276. Be prepared to reschedule if conditions aren't conducive for takeoff. Proflyght Paragliding, Maui (808) 874-5433, paraglidemaui.com.