Add to the List: Things to do in December 2018 in Hawaii
From Christmas marketplaces to stand-up comedy and a marathon, there's plenty to do this December.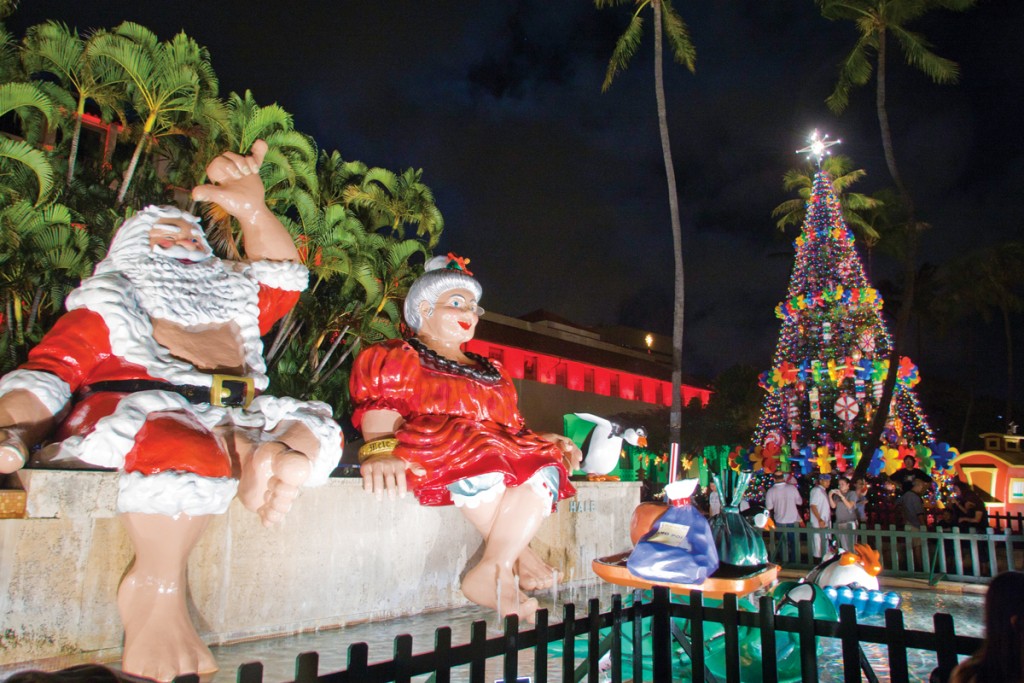 OAHU
Honolulu City Lights
12/1–1/1
Starting to feel that jingle bell cheer? Drive downtown to see Honolulu's Christmas displays, such as the larger-than-life statues of Mr. and Mrs. Claus throwing shakas. The opening night tree lighting ceremony happens on Dec. 1, but be sure to get there early or the traffic might make you feel like a bit of a Grinch. Honolulu, Oahu, honolulucitylights.org.
Honolulu Marathon
12/9
Hawaii's largest marathon, which attracts runners from around the world, takes you down some of Oahu's most scenic roads, including Kalakaua Avenue, Diamond Head Road and Kalanianaole Highway. If you're intimidated by the 26.2-mile run, the Start to the Park 10K is an easier option and takes you from one end of Waikiki to the other. Honolulu, Oahu, honolulumarathon.org.
Mele Kalikimaka Marketplace
12/8–12/9
The Mele Kalikimaka Marketplace at the Neal Blaisdell Center is the place to be this December. Get into the holiday spirit by attending a workshop on how to make a gingerbread house or shopping for the perfect gift sold by local vendors and pop-up shops. Of course, Santa and Rudolph will be there to take photos with keiki (kids) and parents. Honolulu, Oahu, melekalikimakamarketplace.com.
HAWAII ISLAND
Jingle Bell Beach Run
12/16
If you see hundreds of runners wearing Santa hats, reindeer antlers and big smiles heading down Alii Drive this December, don't be surprised, it's just the Big Island's holiday-themed 5K run. Participants aren't just judged on their times, but also on their costumes, with the three best-dressed participants winning prizes. Kailua-Kona, Hawaii Island, kona5k.com.
21st Annual Traditional Mochi Pounding
12/29
The act of pounding mochi, also referred to as mochitsuki, is a Japanese tradition in which steamed rice is placed in an usu, or wooden mortar, and hit with a large mallet until the rice becomes smooth. And at Akiko's Buddhist B&B, you don't have to be a guest to take part in this custom. After the pounding process is complete, treat yourself to sweet, chewy mochi, which is supposed to give you good fortune through the upcoming year. Hakalau, Hawaii Island, akikosbnb.com.
MAUI
Santa's Arrival at the Fairmont Kea Lani
12/21
Santa Claus may ride a sleigh, but in Hawaii, good old St. Nick uses an outrigger canoe to get around. Catch him, and Mrs. Claus, gliding onto the sandy shores of Polo Beach this Christmas Eve, where he and a few elves will take pictures with keiki and families. Wailea-Makena, Maui, fairmont.com/kea-lani-maui/activities-services/events-calendar/.
Makawao Third Friday Town Party
12/24
Makawao knows how to have a good time and every third Friday of the month the community comes together to throw one big Maui bash. Organized by the Maui County Office of Economic Development, this monthly block party has a wide array of food booths, live entertainment and vendors for visitors and locals to enjoy. Just get there early, as the event's limited parking does tend to fill up early. Makawao, Maui, mauifridays.com/makawao/.
Hannibal Buress and Lil Rel Howery
12/29
Stand-up comedian and actor Hannibal Buress, known for his time on the sketch-comedy program, The Eric Andre Show, will be at Castle Theater for one night only, bringing his wide array of comedic routines and acts with him. The funny doesn't stop there, however, as fellow comedian and actor Lil Rel Howery will also be on stage. Kahului, Maui, mauiarts.org/calendar.
KAUAI

Festival of Lights
12/1–12/29
A Kauai tradition for 22 years now, this holiday miracle lights up the Kauai Historic County Building for the month of December. All of the ornaments on display inside the building are actually handcrafted by volunteers and designed by the event organizer, Elizabeth Freeman. Each year, Freeman adds new designs and decorations to the space, making it a new experience for returning visitors. Lihue, Kauai, kauaifestivaloflights.com.
New Year's Eve Fireworks at Poipu Beach Park
12/31
Say aloha to 2018 and, well, say it again to 2019 at Poipu Beach Park this New Year's Eve. Before the fireworks are launched at 8:15 p.m., bring a lawn chair or blankets, sit back and enjoy a free outdoor movie screening. And if you're feeling hungry, Brennecke's Beach Broiler, known for its seafood pupu (appetizers), is just across the street. Poipu, Kauai.