Add to the List: Things to Do in January in Hawaiʻi in 2020
From Kauaʻi to Hawaiʻi Island, we highlight our favorite festivals, fairs and local happenings in January.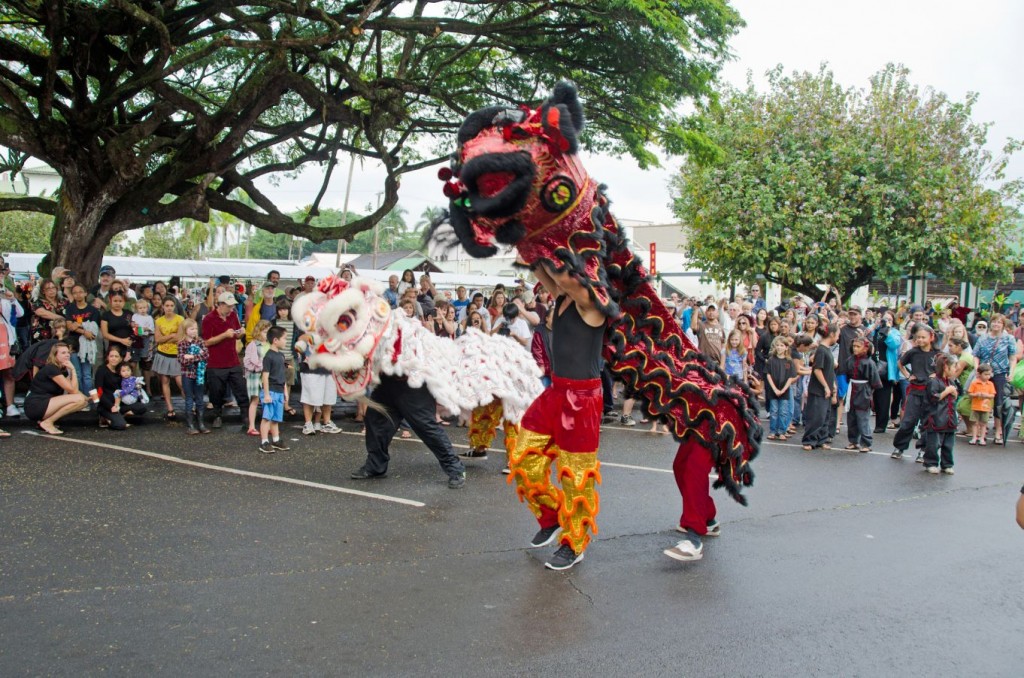 ALL ISLAND

Chinese New Year
1/25
It's time to check your Chinese zodiac fortune as Hawaiʻi rings in the Year of the Rat. The Islands are home to a large population of Chinese Americans and those with Chinese heritage, so you shouldn't be surprised to see lion dance troupes and other forms of Chinese New Year celebrations occurring around Hawaiʻi. If you're wondering where to go to see Chinese New Year festivities, the International Market Place on Oʻahu, the Wo Hing Museum on Maui and Queens' MarketPlace on the Island of Hawaiʻi will all be doing some form of celebration.
OʻAHU

The Martin Luther King, Jr. Holiday Parade and Unity Rally
1/20
Join the Hawaiʻi Martin Luther King, Jr. Coalition for its annual holiday parade, which begins at Magic Island and ends at Kapiʻolani Park. The goal of the march is to promote Martin Luther King Jr. Day as well as reflect upon the principles of interracial cooperation, unity, equality and social change. The unity rally will proceed directly after the parade at Kapiʻolani Park Bandstand. Waikīkī, Oʻahu, mlk-hawaii.com.
Honolulu Tattoo Expo
1/24—1/26
If you're looking to get some permanent artwork done on your body, the Honolulu Tattoo Expo is a great opportunity to get tatted by tattoo artists from all over the country. If you're not looking to get inked, but still want to see some amazing tattoos, each day of the three-day-long event will feature contests highlighting the best tattoos in specific categories, such as American traditional, watercolor and portraits, with a "Best of Show" contest capping the event on Sunday, Jan. 26. Honolulu, Oʻahu, honolulutattooexpo.com.
Star Wars: A New Hope—In Concert
1/31, 2/1
It's hard to imagine not having enough Star Wars content in your life. However, the Hawaiʻi Symphony Orchestra makes a strong case for fans to rewatch the first of George Lucas' Star Wars entries as the full orchestra will play John Williams' Oscar-winning score along to a live showing of Star Wars: A New Hope. Honolulu, Oʻahu, hawaiisymphonyorchestra.org.
KAUAʻI

Kauaʻi Voices Presents: A Banquet of Voices
1/18, 1/19, 1/25, 1/26
Not your average vocal concert performance, the Kauaʻi Voices choral ensemble runs over 50 people deep. Now in its 15th season of performing, this mix and match of Kauaʻi vocal talents feature musical genres, including, but not limited to, Latin, Cuban, jazz, gospel and pop. Līhuʻe, Kauaʻi, kauaivoices.org.
Kauaʻi Community Players Presents The Rocky Horror Show
1/17—2/2
Sing, laugh and dance along as the local Kauaʻi stage performers of Kauai Community Players puts on the first show of its 2020 season, The Rocky Horror Show, at the Puhi Warehouse Theater. Known for being a cult-classic that melds science fiction with B-rate horror movies, this production, originally written by Richard O'Brien, has some strange themes and is only intended for mature audiences. Līhuʻe, Kauaʻi, kauaicommunityplayers.org.
MAUI

New Shanghai Circus
1/17–1/19
Watch as some of China's best acrobats fearlessly fling and contort their bodies on stage at the Castle Theater. Building on traditional Chinese acts, the jugglers, contortionists and balance artists of the New Shanghai Circus work together to form giant living sculptures, which is complemented by orchestrated music. Kahului, Maui, mauiarts.org.
Buy Back the Beach
1/20
Dine under the stars at the Old Lahaina Lūʻau for a good cause, with live and silent auctions and an ʻono lūʻau fare provided by the talented chefs of Nā Hoaloha ʻEkolu. The proceeds of this benefit dinner support the Hawaiian Islands Land Trust, a nonprofit land conservation organization. Lahaina, Maui, hilt.org.
HAWAIʻI ISLAND

'Iolani Luahine Hula Festival
1/24—1/26
Established in 2003, the 'Iolani Luahine Hula Festival has been perpetuating the art of hula for 18 years. The festival, which also includes workshops led by kumu hula (hula teachers) as well as hula presentations by local hula halau (hula groups), is in honor of 'Iolani Luahine, a native Hawaiian hula dancer, chanter and teacher who worked tirelessly to preserve and perpetuate hula and Hawaiian culture. Kailua-Kona, Hawaiʻi Island, iolaniluahinefestival.org.
MOLOKAʻI

Ka Molokaʻi Makahiki Festival
1/24—1/26
In historic Hawaiʻi, the makahiki festival was a time when war was forbidden, crops were bountiful and sports were played, traditionally observed from November through February. This rich Hawaiian tradition is kept alive through events such as this one. Enjoy art booths, workshops and participate in Hawaiian games that have been played for centuries. Kaunakakai, Molokaʻi.