Add to the list: Things to do in January in Hawaii
Celebrate Elvis Presley's birthday, watch a few ocean-related films and participate in traditional Hawaiian games this month in Hawaii.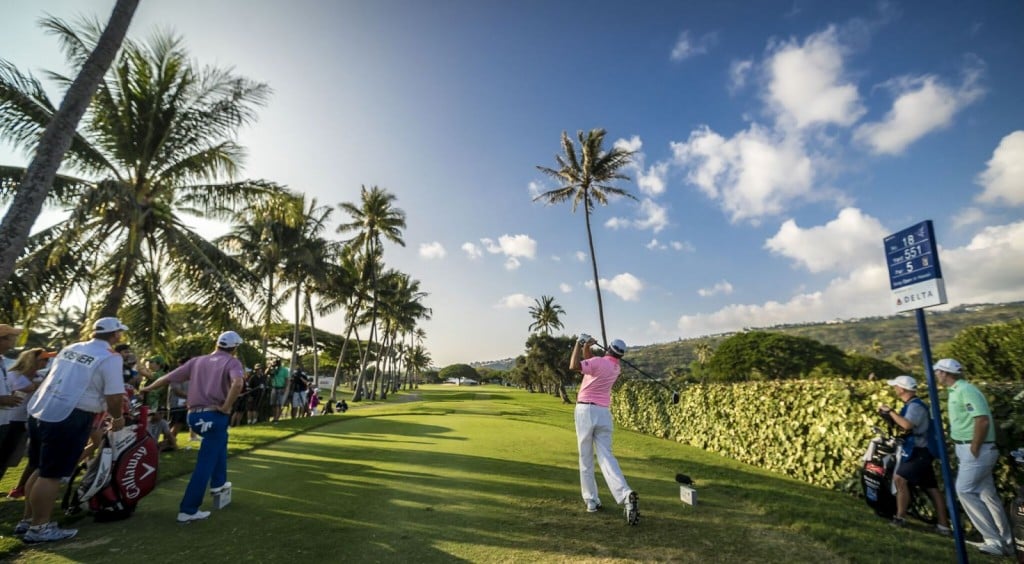 Oahu
Elvis' Rockin' Birthday at Rock-A-Hula
1/8
Celebrate the birthday of the king of rock and roll, Elvis Presley, at the Rock-A-Hula show at the Royal Hawaiian Center. Fire knife dancers, hula dancers and live bands will also make an appearance at this birthday bash. All three table and dinner choices available for purchase come with a souvenir "King's Scarf" and a meet and greet with Elvis Presley's tribute artist. Waikiki, Oahu, rockahulahawaii.com.
Sony Open 2018
1/8–1/14
The world's greatest golf professionals flock to the Waialae Country Club, set against the backdrop of the Kahala coastline, for this premier charity golf event. Golf fans will want to check out this exhibition of international talent, however, those who just want a taste of professional golfing may want to drop by the free admission practice rounds and pro-am on the 8th and 9th. Honolulu, Oahu, sonyopeninhawaii.com.
Pacific Islands Arts Festival
1/20–1/21
Free of charge and open to the public, the Handcrafters and Artisans Alliance promotes local artisans once more at its 19th annual arts festival. Held at Kapiolani Park, artists showcase fabric art, jewelry, ceramics, soaps, lotions and watercolor prints. On Sunday, be sure to catch the lion dancers of the Au's Shaolin Society as they help bring in the Chinese New Year. Honolulu, Oahu, icb-web.net/haa.
Maui
New Shanghai Circus
1/15–1/16
Watch as some of China's best acrobats fearlessly fling and contort their bodies on stage at the Castle Theater. Building on traditional Chinese acts, the jugglers, contortionists and balance artists of the New Shanghai Circus work together to form giant living sculptures, which is complemented by orchestrated music. Kahului, Maui, mauiarts.org.
Buy Back the Beach
1/20
Dine under the stars at the Old Lahaina Luau for a good cause, with live and silent auctions, a traditional luau meal and entertainment by singer-songwriter Tavana. The proceeds of this benefit dinner will go to the Hawaiian Islands Land Trust, a nonprofit land conservation organization. Lahaina, Maui, hilt.org.
Kauai
Resolution Run Kauai
1/6
It's easy to make the New Year resolution of getting fit, then sitting back on the couch and abandoning the idea. Break the cycle by starting your year by participating in Kauai's newest 5K run, which will wind through Hokuala Resort's scenic trails that were opened in early 2016. Dog owners can also bring their leashed canines. Lihue, Kauai, resolutionrunkauai.com.
Kauai Voices Presents: A Banquet of Voices
1/19–1/21
Not your average vocal concert performance, the Kauai Voices choral ensemble runs 40 people deep. Now in its 14th season of performing, this mix and match of Kauai vocal talents feature musical genres, including, but not limited to, Latin, Cuban, jazz, gospel and pop. Lihue, Kauai, kauaivoices.org.
Hawaii Island
Waimea Ocean Film Festival
1/1–1/9
This film festival highlights ocean adventures, ocean sports, ocean conservation and ocean culture. For those wanting to get in-depth and personal, the festival's Breakfast Talks are an opportune place to have compelling conversations with actors, directors and producers. Kohala, Hawaii Island, waimeaoceanfilm.org.
Maisey Rika Concert
1/21–1/22
Working to highlight and revitalize their native language, Maori singer and songwriters Maisey Rika, Rob Ruha and Seth Haapu will be playing music that fuses their native roots with well crafted tunes. Backing them is Aotearoa (New Zealand)-based instrumentalist Horomona Horo, who will be performing on the taonga puoro, a traditional Maori instrument. Waimea, Hawaii Island, kahilutheatre.org.
Kona Surf Film Festival
1/27
Bring a towel, a few chairs and a blanket, and get comfy at Hawaii's longest running surf film festival, with films contributed by local filmmakers. With its stage set up at the Courtyard King Kamehameha's Kona Beach Hotel, the film showcase has stayed true to its grassroots nature. Vendor stalls will also be set up by Hawaii Island businesses and surfboards are going to be given away in raffles. Kailua-Kona, Hawaii Island, konasurffilmfestival.org.
Molokai
Ka Molokai Makahiki Festival
1/27
In historic Hawaii, the makahiki festival was a time when war was forbidden, crops were bountiful and sports were played, traditionally observed from November through February. This rich Hawaiian tradition is kept alive through events such as this one. Enjoy art booths, workshops and participate in Hawaiian games that have been played for centuries. Kaunakakai, Molokai.