Add to the List: Things to do in July 2019 in Hawaii
Enjoy summer to the fullest at these July events across the Islands.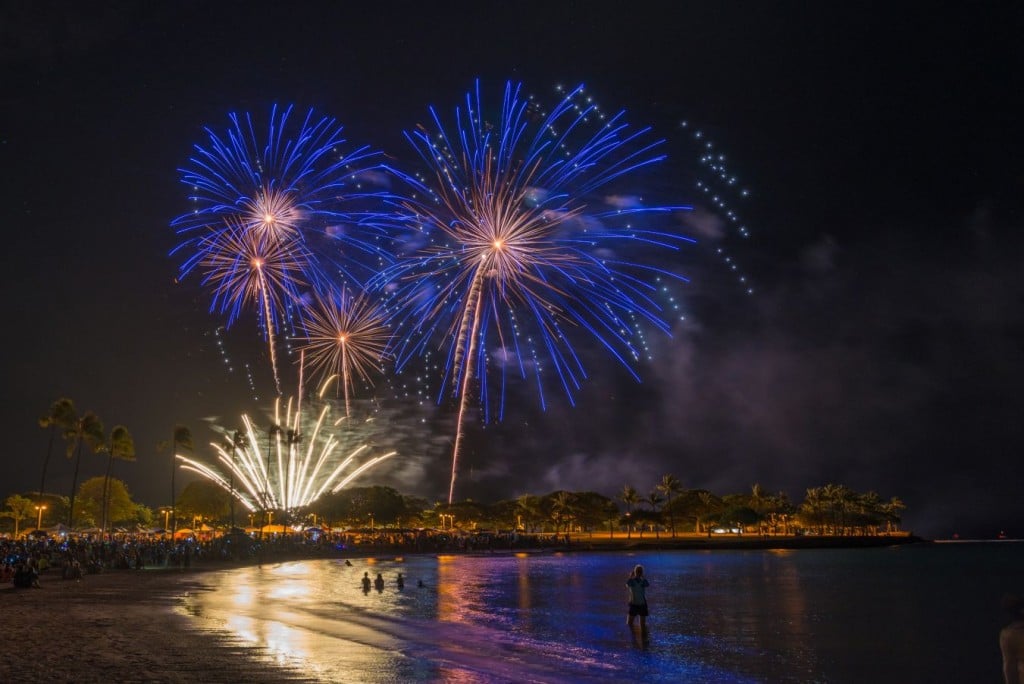 All Islands
4th of July
7/4
Fireworks will light up the sky as Hawaii celebrates America's Independence Day. Grab a seat at the Parker Ranch July 4th Rodeo and Horse Races on Hawaii Island, check out festivities on Oahu such as the 72nd annual Independence Day Parade in Kailua, or enjoy one of the many other celebrations across the Islands. Statewide.
Oahu

Waikiki Aquarium's Ke Kani O Ke Kai Concert Series
7/11, 7/25
Soak up the sounds of slack key guitar masters George Kahumoku and Kawika Kahiapo, under the stars at the Waikiki Aquarium's summer concert series. The two July shows also feature performances from Kalani Pea, Josh Tatofi, Ben & Maila and Kawaiulaokala. On top of these incredible artists, you can also explore the aquarium's galleries, which will be open during the concerts. Members: $30, $15 for children 5-12, free for kids 4 and under. Nonmembers: $50, $20t for children 5-12, free for kids 4 and under. Doors open at 5:30 p.m., concert starts at 7 p.m., 2777 Kalakaua Ave., Honolulu, (808) 923-9741, waikikiaquarium.org.
57th Annual Hawaii State Farm Fair
7/13, 7/14
Celebrate Hawaii's farmers and ranchers at this festival at Kualoa Ranch on Oahu's Windward Side, where you can buy local produce, compete in a watermelon-eating contest and enjoy grinds including Uncle Lani's Poi Mochi. Keiki will love watching real chicks in an incubator, milking a replica cow and cruising around on little pedal-operated tractors. As you learn more about Hawaii's farms, you'll also be listening to local musicians. $5 adults, free for kids and students with valid ID. Saturday 9 a.m. to 7 p.m., Sunday 9 a.m. to 5 p.m., Kualoa Ranch, 49-560 Kamehameha Highway, Kaneohe, hawaiistatefarmfair.org.
29th Annual Hawaii All-Collectors Show
7/14
One day a year, antique dealers from the Islands, the Mainland and Japan gather in Honolulu to display their eye-catching collections and even offer some items for sale. It's a great spot for vintage Hawaiiana and valuable finds such as Niihau shell lei and Hawaiian vinyl. You'll have fun perusing the 100-plus booths and you might even end up coming home with some unique buys. $5, $2 for children 7-11, $20 for early entry. 10 a.m. to 5:30 p.m., early entry at 9:30 a.m., Blaisdell Center Exhibition Hall, 777 Ward Ave., Honolulu, (808) 941-9754, ukulele.com.
42nd Annual Prince Lot Hula Festival
7/20, 7/21
Over two days, 21 hula halau perform in front of Iolani Palace, taking part in Hawaii's biggest noncompetitive hula festival. The festivities are in honor of Prince Lot Kapuaiwa, who revived hula in Hawaii before ruling the Islands as Kamehameha V. Dancers will perform kahiko (ancient) and auana (modern) hula, including a performance by kumu hula Robert Cazimero and Halau Na Kamalei O Lililehua and a massive 90-dancer tribute to the goddess Pele. There will also be a craft fair and cultural arts exhibitions. Free. Saturday 9 a.m. to 4 p.m., Sunday 9 a.m. to 3 p.m., Iolani Palace, 364 S. King St., Honolulu, (808) 839-5334, moanaluagardensfoundation.org.
Ukulele Festival
7/21
Each year, Kapiolani Park hosts one of the largest ukulele festivals in the world, featuring an 800-student ukulele orchestra. In addition to other local musicians, world-renowned ukulele master Jake Shimabukuro will also be returning to the Islands to perform. The event also includes ukulele lessons, giveaways and displays. You can purchase food from such vendors as Teddy's Bigger Burgers and kids can play in inflatable bouncy houses. Free. 10:30 a.m. to 5 p.m., Kapiolani Park, 3840 Paki Ave., Honolulu, ukulelefestivalhawaii.org.
Kauai
Princeville Night Market
7/14
On the second Sunday of every month, the outdoor market sets up shop at the Princeville Shopping Center. Over 50 artisans showcase their Kauai products, such as artwork, jewelry, carvings, clothes and even food. It's a rare event—for four hours you can shop under the stars while soaking up live music. Free. 4 to 8 p.m., Princeville Shopping Center, 5-4280 Kuhio Highway, Princeville, princevillecenter.com.
34th Annual Koloa Plantation Days
7/19-7/28
Honoring the Islands' plantation history, which began with the 1835 founding of Koloa Plantation, Koloa Plantation Days is a 10-day festival chock-full of rodeo games, food and cultural demonstrations, storytelling and the event's signature parade. There are tons of opportunities for you to join in on the action, including a family fun run (with 5K, 10K, 10-mile and 1-mile courses) and free tours of McBryde Garden. Kids can compete too—in a mini golf tournament and in traditional Hawaiian games. Live music performances are also a part of the festivities, including a concert by Hawaiian-music duo Hapa. Most events are free, various times. Various locations, Koloa and Poipu, (808) 652-3217, koloaplantationdays.com.
12th Annual Hanalei Bay Swim Challenge
7/27
After a year hiatus due to the April 2018 floods on Kauai, swimmers are gearing up for the return of Hanalei Bay's epic open water races. There are several races to watch or participate in, from pier swims for keiki to the more intense 3,000-meter race across the bay's clear waters. There will also be a silent auction, with prizes such as massage gift certificates and artwork, to raise money for the Namolokama O Hanalei Canoe Club. $10-$50 for registered participants, free for observers. Hanalei, hanaleibayswimchallenge.com.
Maui

Night at the Reef: Incredible Corals
7/3
It's not every day that you get to see a coral reef at night—or possibly see live coral spawning. But at Maui Ocean Center's after-hours event, you'll learn more about Hawaii's coral, enjoy pupu and hopefully experience the wonder of coral self-procreation. Between stops at the coral explore station and a keynote presentation by Dave Gulko, Hawaii coral ecologist, you can stargaze to the sounds of live entertainment. $39.95, $29.95 for children 4-12, $19.95 for aquarium members. 6 to 9:30 p.m., Maui Ocean Center, 192 Maalaea Road, Wailuku, (808) 270-7000, mauioceancenter.com.
Iao Valley 10K and 5K
7/13
Held by Valley Isle Road Runners, the same nonprofit that hosts the annual Maui Marathon, this race takes participants on either a 10K or 5K course through lush Iao Valley, known for its natural beauty. Along the way, you can spot rivers, thick jungle and other scenic spots. Nonmembers: $45 for 10K, $35 for 5K. Members: $35 for 10K, $25 for 5K. $50 for 10K and $40 for 5K if registering at packet pickup or race day. Packet pickup July 12, 3 to 6 p.m. Race starts at 7:30 a.m. July 13. Starting line at Wailuku Municipal Parking Lot, off W. Vineyard St., Wailuku, (808) 222-2484, virr.clubexpress.com.
Imu Workshop with Ikaika Nakahashi
7/20-7/21
Head over to Maui Nui Botanical Gardens to learn how to build and cook in an imu (underground oven) in this two-day hands-on workshop. $125 for nonmembers, $100 for garden members. Saturday 9 a.m. to 6 p.m., Sunday 8 to 11 a.m., Maui Nui Botanical Gardens, 150 Kanaloa Ave., Kahului, (808) 249-2798, mnbg.org.
Hawaii Island

60th annual Hawaiian International Billfish Tournament
7/27-8/4
This year marks the diamond anniversary of this international fishing contest. The weeklong event includes daily weigh-ins as competitors reel in marlin, tuna, spearfish and sailfish—some weighing up to 1,000 pounds. Kailua-Kona, (808) 836-1723, hibtfishing.com.
Experience Volcano Festival
7/27-7/28
For the first time ever, the town of Volcano is holding a festival to celebrate the area's unique culture and community, showing visitors that there's more there to explore than Hawaii Volcanoes National Park. Events over the two-days will take visitors from the gorgeous collections at Akatsuka Orchid Gardens to the vibrant flavors of Volcano Winery. The best part? All events are free. Free. Volcano, (808) 967-8222, experiencevolcano.com.
Lanai

Pineapple Festival
7/6
A day full of entertainment, games and food, Lanai's annual festival in Dole Park celebrates the source of the island's nickname: pineapple. There will even be a plantation-era food contest with chef Adam Tabura, winner of Food Network's fourth season of "The Great Food Truck Race." To finish it off, kick back and enjoy a breathtaking fireworks show. Visitors coming from Maui can take a special ferry back to Lahaina after the fireworks. Free. Noon to 9 p.m., Dole Park, Lanai City, lanaipineapplefestival.com.
Molokai

Obon Dance & Festival
7/13
Every summer, the Islands celebrate obon festivals, a Japanese tradition that recognizes one's ancestors. Join in on the dances, food, remembrances and fun at the Guzeiji Soto Mission of Molokai. Service at 5 p.m., festival from 6 to 9 p.m., Guzeiji Soto Mission of Molokai, 90 Hotel Lane, Kaunakakai, (808) 553-5197, global.sotozen-net.or.jp.
Molokai to Oahu Paddleboard World Championships
7/28
One of the most difficult paddle races in the world, competitors travel from all over to contend along the Kaiwi Channel from Molokai to Oahu. It's a 32-mile competition you won't want to miss, with contenders journeying from such faraway countries as the United Arab Emirates and Japan to make names for themselves in the Islands. Start at 6:30 a.m. on Molokai, event expo opens at 10 a.m. on Oahu at Maunalua Bay Beach Park, Honolulu, (760) 944-3854, molokai2oahu.com.