Add to the List: Things to do in March 2019 in Hawaii
From fairs to festivals, here are our favorite events and happenings in the month of March.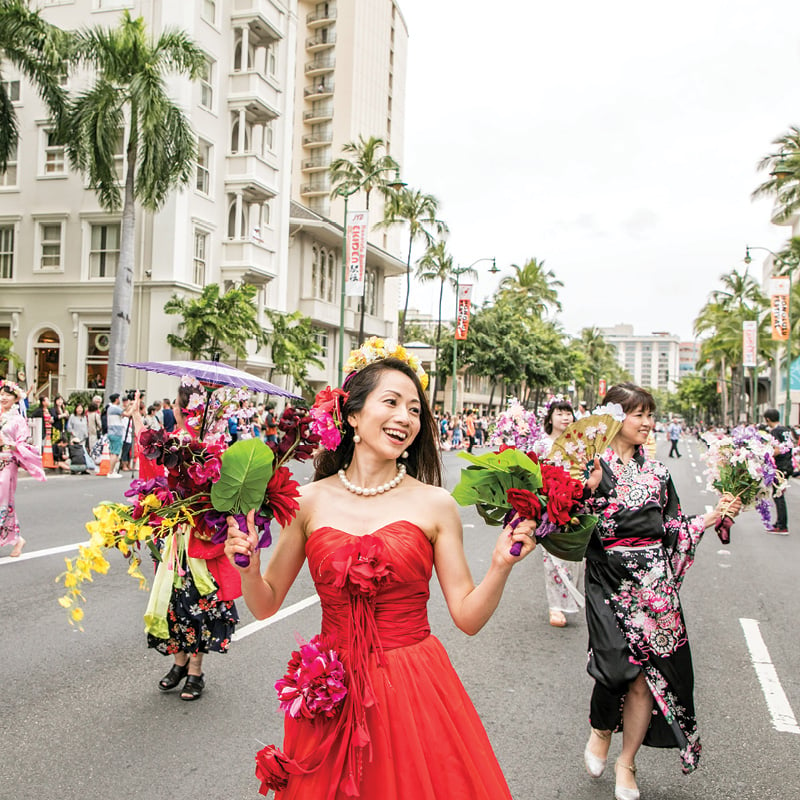 OAHU

The 25th Annual Honolulu Festival
3/8-3/10
Promoting harmony among cultures, the Honolulu Festival attracts thousands every year for its three-day lineup of events, including the Friendship Gala and Honolulu Rainbow Ekiden. The final day culminates with stage performances, a grand parade and the much anticipated Nagaoka Fireworks. Honolulu, Oahu, honolulufestival.com.
St. Patrick's Day Block Party
3/17
One of Hawaii's largest street parties, Murphy's Bar & Grill's St. Patrick's Day party begins at 4 p.m. when Nuuanu Avenue and Merchant Street are closed to traffic. Order food at the many booths, including traditional Irish fare, and listen and dance to live music performed on stages. Honolulu, Oahu, murphyshawaii.com.
"The Watcher of Waipuna"
3/21-4/20
Kumu Kahua Theatre presents "The Watcher of Waipuna" this season, which is based on Hawaii writer Gary Pak's short story of the same name. In the play, Gilbert Sanchez is the watcher of Waipuna, his homeland, which is threatened by commercial expansion. The parable explores the connection between humans and the environment. Honolulu, Oahu, kumukahua.org.
Discovery Day at the Bishop Museum
3/17
Fun for the whole family, this daylong event will teach keiki (kids) and parents about some of Hawaii's diverse ecosystems. Attendees will also be able to view natural science collections, learn about the fascinating fish in the ocean "twilight zone" and attend researcher talks. The Bishop Museum's entomology department will also be showcasing rarely before seen insects from its collection. Honolulu, Oahu, bishopmuseum.org.
KAUAI

The 9th Annual Anahola Prince Kuhio Day Celebration
3/16
Honor Prince Jonah Kuhio Kalanianaole, who served as prince of the Kingdom of Hawaii before its annexation, at Anahola Beach Park. The event will be filled with opportunities to learn about Hawaiian culture, as well as live musical performances and hula. The celebration will also pay tribute to the late Hosea K. Lovell, an advocate and leader of the Hawaiian people. For more information email khpono@gmail.com.
HAWAII ISLAND

Big Island International Marathon
3/17
Whether you're a novice or veteran, the Big Island International Marathon has events for every athlete: full marathon, half-marathon, 5K and a 2-mile walk. The race starts at Hilo Bay and takes participants on a scenic coastal course lined with waterfalls, tropical forests and green landscapes. Hilo, Hawaii Island, hilomarathon.org.
Lavaman Waikoloa Triathlon & Fitness Festival
3/29–3/31
Don't worry, you don't need to be in Olympic shape to enjoy the festivities that surround the Lavaman Waikoloa Triathlon. The three-day fitness festival opens with the Lavaman Sports & Fitness Expo, held at the Hilton Waikoloa, which is a great place to learn how to up your athletic game. Don't forget to save some energy for the 5k sunset fun run at the Queens' Marketplace. Waikoloa, Hawaii Island, lavamantriathlon.com.
MAUI

Jake Shimabukuro
3/16
Award-winning ukulele virtuoso Jake Shimabukuro performs at the Maui Arts and Cultural Center for one night only. Expect to hear fan-favorite compositions, as well as pop covers and songs from his most recent album, "The Greatest Day," which was released last August. Kahului, Maui, mauiarts.org.
Hawaii-Made Film Screening: "Stoke"
3/28
Shot on the Big Island, "Stoke" revolves around a struggling tourist trying to make her way to an active volcano. To do so, she hires two wannabe tour guides to take her there. If you want to see what happens next, the film will be shown for one night only at the Regency Kihei Cinemas. You'll also have a chance to pick the directors' brains during a Q&A panel. Kihei, Maui, stokethemovie.com/screenings.