Add to the list: Things to do in November in Hawaii
Watch indie film premieres, sing along to Henry Kapono and watch the best pros in surfing this month in Hawaii.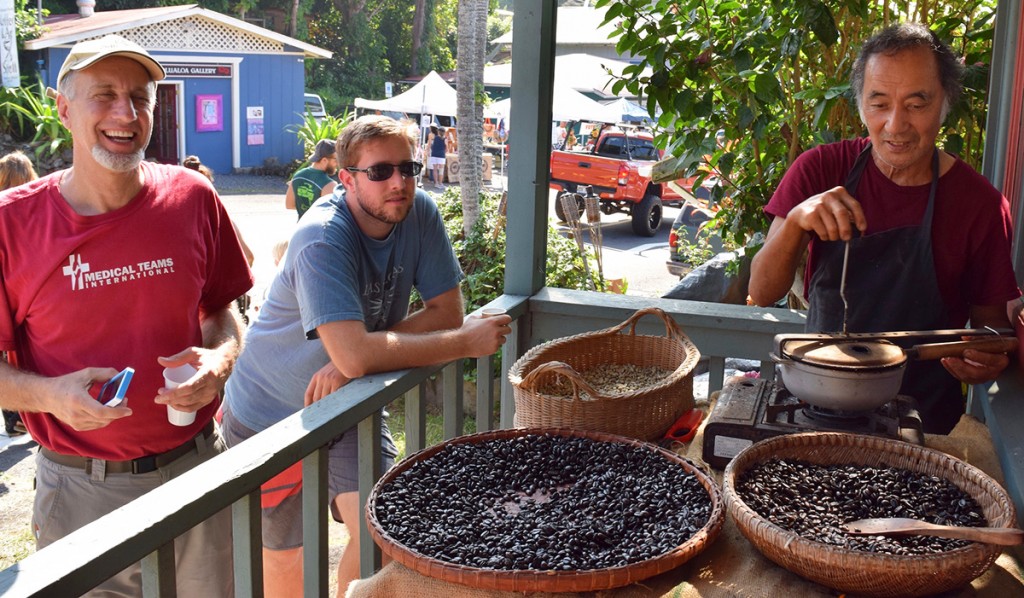 OAHU
Hawaii International Film Festival
11/2–11/12
Hawai'i's answer to Sundance, this film festival provides a cinematic voice for the Pacific and has premiered feature films such as "Crouching Tiger, Hidden Dragon" and "A Leading Man." Movie enthusiasts should consider picking up a flash pass, allowing them to view unlimited films based on theater seating availability. 680 Iwilei Rd., Honolulu, hiff.org.
Vans Triple Crown of Surfing
11/12–12/20
The surfing world returns to the North Shore and top competitors duke it out at three separate events: the Hawaiian Pro, the Vans World Cup and the Billabong Pipe Masters. Find your spot in the sand early, as the two-lane country road that runs along Oahu's Seven Mile Miracle gets flooded quickly by the rush of spectators. Various locations, vanstriplecrownofsurfing.com.
Henry Kapono: The Songs of C&K
11/30–12/2
Join Henry Kapono at the Blue Note Hawaii as he plays sweet tunes from the group that put him on the map, Cecilio & Kapono. Kapono is sharing the stage with some of his friends and top Hawaii entertainers as well. Expect to see appearances by Na Hoku Hanohano winner Blayne Asing, legendary Hawaii performer Johnny Valentine and more. 2335 Kalakaua Ave., Honolulu, bluenotehawaii.com.
KAUAI
25th Annual Hawaiian Slack Key Guitar Festival "Kaua'i Style"
11/19
Now a quarter of a century old, this celebration of ki hoalu (slack-key guitar) brings together acoustic virtuosos, including Blayne Asing and Kamuela Kahoano, along with Kauai residents such as Paul Togioka and Cindy Combs. All event proceeds go toward the Ki Hoalu Foundation. 3610 Rice St., Lihue, slackkeyfestival.com.
Old Koloa Sugar Mill Run
11/11
Located in the town of Koloa, the Old Koloa Sugar Mill was part of the first commercially successful sugarcane plantation in Hawaii. Run a 5K or 10K through this historic landmark, with your entrance fee supporting scholarships for the University of Hawaii at the Kauai Community College and RYLA Rotary Youth Leadership Award. Emi Rd., Koloa, oldkoloasugarmillrun.org.
BIG ISLAND
Kona Coffee Cultural Festival
11/3–11/12
The cultural celebration—a nod to Kona coffee, which planted roots in Hawaii nearly 200 years ago—has been ongoing for 47 years, making it Hawaii's oldest food festival. Aside from the art exhibits on opening weekend, complimentary barista training and the Miss Kona Coffee pageant are the premier events. Various locations, konacoffeefest.com.
8th Annual 'Uncorked' Food & Wine Festival
11/11
Take a trip to The Shops at Mauna Lani for a night of jazz and fine dining. Benefiting the Visitor Aloha Society of Hawaii Island, this festival offers attendees samples from acclaimed Kohala Coast restaurants, such as Roy's Waikoloa Bar & Grill, Sansei Seafood Restaurant & Sushi Bar and Sushi Shiono. If you can drag yourself away from the food, be sure to check out Binti Bailey's performance, as her musical diversity, from jazz to classical blues, makes for a unique performance. 68-1330 Mauna Lani Dr., Waimea, shopsatmaunalani.com.
MAUI
Made in Maui County Festival
11/3–11/4
Shop till you drop at a made-in-Maui market, where local vendors will be selling clothes, jewelry and fresh grinds. For a more leisurely shopping experience, check out the first day of the festival; the second day, considered the "Big Festival Day," is busier and features a fashion show, prize drawings and 12 food trucks. One Cameron Way, Kahului, madeinmauicountyfestival.com.
Turkey Trot
11/23
Not your average run, the winners of this marathon aren't the ones with the fastest time but those who've come closest to guessing their finish time. Start your Thanksgiving off with either an 8- or 16-mile run through Rice Park and enjoy an unobstructed view of the entire Maui valley. After burning off a few hundred calories, your Thanksgiving feast will taste that much better. Kula Hwy., Kula, virr.com.
René Lalonde—In Person
11/24–11/25
For one month only, Martin Lawrence Galleries will be exhibiting the artwork of René Lalonde. Known for his blending of surrealism, cubism and fauvism, this Canadian artist has over 175 solo exhibits under his belt and will be showcasing new art on canvas at the Martin Lawrence Galleries. Fans of Lalonde should keep their Thanksgiving weekend open, as he will be available for a meet and greet on Friday, November 24 and Saturday, November 25. 790 Front St., Lahaina, martinlawrence.com.