Akamai Juice Co. on Kauai keeps it local
The fresh-blended concoctions are made with love from organically raised Kauai fruits and vegetables.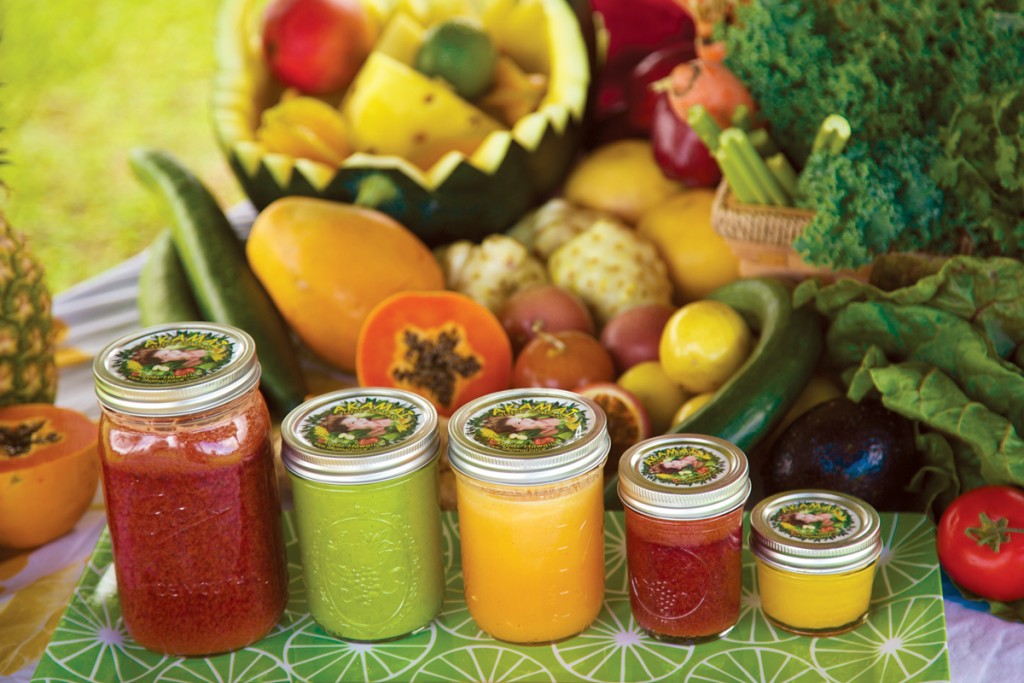 The sun was starting to angle for the horizon when Cas Schwabe looked at me, eyes watering, the hair on her arms standing on end—a phenomenon Hawaii residents call chicken skin, and the rest of the world refers to as goosebumps.
We had been sitting on a bluff at the edge of a horse pasture a few hundred feet above a remote Kauai beach for a couple of hours. Below us, a lone fishing skiff interrupted the graduated blues of the ocean—water so clear and surprisingly calm that we could see a shadow cast by the boat. But it wasn't the setting that made Schwabe emotional. We were talking about juice. More specifically, the Kauai-sourced fruit and vegetable juices she makes and sells under the moniker Akamai Juice Co.
"There are three people who did my last juice cleanse who brought me to tears," Schwabe said. "One woman got her own juicer. Now, she wants her husband to do it, and she's teaching her children about organic produce. It's the best reward, knowing that I've really touched that family."
Schwabe is a true believer in the life and health benefits of organic juicing. Her Arabian horse, Sunny, grazing a few feet away as Bill the goat nibbled on my shoulder, we sipped a special Schwabe concoction of cucumber, apple, carrot, beet, celery, ginger, turmeric, garlic, tomato, Tahitian lime, kale, parsley, cilantro and Hawaiian chili peppers. It was full-bodied and satisfying, with a healthy kick at the end.
"Ginger gives it a really friendly spice, but the heat is definitely the chili peppers," she said.
Schwabe began crafting juices a couple of decades ago while attending college in California. She's since worked in the film and music industries, owned retail stores and even built a skate park. But she's never stopped juicing, all the while offering gallons of the stuff to friends and acquaintances, even when she moved to Kauai in 2004.
Schwabe's love of flying helicopters prompted both her move to Kauai and decision to finally convert her casual juice crafting into a bonafide business with a logo and a name: Akamai Juice Co. (Akamai translates from Hawaiian as "clever" or "smart.") Once on-island, she quickly obtained private and commercial helicopter licenses but found herself short of funds for her first-stage check-instrument license. That dilemma on one hand, and her discovery that Kauai farmers were growing all of the necessary ingredients she'd need to finally make a go of a juice business on the other, the timing seemed right.
"So, I befriended all the farmers," said Schwabe.
A decade later, Schwabe regularly sells 50 to 60 gallons of her various tropical juice creations every Saturday at the Hanalei Farmers Market and offers them at several restaurants on Kauai's north shore. Schwabe also conducts weeklong juice cleanses—detox diets in which only fruit and vegetable juices are consumed. The fun and surprise of her Akamai Juice Co. menu lineup is that it is always changing.
"Right now, mangoes are in season, so we're jamming with four different mango drinks," she said, during our late summer chat.
Among Akamai Juice Co.'s perennial favorites are a Cucumber-Mint Slushy and, for the kids, a concoction called Keiki Love, which blends lilikoi (passion fruit), papaya, apple banana, pineapple and honey. Schwabe's favorite is Lili-Snap, a blending of lilikoi, ginger, turmeric, pineapple and honey.
"I never get tired of lilikoi," she said. "Never. Never. Never."
All of the ingredients Schwabe blends into her juices are organically grown on Kauai save for carrots and apples, simply because she cannot source them locally in the quantities she needs. With pasteurization and additives required to meet shelf-life demands, Akamai's juices also won't be packaged for sale at Kauai grocery stores any time soon.
Said Schwabe, "I want to keep it natural. I want to keep it raw. I think that's a really strong niche for my brand."
One form you may find Akamai Juice Co. blends packaged for in grocery stores in the near future, however, is frozen.
"I want to brand the world's first natural tropical popsicle," Schwabe said. "But it (will need) to go in compostable packaging, because I don't want to create any more drama for the landfills."
It dawned on me as I sat sipping my veggie juice with Schwabe that a juicing business must have some waste. At home, on the rare occasion I bust out my baby-size juicer, ingredients go in as a solid and come out liquid. But there is always leftover pulp. So I asked Schwabe what she did with her pulp.
"Oh, Sunny and Bill get my compost," she said with a laugh, hopping up to chase down Sunny, who was ambling into a different pasture. "He wants to flirt with his girlfriend, named Tuesday. She has the prettiest blue eyes."
Akamai Juice Co.
5-5134 Kuhio Highway, Hanalei, at "The Tahiti Nui" in the Luau Room
Monday to Saturday 7:30 a.m. – 1 p.m.
808) 639-3513
www.akamaijuice.com