Ala Moana Center celebrates its 50th anniversary with deals, giveaways, events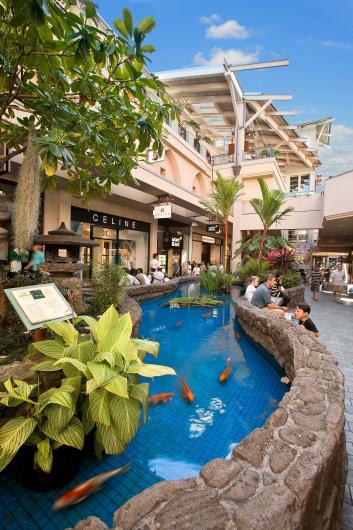 Happy Birthday Ala Moana Center!
The popular Honolulu shopping destination begins a two-and-a-half-week celebration of its 50th anniversary tonight with a Hawaiian blessing, giveaways music performances, exhibits and merchant deals honoring its longstanding history as Hawaii's largest shopping mall.
Some of that history?
Before Ala Moana became Honolulu's premier shopping destination for residents and visitors, the land where it now sits was little more than 50 acres of swampland—unwanted and deemed unusable.
That all changed in 1948, when real estate developer Lowell S. Dillingham took over the marshy parcel, purchased 36 years earlier by his father for $25,000. The younger Dillingham envisioned a shopping center where merchants from Downtown Honolulu's Fort Street commercial area could relocate, with ample customer parking—a must in the growing automobile age.
Many were skeptical, suggesting names such as "Dillingham's Folly" for the new retail center. Still, when Ala Moana Center finally opened on Aug. 13, 1959, it was instantly the largest shopping center in America with 80 stores spread across two floors.
Ala Moana has since ceded that title, but remains record setting. More than 290 retailers, restaurants, a food court, and even a nightclub now fill more than 2.1 million square feet of leasable retail space, making Ala Moana the largest open-air shopping center in the world.
Tonight's 50th birthday party begins with a Hawaiian blessing, entertainment and a ceremony honoring the 11 retailers have been in Ala Moana since it first opened for business: Sears, Shirokiya, Crack Seed Center, Dairy Queen, Foodland, Longs Drugs, Reyn's, Slipper House, Territorial Savings Bank, Watumull's and a branch of the U.S. Post Office.
The celebration is open to the public and begins at 5:30 p.m. at Ala Moana's Centerstage, but stick around for the chocolate.
In Willy Wonka-like fashion, 1,959 candy bars will be given away following the ceremony—five of these containing golden tickets redeemable for a $250 gift card from Ala Moana Center owner, General Growth Properties.
Even if you don't score a golden ticket you can still enjoy hundreds of mall-wide promotions, discounts and exclusive anniversary premiums—many of these, until the end of the month. Click here to see a list of sales and events.
A clothing retrospective, "Fifty Years of Fashion in Hawaii," also debuts tonight, on Level 3 of the center, next to Nordstrom. Promising "50 garments from the past 50 years" including swimwear, aloha attire and other Island attire, the exhibit documents the styles, fads and fashion faux pas passing through Hawaii in the last half-century.
Guides listing all 50th anniversary events can be found at Ala Moana's Customer Service Center and information kiosks. Or, click here to download an online copy.