Alaska Airlines giving away free Hawaii vacations with Apolo Ohno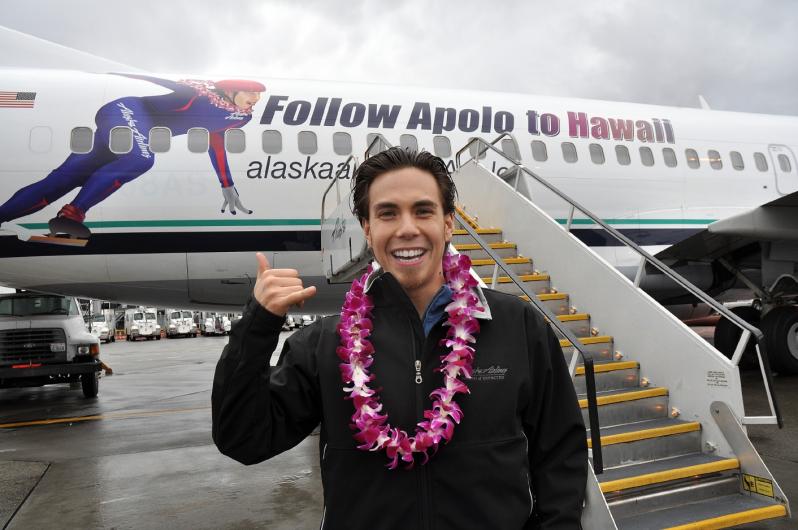 The Winter Olympics are over. The last person in the world that you're probably thinking about is multiple medal-winning short track speed skater Apolo Ohno.
But he's thinking of you—and your wish for a free trip to Maui. Or at least his Olympic sponsor Alaska Airlines is.
Alaska Airlines is giving away five vacations on Maui as part of its just announced "Follow Apolo to Hawaii" sweepstakes. Should you win, it's a pretty sweet prize.
Five grand prizewinners will receive a trip for two to Maui on Alaska Airlines and a five-day, four-night stay at the Grand Wailea resort.
Where does Apolo Ohno figure in all of this?
Winners will also receive the pleasure of Ohno's company at a private luau.
That's right. You. A guest. Four other winners and their guests. Apolo. And a whole lot of kalua pig, lomi salmon and poi.
Good times!
Visit www.followapolo.com to enter. The sweepstakes closes to entries on April 15. Alaska Airlines will notify winners in late April.
Seattle native Ohno, 27, is the most decorated American Winter Olympian ever; having won eight total medals in short track speed skating, three of these in competition at the 2010 Vancouver games in February. One of the Winter Games' most recognized athletes, Ohno also won fame off the ice with a spot (and eventual champion mirrorball trophy) on ABC's Dancing with the Stars competition in 2007.
Since launching service here in October 2007, Alaska Airlines has become one of the Hawaii travel market's major players. The Seattle-based carrier now offers 73 weekly flights to Oahu, Kauai, Maui and the Big Island of Hawaii.