Alaska Airlines Launches Partnership with Voluntourism Organization Travel2change
Aiming to connect visitors with enriching volunteer activities through the Islands, the carrier has begun working with local nonprofits to make it easier for travelers to participate in educational and cultural experiences during their visit.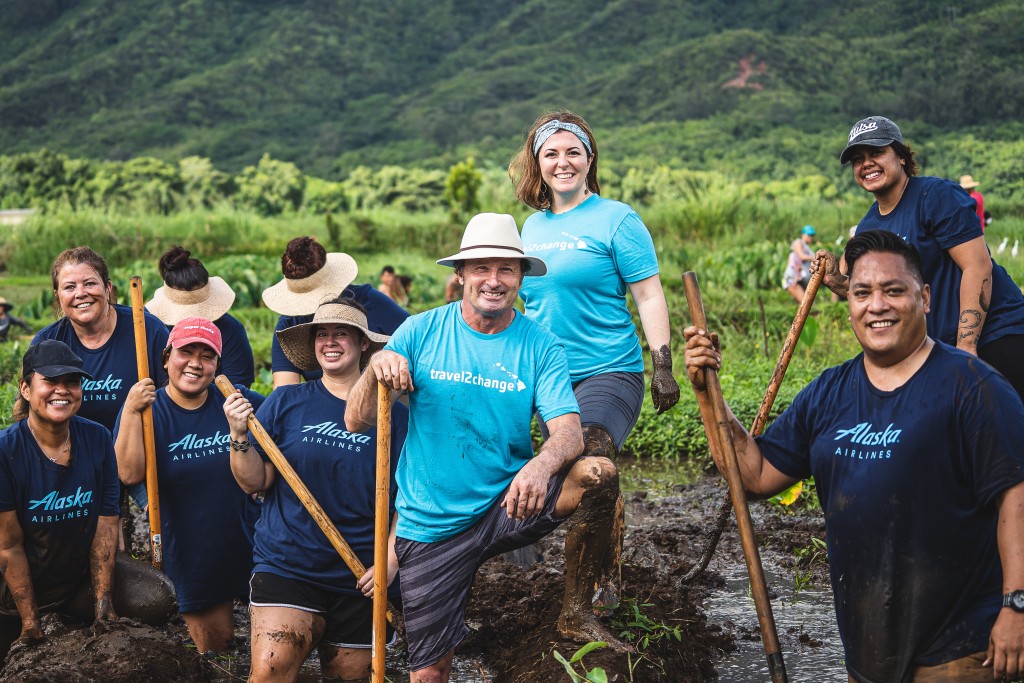 While volunteering in the Islands may sound like working on your vacation, it's really the best way to meet and make friends with residents and to get a unique and authentic perspective of the real Hawaiʻi.
Not only that but after you're pau (finished), you'll be left with a sense of accomplishment that will stay with you for the rest of your visit.
Alaska Airlines has thrown its hat into the voluntourism space by partnering with travel2change, a Hawaiʻi-based social and environmental impact nonprofit, to help connect travelers with eco-conscious activities, such as yoga and beach cleanup sessions, and working in taro fields and helping to revive native Hawaiian wetlands. The nonprofit has been in operation since 2011, offering visitors opportunities to mālama (care for) the local community.
"[T]ravel2change is all about an environmentally sustainable give-back model centered on fun and impact—cultivating mutually-beneficial, reciprocal relationships between the local community and guests," said Mondy Jamshidi Kent of travel2change in a news release. "Alaska [Airlines] shares our vision to innovate for a more sustainable world."
You can sign up for an activity through travel2change and Alaska Airlines here.
Back in September, Alaska Airlines supported a joint effort by travel2change, the Native Hawaiian Hospitality Association and the Hawaiʻi Tourism Authority (HTA) to help Hawaiʻi non-profit organizations build capacity to host volunteer experiences on travel2change.org. This effort by Alaska Airlines to promote community-positive activities and programs and to allow visitors to give back to Hawaiʻi during their stay has been a key focus of the HTA's Mālama Hawaiʻi initiative, which can also net visitors deals with participating hotels.
To celebrate the launch, Alaska employees joined volunteers from travel2change this past weekend to help restore agricultural lands at Kākoʻo ʻŌiwi, a community-based nonprofit on on Oʻahu and one of travel2change's partner organizations.
"We deeply appreciate the Hawaiian cultural value of mālama, which means to nurture and care for," said Diana Birkett Rakow, Alaska's vice president, public affairs and sustainability, in a news release. "Care is at the core of who we are at Alaska, and that means care for our guests, employees, communities and the planet. We're honored to be part of the Hawaiʻi community, and as Hawaii welcomes visitors back to the Islands, we're excited to work with travel2change to inspire our guests to be mindful travelers and to help keep Hawaiʻi strong and beautiful for future generations."
While the experiences on travel2change.org are currently based in Hawaiʻi, activities in other destinations served by Alaska—meaning outside the Islands—will be offered starting in 2022.