Aloha Festivals sets dates for 2010 events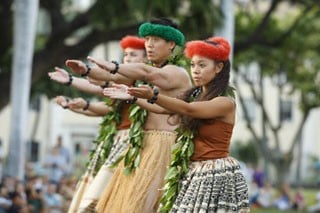 HAWAII Magazine reader Derek Abraham e-mailed us with a question about this year's 64th annual Aloha Festivals:
I am interested in going to Oahu during Aloha Week in September 2010. Could you please send me the exact dates covering Aloha Week? Please give me any information on activities going on during this time.
In 1991, Aloha Week was officially renamed the Aloha Festivals to capture its statewide scope. However, in recent years many events have been cut back due to funding, especially on the Neighbor Islands.
The good news for folks planning to schedule Hawaii vacations around the Aloha Festivals this year? The 2010 dates for two major Aloha Festivals events on Oahu events have just been announced.
They are:
• Sat., September 18, 2010: The Aloha Festivals Waikiki Hoolaulea
The Waikiki Hoolaulea (the Hawaiian word means "celebration") takes spans more than 12 blocks of Waikiki's main drag, Kalakaua Avenue, with live entertainment stages. It's Hawaii's block party.
• Sat., September 25, 2010: The Aloha Festivals Floral Parade
Though this popular parade almost died due to lack of funding in 2008, the colorful assemblage of floats, hula dancers and mounted pau riders has found sponsors and still brings the flowers, music and pageantry of Hawaii to those who line the Waikiki parade route.
For a video slideshow of last year's Aloha Festivals Floral Parade, click here.