Annual Okinawan Festival this weekend in Waikiki a cultural celebration … with great eats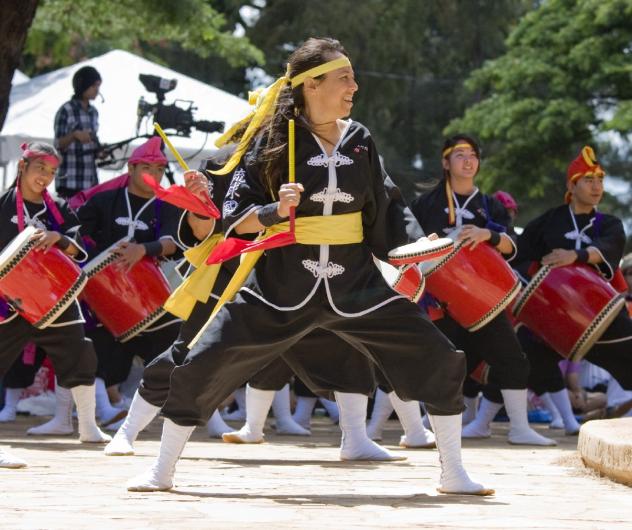 Sink your teeth into some andagi (Okinawan doughnuts), grab a champuru plate lunch (shoyu pork, stir-fried vegetables, luncheon meat and deep-fried tofu) and, if you're anything like us, you'll still be hungry for more Okinawan eats at the 32nd annual Okinawan Festival in Waikiki's Kapiolani Park.
Happening this Saturday (Aug. 30) and Sunday (Aug. 31) from 9 a.m. to 5 p.m., the annual Okinawan Festival will feature live entertainment by local and visiting Okinawan groups, an array of Okinawan cuisine and multiple cultural booths. Organized by the Hawaiian United Okinawa Association, the fest offers an opportunity for Hawaii residents and visitors to learn about Okinawan culture. Since its 1982 debut, the fest has grown from a small gathering for Hawaii's Okinawan population to a two-day extravaganza attracting an increasingly large, diverse audience.
Expect an array of Okinawan cuisine food booths, myriad cultural booths, live continuous entertainment, a scavenger hunt, kids games and the annual Okinawan Festival Bon Dance. The festival's bon odori dance, held Saturday evening from 5:30 to 9:30 p.m. is one of many summer bon dances in Hawaii, and a must-visit for festgoers, with hundreds attending every year.
Photo: Okinawan Festival/Hawaii United Okinawa Association
Some Okinawan foods you can expect to find at the festival? (Save room — you'll want to try more than just one of these.):
• Andagi—Okinawan deep-fried doughnut.
• Andadog—Okinawan cordog: a hot dog on a stick dipped in andagi batter and deep fried.
• Ashitibitchi—Okinawan for "pig's feet soup", this dish is a rich broth made with pig's feet and spareribs garnished with konbu (seaweed), daikon, togan and mustard cabbage, and served with rice.
• Champuru Plate—shoyu pork, deep-fried tofu and stir-fried veggies served with rice.
• Oki Dog—a chili dog wrapped in a soft tortilla with shredded shoyu pork and lettuce.
• Chicken Nishime—chicken, mushroom, daikon, carrots, and konbu slowly braised and simmered in dashi, served with rice.
For a complete schedule of events, and a list of food, booths, and entertainment, visit the Okinawan Festival website.

Photo: Okinawan Festival/Hawaii United Okinawa Association
Immigrants from Okinawa began arriving in Hawaii in 1900 to work on Hawaii's sugar and pineapple plantations. By 1908, there were more than 8,000 Okinawan laborers in Hawaii. Okinawa is the southernmost prefecture of Japan, made up of hundreds of small islands. To differentiate themselves from the Naichi of Japan's four main islands, Hawaii's Okinawan immigrants and descendants refer to themselves as Uchinanchu.
Established in 1951, the Hawaiian United Okinawa Association serves as an umbrella organization for more than 40,000 Uchinanchu who are part of the 50 member clubs statewide. Each club is made up of families whose ancestors immigrated to Hawaii from the same area of Okinawa. HUOA's mission is to support Uchinanchu, and to share the Okinawan culture and heritage in Hawaii and internationally. All Okinawan fest proceeds support HUOA's cultural programs.
Parking at Okinawan Fest's Kapiolani Park location will be limited, but HUOA has arranged for shuttles to run between Kapiolani Community College and the Okinawan Festival. Parking at KCC is free, and a round-trip shuttle ticket costs $2.