Annual Ukulele Festival Hawaii brings local, international players to Waikiki this Sunday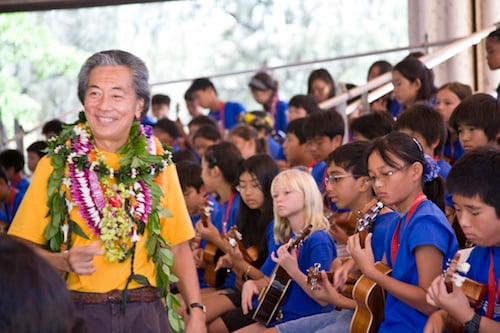 Ukulele lovers of the world—or at least those finding themselves on Oahu this Sunday—unite!
Each year, thousands of visitors and residents flock to Kapiolani Park to check out Ukulele Festival Hawaii, an annual gathering featuring skilled local and international ukulele players, alongside student musicians from around the island. This year's 43rd annual event will include performances by Jake Shimabukuro, Sean Naauao, Paula Fuga, Herb Ohta, and more.
The festival happens July 21 from 10 a.m. to 4 p.m. at the Kapiolani Park Bandstand in Waikiki. Admission is free.
With performers ranging from local celebrities to international players from Korea, Taiwan, Thailand and Japan, the festival celebrates the artistry of the Hawaii-invented instrument here in the Islands and its interpretation by cultures worldwide. Festival founder and Oahu-based ukulele instructor Roy Sakuma (pictured above) will demonstrate just how versatile the instrument is with his own 800-student orchestra, whose musicians range in ages 5 to 85. Expect the orchestra's musical repertoire to include pop, jazz, reggae, rock, classical and Hawaiian music.
Visitors can also enjoy perusing the fest's Hawaii-style food booths, displays by local ukulele crafters and festival merchandise. One lucky winner will even score a free ukulele!


Established in 1971, the Ukulele Festival began as a project of Sakuma and his co-workers at the Honolulu Parks and Recreation Department. With Sakuma's goal of reviving and perpetuating the tradition of ukulele playing, the festival has grown to become the largest of its kind in the world. In 2004, Roy and wife Kathy Sakuma even created an Ukulele Festival Hawaii non-profit charity, which provides scholarships for high school seniors.