APEC conference gets under way on Oahu, President Obama to host international event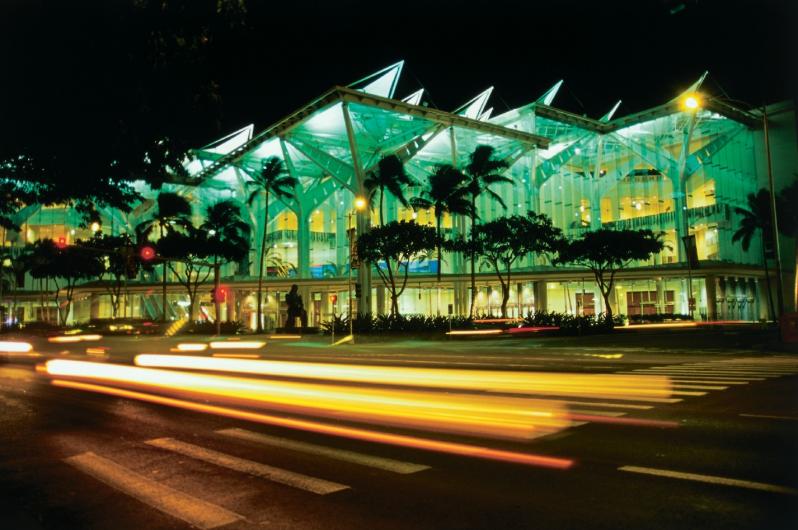 The Asia-Pacific Economic Cooperation conference — the biggest international event ever held in the Islands — begins today on Oahu. An estimated 20,000 attendees, including President Obama and top leaders from several nations, are touching down on here for various talks, receptions and sightseeing excursions, which will wrap up on Sun., Nov. 14.
If you happen to be in Honolulu, you can expect to see some traffic delays and detours, a few closures, and fewer parking options in the Waikiki and downtown areas.
Police have shut down a typically busy traffic areas near the Hawaii Convention Center (pictured, right and below), where APEC attendees are now gathering. Also, lanes along Waikiki's main drag, Kalakaua Avenue, are closed near the convention center. For additional information about traffic concerns, click here.
The city and state have closed area parking lots, street parking and restricted access to sidewalks and parks. Ala Moana Park, for example, is open to pedestrians, but its main parking lot is closed. Also in the Waikiki area, Ala Wai Community Park is closed to the public through Sunday, and Kapiolani Regional Park's parking lots are blocked off. For more information about restrictions and closures, click here.
With the exception of Iolani Palace, major visitor attractions are not expected to be closed to the public. The palace and its surrounding grounds, near Downtown Honolulu, closed yesterday and will reopen on Mon. Nov. 16. Public safety concerns reportedly prompted the closure, which followed a recent incident in which a group of about two dozen people known as "Hawaiian Kingdom Government" stayed on the grounds overnight and locked the gates.
Hawaii has had nearly two years to prepare for the APEC conference. On Nov. 14, 2009, the White House announced that the 2011 APEC Leaders' Meeting — the highlight of the conference — would take place in November 2011 in Honolulu, with 21 economies attending. A statement announcing the meeting said, "The President looks forward to welcoming his fellow APEC economy leaders to the state where he was born and to showcasing Hawaii's rich cultural heritage and hospitality."
The opening ceremony for APEC's CEO Summit is slated for 8 a.m. on Fri., Nov. 11, and will be followed by discussions about matters ranging from regional and global developments in technology and politics to environmental and sustainability issues. For additional information about APEC, click here.