Artistically transformed woods in spotlight at juried exhibit on Big Island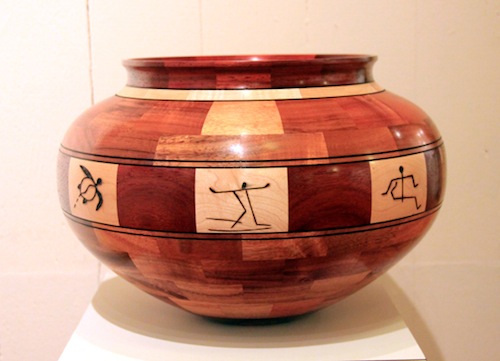 Some of the finest woodworking in the Islands is now on display at the 27th annual Hawaii Wood Guild Exhibit. The juried exhibit, which got under way last week at Isaacs Art Center in Waimea (Kamuela) on the Big Island (upcountry area, east of the Kohala Coast), is open to the public on Tuesdays through Saturdays, from 10 a.m. to 5 p.m. through Feb. 23, 2013.
The Hawaii Wood Guild is a volunteer-based organization for woodworkers and wood enthusiasts on the Big Island. The group aims to promote awareness and appreciation for Hawaii's woodworkers and forest stewardship.
Later this year, the juried 21st annual Hawaii Woodshow, will spotlight "heirloom quality" art pieces crafted predominately with Hawaii-grown woods, such as native koa, kamani, kiawe (mesquite), macadamia nut, mango, and Norfolk pine. Endangered woods and certain rare species are, of course, prohibited. 

The juried woodworking show will be held Sept. 1-15 at the Honolulu Museum of Art's gallery in the historic Linekona building. Hawaii Forest Industry Association, a nonprofit that promotes "healthy and productive forests and a sustainable forest industry," organizes the show.
For more information about the 27th annual Hawaii Wood Guild Exhibit, click here.