Augusta-Helen "Aunty Gussie" Bento: 5 Things I Love About the Art of Hawaiian Quilting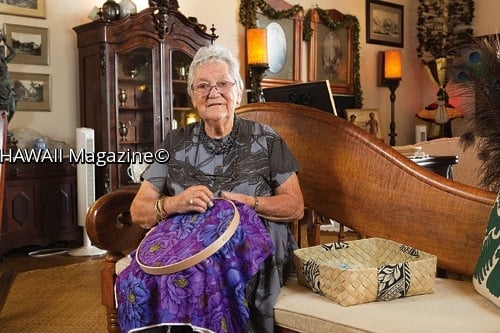 Augusta-Helen "Aunty Gussie" Bento finds beauty and quilting patterns everywhere. Upon encountering a beautiful flower or leaf, she'll often incorporate it into a kapa kuiki (Hawaiian quilt) in progress or make a pattern of it for a later project.
"You can go through life saying the sun is too hot," she says. "But you're not going to enjoy life. I get up in the morning and say, 'I know this is going to be a good day.'"
Bento, a master of the art of Hawaiian quilting, is a spry, gregarious 81-year-old. Her days are full, and she likes it that way. She mentors students three days a week at Kamehameha Schools. And on Wednesdays, she heads to the Queen Emma Summer Palace in Oahu's Nuuanu Valley to teach a packed class on Hawaiian quilting.
Bento learned to sew at a young age, first from her mother then as a student at Kamehameha Schools. She was introduced to Hawaiian quilting by her paternal grandmother and learned the craft from some of its most-revered artisans, including the late Kepola Kakalia. These mentors, she says, were her first "quilting family."

Patchwork sample from a Hawaiian quilt. Photo: Wikipedia Commons
"These relationships are very important," she says. "You're not related by blood, but you're always comfortable with them."
Missionaries introduced the art of quilting to Hawaii in the early 1800s. Native Hawaiian women, however, adopted the craft and made it their own, incorporating technique and design from traditional kapa moe (a bedcovering made from tree bark) into their creations. Over time, a unique applique technique incorporating large, vibrant, radially symmetric patterns often inspired by nature evolved and became Hawaiian quilting's signature. The quilts are now treasured heirlooms of many Hawaii families.
Bento continues to quilt because it makes her happy. She's also lost count of how many quilts she's completed, but confesses, "I love them all."
"Sometimes you have someone in mind for a quilt. Sometimes not. Sometimes, you're just making something because you see a color, a fabric or something that catches your eye. It's the beauty of the things around you that gives you the inspiration."
The five things she loves about the art of Hawaiian quilting?
1. PERPETUATING
"There are many people who are interested in learning quilting. For me, this is great. I enjoy teaching. Younger people may not always be interested in Hawaiian quilting, but I think it just takes time for them to mature [to appreciate the craft]. With Hawaiian quilting, when people see the beauty in it, they are going to want to continue doing it."
2. SEWING
"I enjoy the art of sewing. I like to sew clothes. I like to sew patchwork quilts. It's the art of putting thread to fabric and making something of it. I can't explain it any more than that."
3. NATURE INSPIRED
"I design quilt patterns, [inspired by] nature, flowers and leaves. I like 'pretty.' This is a chance for me to take pretty and put it into a design. In Hawaii, we have beautiful surroundings. The plants. The water. The flowers and the trees. To be able to go outside and smell the beauty—[it all] transfers into my quilting. If I see something I like—like a plumeria—I go and put that into my pattern."
4. HANDMADE
"I've always liked to make handmade things. And Hawaiian quilting is a Hawaiian activity, a cultural activity. Last October, I also started taking a painting class with acrylics. I can't draw a thing, but it's amazing. I'm really enjoying it."
5. FELLOWSHIP
"Sharing something that you know with others who are enjoying the same kind of activity is wonderful. I can sew. I know how to quilt. So I want to share what I know with those who would like to learn. That fellowship with people, it keeps [me] going. It keeps my mental understanding going. I could just stay home here and watch TV, but I'm not learning anything from that. My students and I, we have a good time."
Hawaiian quilting with "Aunty Gussie" Bento
9 a.m.-noon, Wednesdays • Emmalani Hale, Queen Emma Summer Palace, 2913 Pali Highway, Honolulu, Oahu • (808) 595-3167 • daughtersofhawaii.org
(This feature was originally published in the may September/October 2014 issue of HAWAII Magazine.)