Be Swept Away in the Wonder and Magic of Old Lahaina Lu'au
Here, the beauty of traditional Hawaiian ways of living are kept alive night after night.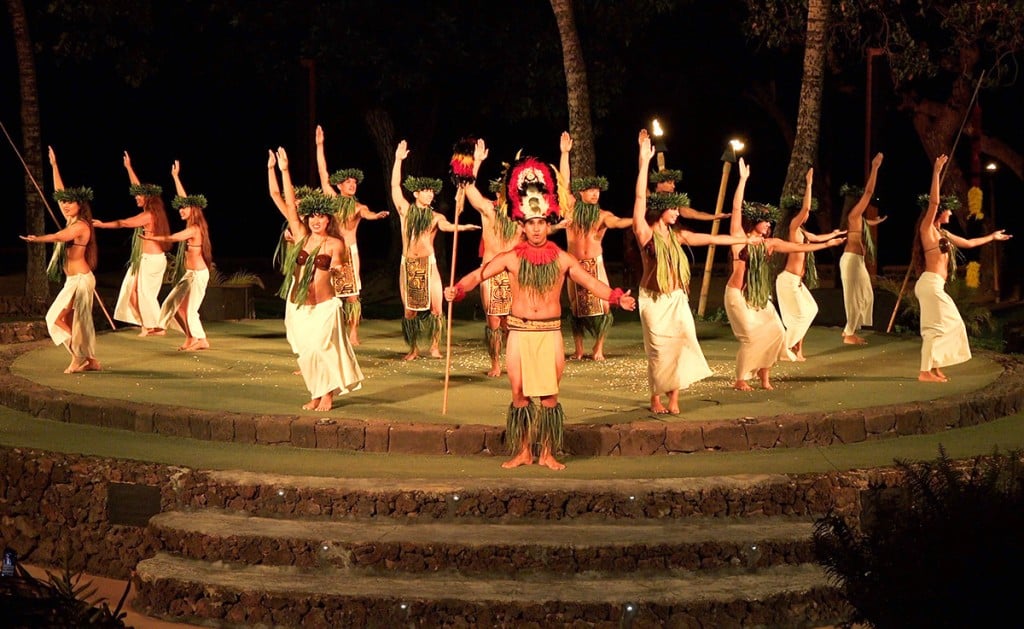 With the sound of ocean waves beside you, coupled with the bright stars above, it's hard not to feel swept away in the wonder and magic of the Old Lahaina Luʻau. Here, the magic of traditional Hawaiian ways of living are kept alive night after night through cultural interaction, authentic and contemporary cuisine, and exciting performances that incorporate traditional as well as modern hula with the true aloha spirit of Hawai'i.
Thirty-two years ago, the Luʻau had a small, yet humble beginning on the beach at 505 Front Street. Originally more of a casual affair, co-founder Michael Moore recalls beach parties that were BYOB, where the banquet crew and wait staff were also the entertainers in the show. Twelve years later, the Luʻau moved to its current location at 1251 Front Street, with a larger capacity and an unmatched Luʻau venue – with its beautiful Hawaiian village ambiance, complete with an ocean view backdrop, terraced dinner seating, and tropical landscaping – and the same Hawaiian hospitality that they were known for.
The Luʻau is one of the most popular attractions for visitors to Maui. And it's not hard to see why. From the beginning, Hawaiian values of aloha, hoʻokipa (hospitality) and poʻokela (excellence) have been the core of their business philosophy. You will experience this with every employee you come into contact with, as they strive to create lasting memories for each and every guest.
On entering the Luʻau grounds through an impressive wooden hale (house), guests are greeted with fresh flower lei by a welcoming group dressed in traditional attire. An enticing, perfectly crafted mai tai or fruit juice is offered, as gracious hosts escorts excited guests to their tables and reserved seats.
Before the feast and performances, a walk around the beachside premises gives guests a chance to relax and chat as the sun sets into the blue ʻAuʻau Channel. Interactive and cultural activities await guests, such as ulumaika (a traditional bowling game), coconut husking, poi making, and hula instructions. It's also the right time to take a selfie with the nearby Islands of Molokaʻi and Lanaʻi as the backdrop.
Then the feast begins. The main entree of the roast pork, which was steam-cooked by traditional means in an imu, or underground oven for 10 hours, yields a mouth-watering, fall-off-the-bone moist pork with perfect smoky and sea-salt flavoring.
The rest of the traditional feast also includes poi (pounded taro), poke (raw cubed ahi fish), lomi lomi (massaged) salmon, lau lau (fish and pork steamed in taro leaf pockets), pohole fern salad, luʻau kalo (taro leaf stew), pipi ko'ala (grilled beef steak) and more. There are so many other dishes to eat at the buffet that touch on the many cultural influences in this melting-pot state, including chicken, fried rice and chicken long rice. Vegetarian choices are included in the buffet as well. The food is locally sourced and much of it is grown on their very own Hoaloha Farms in central Maui.
For dinner quaffing, pair Maui Brewing Co.'s sweet potato beer, ʻUala Lager, crafted exclusively for the Old Lahaina Luʻau. Or continue with the free flowing mai tais and full bar.
But it is the evening's authentic entertainment that wraps it all up in the most wonderful way. Telling the history of the Hawaiian people from migration to these islands, ancient dances of gods, and modern dances of the monarchy and plantation eras. The exquisite kane (male) and wahine (female) dancers along with their vibrant and natural costumes bring to life the history and stories of old Hawai'i.
As the sun sets in this whaling port and one-time capital of Hawai'i, you are mesmerized by its beauty and enchantment that so many who have visited have experienced—and you soon feel a part of this very special ahupuaʻa (land division) and the people who call it home.
Here in Hawaiʻi we never say good-bye, but a hui hou, until we meet again!
For reservations and information, call (800) 248-5828 or visit oldlahainalua.com.