The Best Bakeries on Oʻahu in 2022
Here are the winners for the best bakeries on Oʻahu from our 2022 Readers' Choice Awards.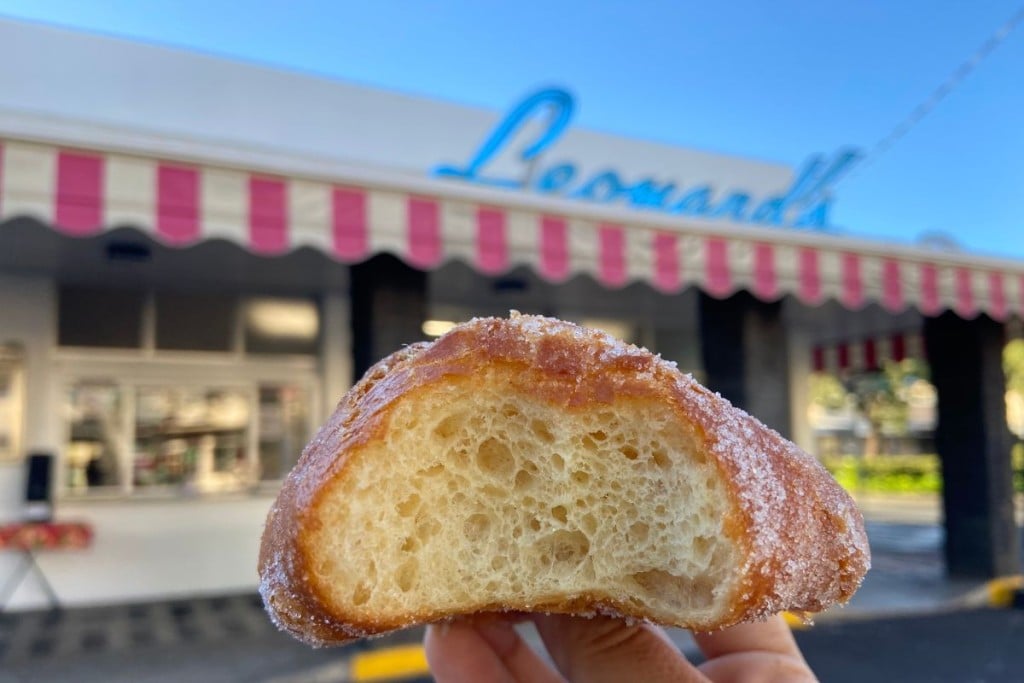 Oʻahu is home to some of Hawaiʻi's most well-known bakeries that have been satisfying sweet cravings for generations. From a classic hot malasada to cream pies, here's how HAWAIʻI Magazine readers ranked the best bakeries on Oʻahu in our the 2022 Readers' Choice Awards.
1. Leonard's Bakery
View this post on Instagram
The pink box from Leonard's Bakery is iconic—and you know what's most likely inside: the bakery's legendary malasadas. Located in Kapahulu, this family business has only grown in popularity since its opening in 1952. Though it is most well-known for its original malasadas (Portuguese fried doughnuts dusted with just plain sugar), it also coats them in other flavors like cinnamon sugar and li hing (dried plum) powder and fills them with custards with flavors like dobash (chocolate pudding), haupia (coconut pudding), macadamia nut and guava. Plus, there are four Malasadamobiles that serve hot and fresh malasadas in Waikele Shopping Center, Pearlridge Shopping Center, Koko Marina Shopping Center and Windward Mall Shopping Center—now you can have a box of fresh Leonard's malasadas wherever you are.
933 Kapahulu Ave, Honolulu, (808) 737-5591, leonardshawaii.com, @leonardsbakeryhawaii
2. Liliha Bakery
View this post on Instagram
What isn't Liliha Bakery famous for? Open since 1950, this bakery and diner serves up local favorites like loco moco, oxtail soup, custard pie and other baked goodies. Its Coco Puffs combine the signature macademia-nut Chantilly with pastry and homemade chocolate pudding. Another customer favorite, its famous butter rolls with neon-red cherry jelly are served when dining in, but the jelly is also bottled and sold in jars.
Various locations, lilihabakery.com, @lilihabakery
3. Kamehameha Bakery
View this post on Instagram
Three words: Poi. Glaze. Doughnut. Those warm, fluffy, chewy (and not to mention purple!) doughnuts are simply what make Kamehameha Bakery so special. Since 1978, it has produced freshly made doughnuts and fritters infused with local flavors like haupia, mango and poi (taro pudding). The bakery doesn't just make poi glaze doughnuts, though—customers also love its haupia malasadas, banana bread and banana fritters.
1284 Kalani St., Unit C106, Honolulu, (808) 845-5831, kamehamehabakeryhi.net, @kamehamehabakeryhawaii
4. Ted's Bakery
Go to any local family gathering and you're bound to see a pie from Ted's Bakery. Located on the North Shore, this bakery started as a local grocery store by the Nakamura family until 1987 when Ted Nakamura began selling doughnuts and pastries to the customers. Since then, Ted's Bakery has become famous for its cream pies, especially the chocolate haupia pie. Layered with chocolate pudding, haupia and whipped cream, this pie is one-of-a-kind. If you ever find yourself on the North Shore, you won't want to miss this spot.
59-024 Kamehameha Highway, Haleiwa, (808) 638-5974, tedsbakery.com, @tedsbakeryhi
5. Sugarlina Bakeshop
View this post on Instagram
Founded by two sisters, this bakery in Honolulu creates treats that are (almost) too pretty to eat. With a large selection of cupcakes to choose from, Sugarlina Bakeshop offers classic flavors like red velvet and vanilla while highlighting island flavors like mango, lilikoʻi (passion fruit) and guava. It also features a signature flavor of the month for its cupcakes. Other popular items include its banana pudding, macarons and mini cupcakes.
1200 Ala Moana Blvd., Suite 6000130, Honolulu, (808) 200-5169, sugarlinabakeshop.com, @sugarlinabakeshop
See all of the winners of our 2022 Readers' Choice Awards in our latest issue, which you can buy here. Better yet, subscribe and get HAWAIʻI Magazine delivered to right to your mailbox.