Best Hawaii music albums of 2008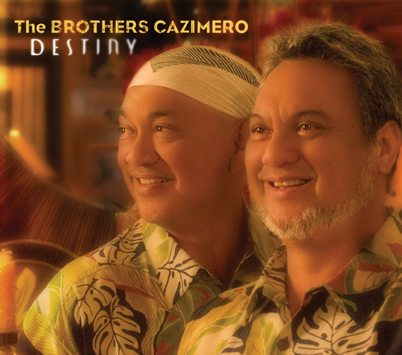 Need some Hawaii-made music for your iPod, iPhone or iWhatever?
In the January/February 2009 issue of HAWAII Magazine, we catch you up with the best music from Hawaii this year. Our five favorite Hawaii-made albums of 2008 came from three longtime favorites, a young innovator in peak form and a singer-songwriter whose last CD preceded the Bush-Cheney administration.
You'll find the full text for each of my choices in the pages of HAWAII—on newsstands this month, or by print subscription or digital subscription. Here, I share HAWAII Magazine's Best 5 list of albums (in no particular order), links where you can order each and an audio sample from each.
Destiny
The Brothers Cazimero
Mountain Apple Company
The Brothers Cazimero are still crafting some of the best music of their long careers. Destiny is no exception—a dozen impeccably produced tracks showcasing the Caz's crystalline vocal blend, crisp musicianship and boundless creativity. Buy here. Audio sample: "Ka Imi Loa"
Home Malanai
Leokane Pryor and Friends
Naupaka Productions
Leokane Pryor's soaring falsetto on Home Malanai—his first album since his 2000 debut—was one of the highlights of Hawaii music in 2008. Relaxing, fun and occasionally somber, it's the musical equivalent of a lengthy, luxurious afternoon reuniting with a long-lost friend. Buy here. Audio sample: "Kaimu"
Aumakua
Amy Hanaialii
Ua Records/Concord Records
Yet another excellent Amy Hanaialii mix of songs. Her stunning multi-range voice brings on the chicken skin—Hawaii slang for goosebumps—whether interpreting new or classic Hawaiian compositions, jazz standards or re-working old Creedence Clearwater Revival. Buy here. Audio sample: "I Remember You"
Kaneohe
Nathan Aweau
Bass Plus Music Arts
Nathan Aweau possesses one of the most beautiful voices in current Hawaii music. Kaneohe shows off how remarkably versatile a voice it is as well—rich with emotion, combined with his always deft and inventive blend of instrumentation. Buy here. Audio sample: "Kaneohe"
Kaumakaiwa
Kaumakaiwa Kanakaole
Mountain Apple Company
Innovation is the hallmark of Kaumakaiwa Kanakaole's approach to Hawaiian music. Here, he proves himself a force of nature, combining Hawaiian storytelling, chant and traditional instruments with modern composition styles, topical subject matter and subtle studio wizardry. Buy here. Audio sample: "Grandchild"
Got your own list of 2008's best Hawaii music albums, or just a favorite Hawaii album released this year? Tell us and other HawaiiMagazine.com readers about it with a comment below.