The Best Hotels on Kauaʻi, According to our Editors
From luxury villas to budget-friendly finds, here are our editors' picks for Kauaʻi's best stays.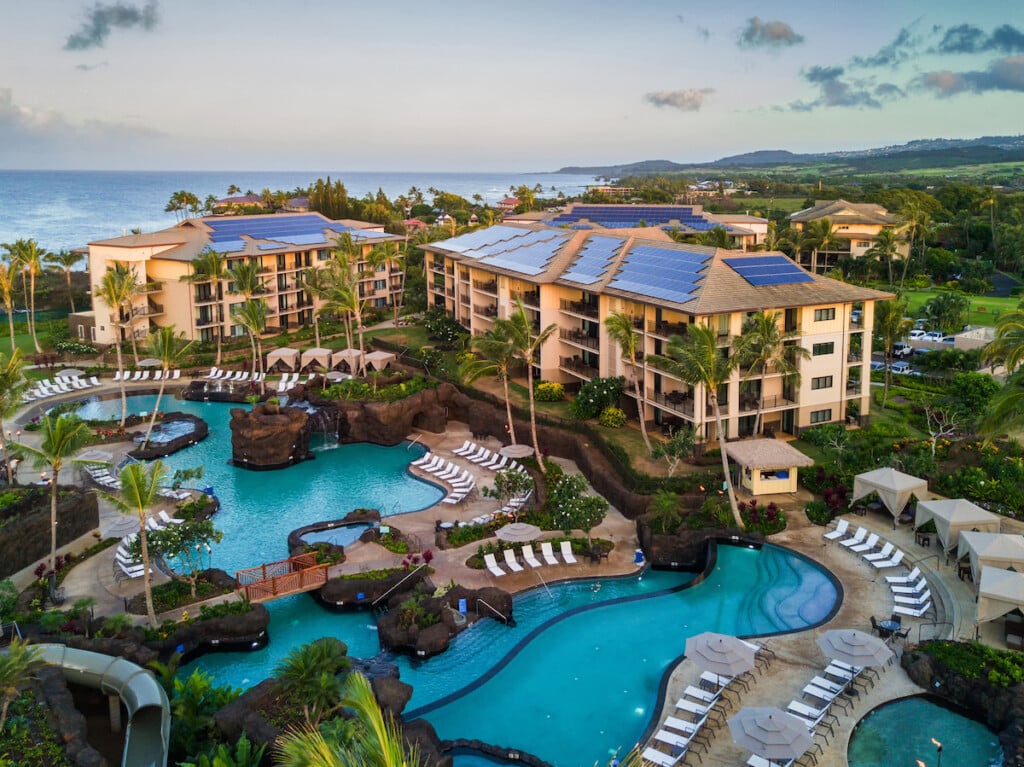 Best for Island Vibes: The Grand Hyatt Kauaʻi Resort & Spa
Best for Families: Kōloa Landing Resort
Best for Beach Lovers: Koʻa Kea Resort
Best for Long Stays: Marriott's Waiohai Beach Club
Best for Resort Living: Sheraton Kauaʻi Resort
Best for Family Retreats: The Lodge at Kukuiʻula
Best for Luxe Getaways: Timbers Kauaʻi
Best for Fun in the Sun: The Royal Sonesta Kauaʻi Resort Līhuʻe
Best for Budget Stays: Club Wyndham Kauaʻi Coast Resort at the Beachboy
Best for Big Groups: Waimea Plantation Cottages
Best for Luxury: 1 Hotel Hanalei Bay
Best for a Quiet Escape: Hanalei Bay Resort
BEST FOR ISLAND VIBES
The Grand Hyatt Kauaʻi Resort & Spa, Poʻipū
The epitome of luxury, and a hot spot for honeymooners, The Grand Hyatt surely lives up to its name. The grand entrance boasts an incredible view with the Pacific Ocean perfectly framed alongside an over-the-top picturesque tropical entryway. Koi (carp) ponds with swans are throughout the property and colorful parrots are perched along the entrance, setting the island tone as guests are greeted with a lei and welcome drink upon arrival. Popular with both foodies and golf buffs, The Grand Hyatt has impressive options for both including five dining options on site. The Poʻipū Bay Golf Course includes 18 championship holes along the cliffs of Poʻipū with exceptional golf as well as views. Or spend the day enjoying the multi-level pools, a 150-foot water slide, a 1.5 acre saltwater lagoon and a lava-rock lined lazy river. Wind down with a pau hana drink and live music at Stevenson's Library before a date night at Tidepools, where you can enjoy a meal in a thatched-roof bungalow at the base of a waterfall. The hotel's popular lūʻau is held on Wednesdays and Saturdays, and don't forget to schedule a service at the Anara Spa to reach optimum relaxation. The grounds are immaculate, and the service follows suit.
BEST FOR FAMILIES
Kōloa Landing Resort, Kōloa
Voted Best Pool in America three years in a row with waterfalls, waterslides, and an infinity pool, it's no wonder that south-side locals and visitors agree that Kōloa Landing is the spot for a staycation. Family-friendly with a luxury feel, Kōloa Landing's amenities will make you feel at home while on vacation. Both standard rooms and (very) spacious villas are available depending on your group's size and preference. The multi-bedroom units have kitchens, appliances and all the cutlery and cookware you need for meals in, while offering a short walk to all the dining, shopping and award-winning beaches Poʻipū has to offer. Spend afternoons exploring the 350,000-gallon saltwater pool or find a quiet area to escape. The keiki splash pad is a particular hit with young visitors. Cool off with a shave ice or tropical beverage served poolside, or head to the pool-adjacent outdoor restaurant, the Holo Holo Grill. If you can peel yourself away from the pool, a putting green, volleyball court and soccer field are also on the property and available for guests.
BEST FOR BEACH LOVERS
Koʻa Kea Resort, Poʻipū
Situated oceanfront on Poʻipū Beach, you'd be hard-pressed to find a better location to enjoy the south shore. This upscale 121-room boutique hotel offers an intimate experience of unwinding, island-style. The best part? Almost anywhere you are on property has an ocean view. The resort's pool and tiki bar is a hit, while taking in views of surfers out at the nearest break. Popular for outdoor services, the Spa at Koʻa Kea offers a variety of treatments including a Pōhaku Hot Stone Massage to increase circulation and promote a relaxing sense of lōkahi (harmony.) Don't miss out on the culinary experience of dining at Red Salt, a modern Hawaiian eatery and local favorite. Feeling adventurous? The on-site adventure center staff can set you up for various water sport lessons and even hula lessons. Rooms and suites are available, all complete with plush bathrobes, a mini-fridge, and Nespresso machine along with resort amenities. Although there is a $45 per day resort fee, it seems to more than cover the cost of the experience.
BEST FOR LONG STAYS
Marriott's Waiohai Beach Club, Poʻipū
Location, location, location! The Waiohai Beach Club is a condo-esque vacation ownership resort, best known for its frozen drinks, epic sunsets and no resort fees. Located fronting Poʻipū Beach, the option to choose between beach and pool is literally a few steps. The Honu Pool Bar is often buzzing with diners enjoying the view and live music poolside. The rentals include spacious villas with full kitchens, living areas, washer/dryers and all the comforts of home. Guests love the oversized tubs in the rooms. There are three pools to choose from, including a "quiet" pool for adults to unwind. Located in the heart of Poʻipū, plenty of dining options are within walking distance, but The Honu Pool Bar and Marketplace (quick-stop for snacks) are on-site. Interested in seeing the rest of the island? The friendly and knowledgeable staff is ready and waiting to point you in the right direction. Family-friendly beach access and several playgrounds make this a good choice for families traveling with children.
BEST FOR RESORT LIVING
Sheraton Kauaʻi Resort, Poʻipū
Tucked on the shores of Poʻipū Beach, the Sheraton Kauaʻi Resort offers well-appointed ocean and garden view rooms, with a winding walking path along the coast popular for sunset strolls. With beach access steps away, the choice between a shaded cabana (complete with poolside service) and splashing in the surf is tough. RumFire, the Sheraton's signature restaurant, serves up fresh Hawaiian fare with a modern island twist. Host to many indoor and outdoor events and weddings, the celebratory energy is palpable and the service reliable. The grounds are well-kept, and rooms are clean and inviting. The resort's lūʻau is held on property on Mondays and Wednesdays and are worth the price. A short walk from a beautiful orchid garden at the old Plantation Gardens to the ocean—you won't want to leave the resort.
BEST FOR FAMILY RETREATS
The Lodge at Kukuiʻula, Kōloa
With unparalleled views of the south shore, The Lodge at Kukuiʻula exudes the concept of "barefoot luxury." It offers three neighborhoods of secluded luxury vacation homes available for rent by owners—and these are perfect for long getaways or groups of travelers. With choices of one- to four-bedroom villas, you can also add a guest cottage or a private pool, too. Each home is equipped with indoor/outdoor lanai, garden showers, gourmet kitchens and more. Elegant options include tree-lined neighborhoods featuring authentic plantation-style homes and contemporary Hawaiian villas overlooking Kukuiʻula's oceanfront private golf course. Whether it's farm-to-table dining from the on-site farm, activity planning with Huakaʻi Outfitters or relaxing at the Hiʻilani Spa, The Lodge at Kukuiʻula will surely meet and exceed your expectations.
BEST FOR LUXE GETAWAYS
Timbers Kauaʻi, Līhuʻe
Timbers Kaua'i is the picture of luxury living, island-style. The resort is located on Hōkūala—just minutes from Līhuʻe Airport—a 450-acre tropical oasis featuring award-winning golf, an organic and authentically Hawaiian spa, 17 miles of hiking trails, lagoons and more—right at your doorstep. You may recognize the view from the Ocean Course at Hōkūala as Adam Sandler's company Happy Madison Productions' logo. This five-star resort has a local feel with an emphasis on sustainability: It champions organic farming, wildlife preservation and an initiative to preserve both Kaua'i's native plants and culture. The modern indoor/outdoor living spaces are curated to compliment the natural surroundings. You won't want to miss the fresh farm, sea, and land-to-table offerings from Hualani's oceanfront restaurant, located beside an infinity pool with panoramic views of the Pacific from the Ninini Point Lighthouse to Mount Hāʻupu. Sound like your paradise? Timbers invites those looking to retreat to the Garden Isle this year to enjoy up to 20% off select residences when you book in advance at the link below.
BEST FOR FUN IN THE SUN
The Royal Sonesta Kauaʻi Resort Līhuʻe, Līhuʻe
Right on Kalapaki Bay, this resort is appropriate for all types of travelers. The calm waters of the bay are perfect for little ones, as well as visitors exploring water sports like stand-up paddle boarding or surfing for the first time. All activity rentals are conveniently located steps from the hotel. The pool is huge, the biggest on the island. From the Grecian-inspired hot tubs surrounded by pillars circling the expansive pool, to the large water-spouting animal statues and arching bridge to an "island" pool deck—this pool is one-of-a-kind. There is a mini keiki pool with a slide that will keep the kids entertained all afternoon as well. Located right next to popular eateries and shopping in Kalapaki Bay and Nāwiliwili Harbor, you will never run out of activities to do or things to eat. The central location makes day trips easy, only 10 minutes from the airport. The on-site day spa and salon offers a multitude of services to unwind, and the view of Kalapaki Bay encompassed by lush mountains never disappoints. Although the rooms are neat and well-kept, the real draw is the ocean view from your lanai. (We highly recommend splurging for the ocean view room.) A truly unique experience, from the decor to the poolside drinks and general grandiose of the hotel's aesthetic.
BEST FOR BUDGET STAYS
Club Wyndham Kauaʻi Coast Resort at the Beachboy, Kapaʻa
This east-side, no frills affordable pick comes with some serious perks. The Kaua'i Coast Resort is located in Coconut Marketplace, an outdoor shopping hot spot with restaurants, a farmers market and free hula shows. Although the resort is close to the bustle of Kapaʻa Town, you'd never know that from the quaint oceanfront Jacuzzis or intimate fire pits that are lit after dark. The hotel is a bit dated, but the grounds are immaculate, with countless coconut palms scattered throughout the intimate property, and the lava rock-adorned pools serving all the tropical vibes you're looking for. In addition to standard rooms, villas are available, with full kitchens and amenities for budget-friendly travelers or families looking to cook their own meals during their stay. Should you decide to dine out, the resort's signature restaurant, Hukilau Lanai is known island-wide for its incredibly fresh Hawaiian fusion fare.
BEST FOR BIG GROUPS
Waimea Plantation Cottages, Waimea
The Waimea Plantation Cottages are a throwback to plantation days with 43 oceanfront acres of lush tropical landscaping. Choose from 59 one-to five-bedroom heritage plantation homes, available with garden or ocean views—although every cottage has its own charm. Built in the late 1880s to 1930s, these are not fancy units, but are all equipped with a full kitchen and private lanai and other essentials. Enjoy the shared pool on site, or a stroll under the shade of the many banyan and monkeypod trees on the property. Just minutes from dining at several on-site restaurants as well as historic Waimea Town. Take the trek up to Kōkeʻe State Park, or brave the cane road out to Polihale. This gateway to the westside is a rare find, fit for families, couples, friends or solo travelers looking for some quiet reflection. (It's also great for destination weddings, as the grounds can accommodate large groups of people.) Although the oceanfront black sand beach is not ideal for swimming, it hosts incredible views of Niʻihau on clear days, and sunsets that rival anywhere else on the island. A stay at Waimea Plantation Cottages is a truly authentic Hawaiian experience.
BEST FOR LUXURY
1 Hotel Hanalei Bay, Princeville
Once the St. Regis Princeville Resort, 1 Hotel Hanalei Bay has redefined luxury by implementing sustainability efforts to rebrand this iconic location. The new luxe resort is located on the cliffs overlooking the picturesque Hanalei Bay. With nature as its focal point, 1 Hotel has utilized local flora as décor, as sprawling vines and native plants cover the entryway to the vast resort, and has used 144.6 tons of salvaged materials to create furniture, art and other décor. With rooftop herb gardens and an infinity-edge pool, 1 Hotel has spared no expense creating each space with a decided purpose for the collective. Focusing on wellness, the resort has an extensive fitness center and full Bamford Wellness branded-spa, holistic and medicinal treatment center, and even on-site salon services stocked with a local haircare line. The rooms spare no detail in design or comfort, and speak to the overall intention of the hotel's mission—to establish a sense of comfort among guests with an elevated luxury experience and a one-stop location for all things mind, body and soul.
BEST FOR A QUIET ESCAPE
Hanalei Bay Resort, Princeville
By far this hotel boats the best swim-up bar and mai tais on the island. Hanalei Bay Resort is a bit of a hidden treasure. Located in Princeville, this vacation rental condominium and timeshare resort has simple (and varying) room options depending on the owner. The property is stunning, with breathtaking views of Hanalei Bay past the tennis courts and a lively nightlife with live music and extra aloha at the scenic Happy Talk Lounge. The tropical landscaping, view, waterfall and mini "beach" add character to the already lovely pool experience, and the lava rock hot tub is just as relaxing as it is Instagram-worthy. The concierge staff is very welcoming, and the privacy and serenity of the location is unmatched.
---
Every experience is independently chosen by our editors. Bookings through our links may earn us a commission.