Big Island of Hawaii's Mauna Kea Beach Hotel offering $500 resort credit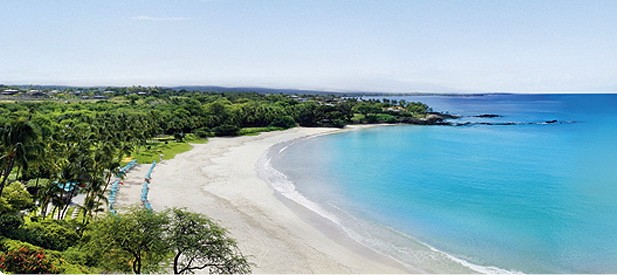 Add the Big Island of Hawaii's Mauna Kea Beach Hotel to the list of luxe South Kohala Coast resorts offering ever-popular resort credits.
The newly-renovated resort's "Legacy $500" promotion is rewarding guests with a $500 resort credit for every three nights of their stay. The credit may be used for activities such as the resort's full-service spa, rounds of golf at its Mauna Kea course and dining at all property restaurants.
In a down economy, resort credits are becoming the must-have guest perk even among the South Kohala Coast's high-end lodging properties. Down the coast, the Four Seasons Hualalai recently extended a $1,000 resort credit promotion—originally limited to August and September stays—to reservations made through December 17, 2009. Meanwhile, the uber-secluded Kona Village Resort extended a pre-summer $800 airfare credit promotion indefinitely, though it now applies to guests staying five nights or more.
How to qualify for the Mauna Kea Beach Hotel's $500 resort credit? Just book a three-night stay from now until December 22, 2009 in the resort's Golf Vista room category or higher. The $500 credit is not applicable toward room rates, nor can it be combined with any other deal.
The best part of the deal? The longer you stay, the more credit you get. Credits are awarded based on three-night increments. So a six-night stay gets a $1000 credit, nine nights gets $1,500, and so on.
To use the credit, guests must sign all charges to their room. The credit will be deducted from the final tab upon check out. You'll want to make sure you use the entire credit, as well, since none of it will be refunded or carried over to future stays.
For reservations or more information click here, or call (866) 977-4589