Big Island's 41st Kona Coffee Cultural Festival to serve up world-famous Hawaii joe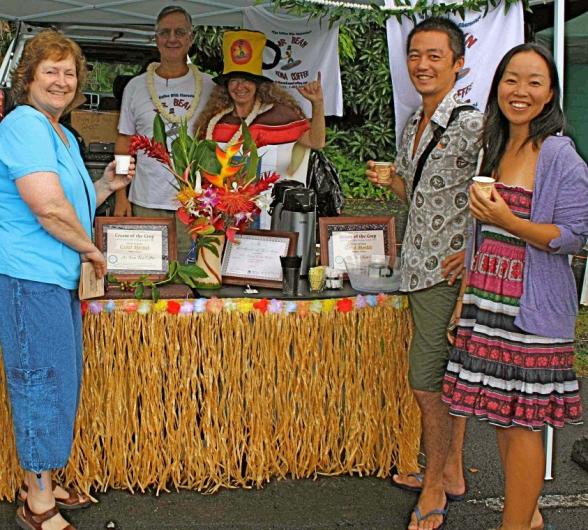 The fall bean harvest is under way on the Big Island. And so, coffee devotees — and non-caffeinated folks who just want to have fun — it is time to celebrate Kona's world-famous the cup of Hawaii joe.
The 41st annual Kona Coffee Cultural Festival will get under way tomorrow, Fri., Nov. 4 with a talent night event, followed by the annual Holualoa Village Coffee & Art Stroll, 9 a.m. to 3 p.m. on Sat., Nov. 5. Festivalgoers are invited to sample estate brews and specialty food, "talk story" with Kona coffee farmers and check out area galleries during the event (pictured, right). Other opening-weekend offerings range from a coffee-picking contest and a recipe contest (recipe entrant pictured, below) to the Big Island Showcase, which features coffee-centric displays, demonstrations and plenty of buzz-worthy samples.
In all, the 10-day festival — an annual celebration since 1970 — will feature more than 40 events, many of which are free. Kailua-Kona's Keauhou Beach resort will serve as host for the festival, which draws thousands of visitors and area residents.
In years past, the festival kicked off with an international lantern parade, followed by a traditional bon dance. This year, organizers are combining the former lantern parade with the festival's former float-filled grand parade to stage the Kona Coffee Cultural Festival Parade, which is slated to start at the Royal Kona Resort at for 5 p.m. on Fri., Nov. 11.
Among the festival's competitive highlights are the Kona Barista Jam & Ultimate Barista Challenge Hawaii and the prestigious Whole Cup Consulting and UCC (Ueshima Coffee Company) Hawaii Kona Coffee Cupping Competition.
The barista event will feature one-on-one espresso duels, noon to 6 p.m. on Thurs., Nov. 11 at Keauhou Beach Resort. The two-day cupping competition — judged by a panel of international coffee industry experts — is expected to draw more than 100 entries from Kona coffee farms. Judging will be based on fragrance, aroma, taste, nose, aftertaste and body. The event is set for 9 a.m. to 2 p.m. on Wed., Nov. 9 and Thurs., Nov. 10 at the resort. For a complete schedule of festival events, click here.
The annual Kona coffee harvest, which has sustained the area's agricultural community for more than 185 years, is celebrated every November with the festival — recognized as Hawaii's oldest food fest. According to The Hawaii Coffee Book — A Gourmet Guide from Kona to Kauai, the Big island's Kona district is dotted with about 630, most of which are smaller than 5 acres and operated by individual families.