Big Island's "Afternoon at Hulihee Palace" events salute Hawaii history, culture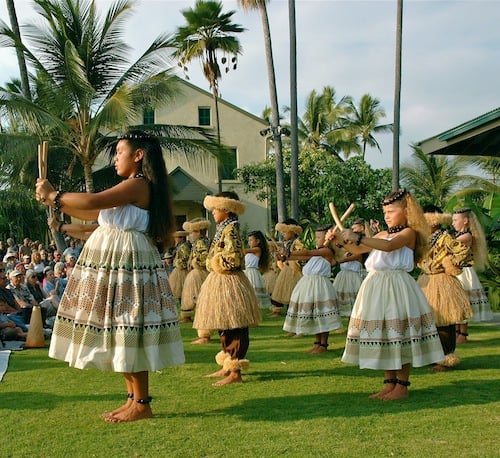 Hulihee Palace — situated near the center of the Big Island's historic Kailua-Kona area and known for its Hawaiian and Victorian artifacts — is hosting monthly heritage-focused days dubbed An Afternoon at Hulihee Palace.
This month's event, set for 4 p.m. Sun., Feb. 19 on the palace grounds, remembers the late Princess Ruth Keelikolani, who was known as a staunch defender of traditional Hawaiian culture. It will feature vocals presented by Merrie Monarchs and hula presented by Kumu Hula Etua Lopes and his Halau Na Pua Ui O Hawaii. If you go, bring a mat or beach chair as seating won't be provided. For additional information about the event, click here.
Princess Ruth (1826-1883) was the half-sister of King Kamehameha IV and V. She inherited Hulihee after the death of her husband, William Pitt Leleiohoku. (He was the adopted son of John Adams Kuakini. Kuakini built the palace in 1838 after erecting Mokuaikaua Church, which sits directly across from the palace on Alii Drive.)
The event is hosted by the Daughters of Hawaii and Calabash Cousins. In a news release issued by the nonprofit, docent coordinator Casey Ballao said: "Ruth used the palace for entertaining her royal kin but preferred to sleep in a grass house she had built on the palace grounds."
She added, "The upstairs Kohala bedroom is dedicated to the princess and contains some of her personal furniture, including a large armchair and bedstead, both made of koa, and her coconut wood hatbox.
Hulihee Palace consists of six large rooms, two oceanfront lanai and lushly green grounds. Among its royal treasures: beautiful koa wood furniture, ornaments, portraits, tapa, feather work, Hawaiian quilts and other artifacts from Hawaii's royal past.
Many of the artifacts are tied to the era of King David Kalakaua, who ascended to the crown in 1874 and reigned until his death in 1891. Two years later, the monarchy was overthrown and a provisional government took shape. Hawaii later became a U.S. republic, territory, and finally, in 1959, the 50th state in the union.
The Daughters of Hawaii group serves as the palace caretaker. The organization was founded in 1903 and opens membership to any woman who is directly descended from a person who lived in Hawaii prior to 1880. Helping the Daughters in its efforts since 1986 are the Calabash Cousins; membership is available to all.
Hulihee Palace is open for self-guided tours from 9 a.m. to 4 p.m. on Tuesdays through Saturdays. Admission, which includes a self-guided tour brochure, is $6 for adults, $4 for seniors, and $1 for children under age 18. Volunteer docents are sometimes available to give guided tours.
For additional details about the palace and future Afternoon at Hulihee Palace events, click here or call 808-329-1877.