Big Shrimpin'! Our Guide to North Shore Oahu Shrimp Trucks and Stands
You definitely don't want to drive past these.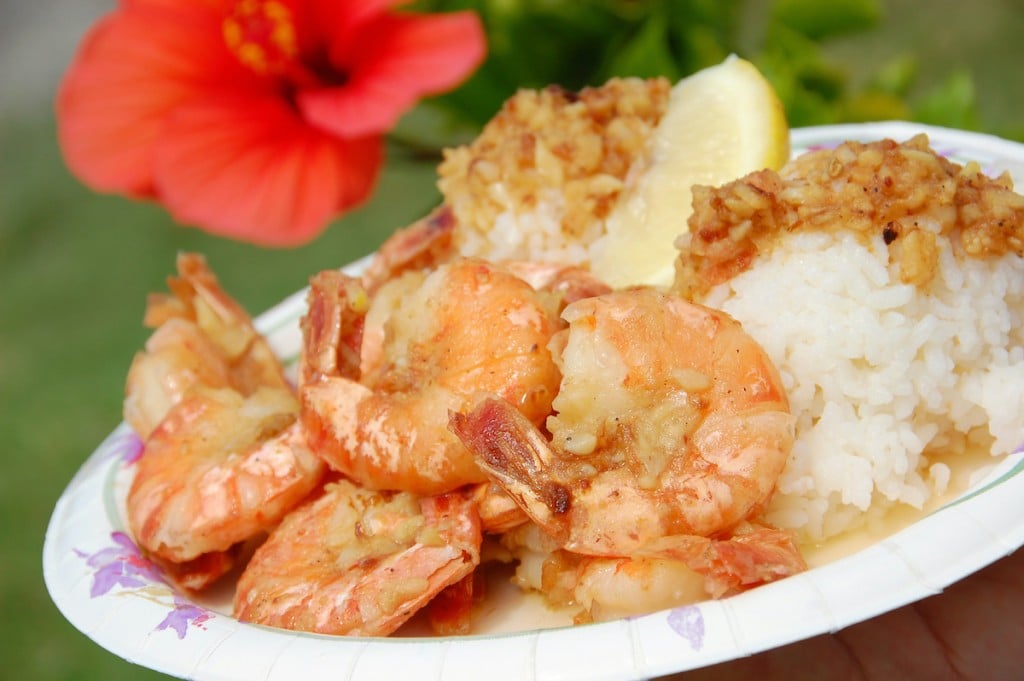 It's easy to brand the popular and pervasive North Shore O'ahu shrimp shacks and trucks as tourist traps.
On most days near lunchtime, it's not uncommon to find dozens of packed tour vans parked outside shrimp purveyors between the North Shore towns of Hale'iwa and Kahuku, their passengers scarfing down plates of shrimp. Catch us driving by with an empty belly and we're no less slaves to the heady aroma of sizzling garlic and melting butter wafting from these roadside eateries onto coastline thoroughfare Kamehameha Highway.
The history of O'ahu shrimp shack popularity is hardly lengthy or deep. The flat, coastal acreage just north of Kahuku was known for its freshwater aquaculture farms long before founding shrimp truck Giovanni's began plying area beaches with its sautéed garlic shrimp plates in 1993. But few customers could walk away from lunch at Giovanni's truck without telling friends about how garlicky, buttery and downright tasty their shrimp plates were.
In 1995, Giovanni's permanently parked its truck on a grassy roadside knoll in Kahuku, more success followed, and other shacks and trucks began hanging shingles along the coast hoping to cash in with their own takes on the garlic + butter + shrimp equation.
After receiving multiple emails over the last few years asking us which North Shore garlic shrimp slinger was our absolute favorite, we decided it was high time we took our appetites up north and rated a few of the coast's more prominent and popular shrimp shacks and trucks.
Our rules were simple: We would stick to shrimp peddlers whose menus focused primarily on shrimp plate lunches or variations thereof. (No kalbi or loco moco plates allowed!) We also decided to order only sautéed garlic-and-butter shrimp plates from each place to keep the game fair and stick to Giovanni's original formula for success. (No hot-and-spicy shrimp or coconut prawn variations for us.)
The only thing left for us to do was head to the North Shore to eat some shrimp. Here are the results, with letter grade assignments, minus the shells.
Warning: We love garlic. Lots of it.
Romy's Kahuku Prawns & Shrimp
The shrimp at Romy's is as fresh as it gets, caught daily from aquaculture ponds behind its bright red shack, heads cut off by hand to preserve as much sweet meat as possible. Only one other stand besides Romy's had as much garlic and butter flavor permeating its shrimp. We loved Romy's ample charred-garlic bits and lots of extra butter—spiced lightly by achiote oil—to soak our rice and shrimp in.
Visible garlic :   A
Visible butter:   A
Overall taste:   B+
Shrimp per plate:   12
56-781 Kamehameha Highway, Kahuku • (808) 232-2202 • Website
Giovanni's Original White Shrimp Truck
Like Romy's, garlic and butter flavor seemed remarkably infused into the shrimp here, with a liberal topping of garlic (albeit lacking fresh-chopped bite) and more butter than any of its competitors to drench our shrimp and rice. Sadly, though, Giovanni's was the only shack that didn't cook our shrimp to order, which gave it the distinct mouth-feel of having sat in a warmer until serving. Still, way tasty!
Visible garlic:   A
Visible butter:   A
Overall taste:   B+
Shrimp per plate:   12
56-505 Kamehameha Highway, Kahuku • (808) 293-1839 • Website
Fumi's Kahuku Shrimp Truck
Just a garlic-butter dabbler? Fumi's has the garlic shrimp plate for you. Though the shrimp here were wonderfully sweet, surprisingly little garlic or butter flavor seemed to penetrate the meat. There was less visible fresh garlic or butter on our plate than at other shacks. And the shrimp at Fumi's were the smallest and least uniformly sized of all the shacks we visited.
Visible garlic:   C
Visible butter:   C
Overall taste:   C
Shrimp per plate: 9
56-777 Kamehameha Highway, Kahuku • (808) 232-8881
The impressive mounds of fresh garlic on our Big Wave shrimp plate got us almost as excited as the appealingly pungent "stinking rose" aroma. Taste, though, was a different story. The shrimp here were sweet and buttery, but surprisingly very little garlic flavor came through unless we piled garlic on our bites of shrimp and rice. Too mellow for us.
Visible garlic:   A
Visible butter:   A
Overall taste:  C+
Shrimp per plate:   9
65-521 Kamehameha Highway, Haleiwa • (808) 630-3171 • Website
Macky's Sweet Shrimp Truck
The garlic and butter shrimp at Macky's confused us. There was very little buttery flavor or visible butter. We could see bits of garlic, though tasted little of it. And the restrained dusting of garlic topping had a salty, umami flavor reminiscent of Southeast Asian cuisine. Tasty stuff if we had a craving for Vietnamese food, but nowhere near the buttery or garlicky bliss we expected. Ideal for non-traditionalists.
Visible garlic:   C
Visible butter:  D+
Overall taste:   B
Shrimp per plate: 9
66-632 Kamehameha Highway, Haleiwa • (808) 780-1071