Bike (or walk) the Ke Ala Hele Makalae path on Kauai's east side
It's great motivation to incorporate a healthy dose of exercise into your Hawaii vacation.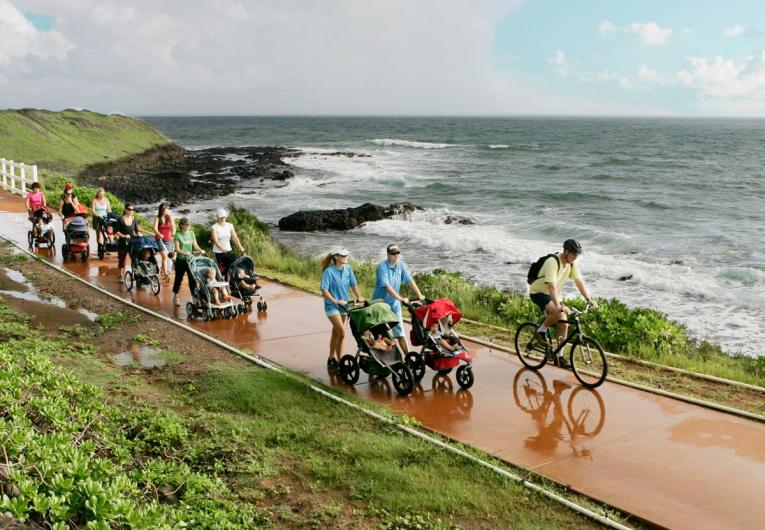 If you need some motivation to incorporate a healthy dose of exercise into your Hawaii vacation, imagine a setting for your jog, power walk or bicycle ride that looks something like this: A flat, cliffside path with expansive views of the Pacific's crystalline blue waters extending across 8 miles of pristine shoreline. If only every workout could be matched with such a dreamy backdrop.
Of course, on Kauai, such spectacular settings really do exist. The one described above is named Ke Ala Hele Makalae, or "the path that goes by the coast." It's a great place to break a sweat while enjoying some of the most profound natural beauty the Garden Isle has to offer.
Bridging the inviting sand-and-sea oasis at Kealia Beach with the smattering of eclectic shops and eateries that make up Kapaa Town and beyond, this multi-use path tracing the Coconut Coast's edges is ideal for walking, running and bicycling. And with so many top rated restaurants nearby, the path makes for a great place to meander after enjoying a good breakfast or lunch. During the winter season, you might spy whales breaching; in summer, dolphin pods. Restroom facilities, picnic tables, tree swings, surf spots, safe swimming areas and scenic lookouts can be found throughout the 8 miles.
On wheels or on foot, this scenic connector offers a great means of exploring the East Side's alluring coconut groves and pineapple plantation-era landmarks, such as the site of the old Hawaiian Canneries Co., established in 1913. Plaques along the path explain the significance of such landmark sites, providing a peek into the region's rich history.
The estimated time to complete a round-trip bicycle ride is one hour, while the estimated walking time is about two hours. The path, however, has numerous access points, so it's easy to abbreviate your journey if you want to spend less time. A few of these access points are located off Nalu Road near Lydgate Beach Park, off Kuhio Highway at Wailua Beach Park and at Kealia Beach.
Reasonably priced bicycle and stroller rentals are available at numerous shops in the area, such as Hele On Kauai Bike Rentals, where a one-hour beach cruiser rental is $5, and Kauai Coasters Beach Bike Rentals, where a half-day tandem bicycle rental goes for $36.
---
If you go, be sure to wear sunscreen and bring a camera. For more info, visit kauaipath.org.