Bishop Museum unveils new online database of Hawaiian fishhooks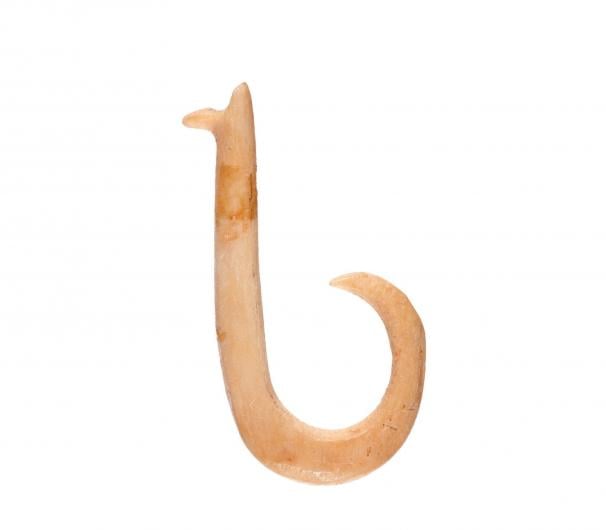 In the 1950s and '60s, Dr. Yosihiko H. Sinoto and Kenneth P. Emory of the Bernice Pauahi Bishop Museum in Honolulu unearthed thousands of early Hawaiian bone fishhooks. The researchers used the fishhooks, and other culturally significant artifacts found throughout the Islands, to model when the earliest Hawaiians arrived in the archipelago and where they came from.
Now, 65 years later, some of the same fishhooks used in their studies are fueling new inquiries about how fishing, fishhooks and Island culture changed through time and across Polynesia. These artifacts are part of the first-ever public online reference database of Hawaiian fishhooks unveiled by the Bishop Museum last month.
The research initiative behind the database, aptly named Hoomaka Hou (to begin again), began as a way to share existing collections with researchers at other institutions, but ultimately expanded to make the cultural resource available to everyone.
The new online database is comprised of over 4,000 individual fishhooks with various adaptive designs—including examples of the two-piece fishhook unique to Hawaii—made between 1000 and 1600 A.D. Three Hawaii Island cultural sites are represented: Puu Alii, Waiahukini Rockshelter and Makalei Rockshelter.
"One of the really neat things we did when we initially got the grant [from the Hawaii Council for the Humanities to make the database publicly available] was we contacted the descendant community to make sure they were okay with us putting their cultural heritage online," said Mara Mulrooney, an anthropologist with the museum who spearheaded the database efforts.
"We traveled to Kau [district] and gave a presentation on the database. They were the first to see it and give feedback," she said. "The elders in the community remembered the Bishop Museum being there in the 1950s and 60s and mentioned that they've had a lot of problems protecting these culturally significant sites. They hope the new research and attention will help to add weight to [ongoing efforts to] protect these places."
To create the database, the museum's anthropology team used high-resolution 2-D scanners to create images of each of the fishhooks. They then posted the images along with a brief description, listing them by excavation site. Going forward, the team hopes to include fishhooks from other sites and Islands and to further classify fishhooks already in the database in order to make it searchable. All of these features will help to increase what researchers and cultural practitioners can learn from these cultural artifacts.
The database also exemplifies an ongoing push by museum staff to find new uses for its vast biological and anthropological artifact collections. "These collections are very dynamic," said Mulrooney, "As fields like ours change, we are able to actively learn so much more about the past from the existing collections."