"Blue Hawaii" Elvis coffee-cup mosaic in Waikiki gets Guinness world record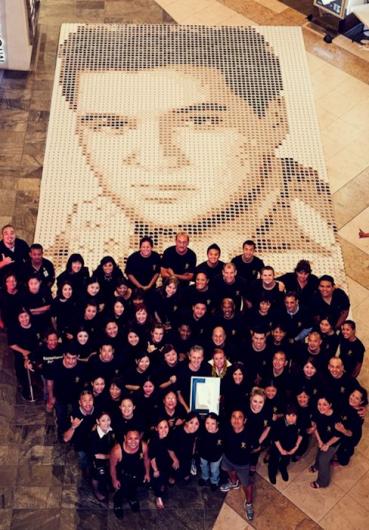 Staffers at DFS Hawaii set a new world record last week with a heavily caffeinated creation: a portrait of Elvis Presley consisting of 5,642 cups of coffee in 10 different shades. The portrait (16 feet wide, 25 feet long) was crafted at DFS Galleria Waikiki on Friday afternoon to celebrate the store's upcoming Art of Hawaiian Coffee event, which gets under way next week.
The image of Presley is from his movie star days, during the filming Blue Hawaii (1961). At that time, the icon was 25 years old and looking his handsome, alluring best. DFS Hawaii staffers used a digital printout of the image as a guide for the placement of varying shades of coffee. An official adjudicator from GUINNESS WORLD RECORDS observed the mosaic's construction and verified its status as the world's largest coffee-cup mosaic.
The previous record holder in the coffee mosaic category was the Sydney Harbour Foreshore Authority for The Rocks Aroma Festival in Sydney, Australia in 2009 with 3,604 cups of depicting the Mona Lisa.
DFS Galleria Waikiki's second annual Art of Hawaiian Coffee event, Aug. 21-26, will showcase Hawaii coffee growers and their specialty coffees with art and history exhibits, a barista latte art contest, tastings and other activities. Hawaii is the only state in the union that grows coffee. During the five-day celebration at the store (330 Royal Hawaiian Ave.), staffers will create a smaller-scale mosaic. For additional information about the event, click here.

Over the weekend, the shimmering Blue Hawaii Elvis mosaic gradually clouded and is now no longer on display. Its assembly, however, was recorded for the records book. Click on the "official attempt" image below to check out a fun and fast-paced DFS Hawaii video that tracks the making of the cup-of-joe creation.