Book 'em on the beach! Thousands expected at Hawaii Five-0 premiere in Waikiki, Sept. 13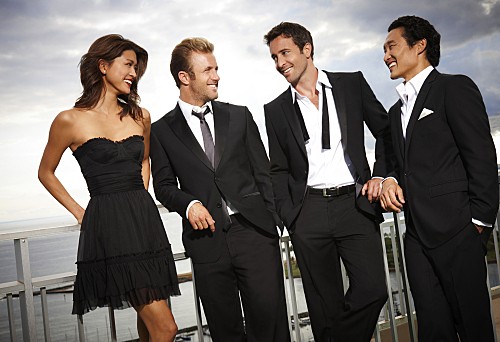 Want to catch the opening episode of CBS's new Hawaii Five-0 before the rest of the country does AND ogle the series impossibly good-looking cast, live and in person?
More importantly, can you be on Oahu—preferably in Waikiki—'round sunset on Sept. 13?
Consider yourself invited to the red-carpet screening of the classic Hawaii crime drama's redux at Sunset on the Beach, right on the sands of Waikiki's Queen's Surf Beach. All you have to do is show up early.
Why early? Thousands are expected to converge long before sunset for primo seating in front of the big screen and along the red carpet to catch series cast members Alex O'Loughlin, Daniel Dae Kim, Scott Caan, Grace Park, Jean Smart and Taryn Manning arriving. Also on hand—and hopefully posing for snaps, as well—the folks who brought the new Five-0 back to life, back to reality: executive producers Peter Lenkov, Alex Kurtzman and Roberto Orci.
Here's what you get for showing up early:
• 5 p.m.: Live music from Willie K, Makana and ukulele virtuoso Taimane Gardner.
• 6 p.m.: Red carpet arrival by cast, producers, et al.
• 7:30 p.m.: Hawaii Five-0 pilot episode screening.
• 8:45 p.m.: Kurtzman and Orci detail every plot twist from the upcoming third season of Fringe, their other hit TV series.
OK, we're joking about that last one.
Seriously though, the Five-0 premiere is free. It's open to the public. And if you're staying in Waikiki already, all you have to do is walk the length of the beach, toward Diamond Head, until you reach the expected throng of other Hawaii Five-O fans.
Can't make it to Waikiki? You can catch the Hawaii Five-0 premiere a week later, 10 p.m. (East Coast/West Coast time) 9 p.m. (Hawaii time), Sept. 20—the exact date the classic Five-0 bowed on CBS's primetime schedule 42 years ago.
To hold you over till then, take an advance peek at the final version of the new Five-0's opening credit sequence below—about a half-minute shorter than the original series opening, with one very prominent placement of a Hawaiian Airlines jet.