Brother Noland opens Waikiki's new Kani Ka Pila Grille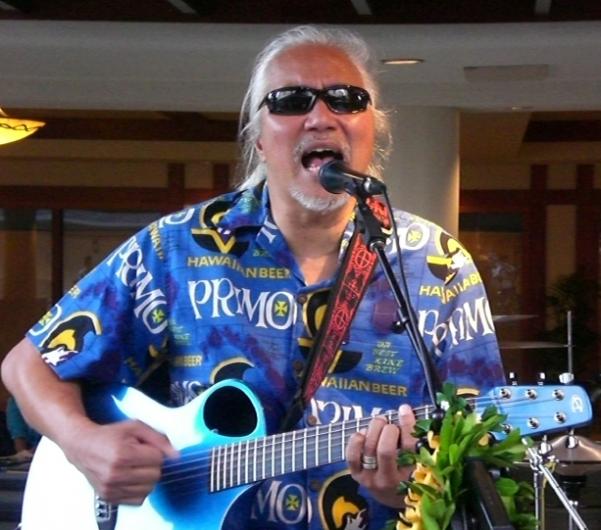 As the Outrigger Reef on the Beach completes its $110 million renovation, it opened its new poolside Kani Ka Pila Grille.
We got there on a recent Sunday to hear Brother Noland sing up a storm, debuting his new CD, Hawaiian Man. Noland Conjugacion is one of the innovators in contemporary Hawaiian music, having had hits with the reggae-flavored "Coconut Girl" and the Hawaiian swing tune "Pua Lane."
The new CD is a dip back into tradition, both in its slack key sound and its song selection—"Royal Hawaiian Hotel," "Henehene Kau Ako," and "My Little Grass Shack In Kealakekua, Hawaii."
It was no surprise to find an artist of Noland's calibre playing Kani Ka Pila. The name of the place, after all, means "let's make music." Kani Ka Pila has filled its stage with some of the best contemporary Hawaiian musicians.
The current entertainment line-up includes two sons of the legendary Gabby Pahinui, Cyril and Martin. Cyril, of course, is a Grammy award-nominated guitarist in his own right.
Here's the schedule:
• Sunday: Brother Noland, through April 15.
• Monday: "Pau Hana Monday" talent search with Kimo Kahoano
• Tuesday: Weldon Kekauoha
• Wednesday: Cyril Pahinui
• Thursday: Kawika Kahiapo and Martin Pahinui
• Friday: Kaukahi
• Saturday: Mānoa DNA
Kani Ka Pila Grille serves casual cuisine from 11 a.m.-9 p.m. daily, with live entertainment nightly from 5:30-8:30 p.m. If you're looking for a particular artist to go with your poolside mai tai, make sure to check for changes in the schedule.