Burgers, Lost cast star at The Counter grand opening party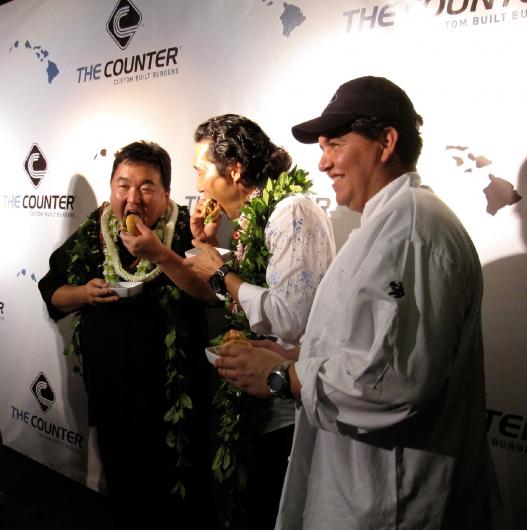 All the upscale burgers and sweet potato fries you could eat. Kahlua-spiked milkshakes at the open bar. And a few members of the Lost cast lending some celebrity support to one of their own.
Last weekend, Lost actor Daniel Dae Kim, Hawaii chef DK Kodama and business partners Ed Robles and Pablo Buckingham threw a very cool grand opening reception for the first Hawaii location of their new build-your-own-burger joint, The Counter.
Dropping by to nosh, hang around and generally look cool were Kim's Lost cast mates Michael Emerson ("Ben"), Jorge Garcia ("Hurley"), Josh Holloway ("Sawyer"), Ken Leung ("Miles") and assorted crew members.
Invitations weren't easy to come by for the private party at the Kahala Mall eatery. Guests were whisked into The Counter's darkened-for-the-evening interior after posing for "paparazzi" pics at an arrival area just outside the door. As intimate a gathering as the party was—barely a hundred or so guests, by our count—The Counter was still standing-room-only inside.
For the party, The Counter had an open-all-night sushi bar and a DJ spinning house music and classic tracks. Staff worked the room offering trays filled with mini burgers and those habit-forming sweet potato fries.
Regularly packed with patrons, The Counter appears to be a solid hit with residents and visitors. None of this has gone unnoticed to Kim who aims to make The Counter part of his plan for remaining in Hawaii after Lost wraps up production for good in 2010.
Still, I had to ask Kim if even he was sick of hamburgers after spending much of the last month taking care of Counter business when not on the Lost set. He laughed hard and shook his head no.
"But I'm eating just as many salads now to make sure I stay balanced," said Kim. His favorite menu item? "I like our veggie Burger in a Bowl."
Kodama, for his part, said his favorite burger was the Old School—angus beef burger, cheddar cheese, lettuce, tomato, onion, pickle and red relish—on a bun. "I like it simple," he said.
Kodama was enjoying the hoopla accompanying the grand opening party—much of it courtesy of his celebrity business partner. "This is great! I hear we even have Kanye West coming tonight, and maybe even Jay Z."
Neither showed up. But Garcia and Leung arrived early, hanging with tight circles of friends before splitting midway. Emerson stayed from beginning to end, affably chatting it up with all that approached, chowing down on burgers and, at one point, pausing at the bar to watch episodes of Lost playing silently on flat screen TVs. An ebullient Holloway breezed in late in the evening, immediately making the rounds of the room, getting to know folks by name and happily posing for all pictures.
At evening's end, Kim offered us a personal thank you for coming, and Kodama asked that we return on a normal day at The Counter to try a full-size burger, fries and milkshake.
"You're gonna leave full," he promised.
No doubt.