Catch a glimpse of West Maui's sugar-cane past at Lahaina Plantation Days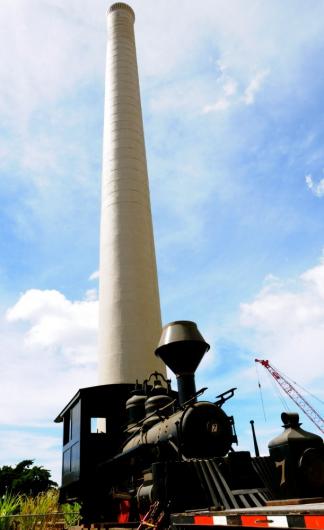 On Maui this week? If so, you can catch a glimpse of West Maui's sugar plantation past at the third annual Lahaina Plantation Days.
The stars of this year's event will be two original steam locomotives — No. 7 (pictured, right) and No. 97 — used by Pioneer Mill Company, West Maui's last sugar plantation.
They served the company's operations in the communities of Lahaina and Launiupoko before being replaced by trucks in the 1950s. At that time the locomotives and train cars were reportedly sold to a California buyer. Donated by the Burbank, Calif.-based Allen and Lenabelle Davis Foundation to the nonprofit Lahaina Restoration Foundation, the locomotives arrived in Lahaina last week.
After their unveiling at Lahaina Plantation Days, the locomotives will be on permanent display under the Pioneer Mill Co. smokestack. The restored 225-foot high landmark was unveiled at last year's Plantation Days. The smokestack is the only remaining structure of the Pioneer Mill, which was founded in 1860 and shuttered in 1999.
Plantation Days festivities will get under way with an Ohana Movie Night, 6 p.m. to 8:30 p.m. tomorrow under the Pioneer Mill Co. smokestack. Great Grandfather's Drum tells a century-long story about Japanese-American culture in Hawaii, including plantation life, World War II patriotism, and helping to create statehood for Hawaii. Among the storytellers: a Japanese-American drum ensemble, descendants of plantation workers, and elders.
Lahaina Plantation Days, 5 p.m. to 10 p.m., Fri. Oct. 21 and Sat., Oct. 22, will also be staged under the smokestack on Lahainaluna Road. It will feature historical and cultural displays and exhibits, entertainment ranging from Hawaiian music to Taiko drums, and, of course, plenty of booths serving up food and drinks.
For information about ticket prices to the movie night and Plantation Days evenings, click here.
To subscribe to HAWAII Magazine, click here.