Celebrate National Pi(e) Day with Slices from These Hawaii Bakeries
Today may be a mathematical holiday, but it's really just an excuse to eat pie.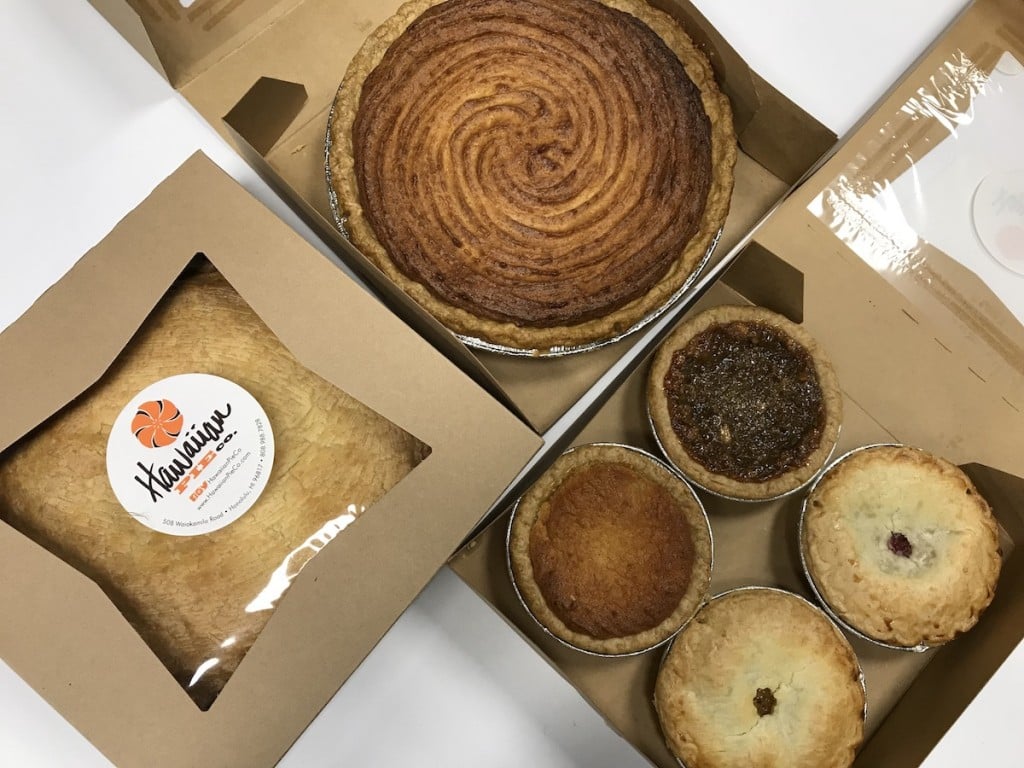 While National Pi Day—March 14—is really about the mathematical constant, π (pi), or 3.14159265359, local bakeries have turned the day into something sweeter. Here are some ways you can celebrate National Pi(e) Day in Hawaii.
1. Hawaiian Pie Co., Oahu
View this post on Instagram

This is the third year the Honolulu bakery—related to the same family who rounded the original Holy's Bakery on Hawaii Island—is celebrating National Pi Day with a Mystery Box. Pay $20 for a box filled with a surprise, 9-inch pie. It could be a pie the bakery always makes (caramel apple), a current special (pineapple whip), a special from the past (matcha custard), or one created just for the holiday. You really can't go wrong with any option.
508 Waiakamilo Road, Honolulu, (808) 988-7828, hawaiianpieco.com
2. Ted's Bakery, Oahu
View this post on Instagram
Open since 1987 on the North Shore of Oahu, Ted's Bakery is renowned for its cream pies, particularly its chocolate-haupia version. The layers of smooth dark chocolate and rich coconut pudding is hard to beat. If you're craving something else, the bakery boasts about 20 different pies, from lilikoi-cream-cheese to chocolate-peanut-butter cream.
59-024 Kamehameha Highway, Haleiwa, (808) 638-8207, tedsbakery.com
3. Leoda's Kitchen and Pie Shop, Maui
Leoda's Kitchen and Pie Shop has pie in its name, so you know the pies have to be good. (And they are!) This rustic shop may serve pancakes, salads and burgers, but you'll want to save room for a slice of pie. Choose from apple crumb, pineapple macadamia nut, chocolate peanut butter, chocolate haupia, banana cream pie or the new mango pie.
820 Olowalu Village Rd., (808) 662-3600, leodas.com
4. Merriman's, Hawaii Island
Though award-winning chef Peter Merriman has opened two other Merriman's—on Kauai and Oahu—the original restaurant in quiet Kamuela is still the most beloved. The flagship restaurant is where Merriman first served what's now his signature cream pies. (You can find them at all of his restaurants now.) The most popular is the strawberry cream pie, with an ultra-light whipped cream, guava jelly glaze and fresh strawberries. Consider it your daily fruit serving.
65-1227 Opelo Road, Kamuela, 885-6822, merrimans.com/waimea
5. The Right Slice, Kauai
Owner-baker Sandy Poehnelt opened The Right Slice and shipped her first mango-lilikoi pie to the Mainland in 2009. Today, a decade later, she operates four locations and serves more than 80 sweet and savory flavors of pies, from classic apple to the seasonal tangelo pie to the popular mango lilikoi. She also ships 14 tropical pie flavors to the Mainland and packs them for airplane carry-ons. And last year, The Right Slice set up vending machines, called Slice Devices, in Lihue at Harbor Mall that dispenses freshly made pies by the slice.
Various locations, rightslice.com