Celebrating Father Damien's feast day in Honolulu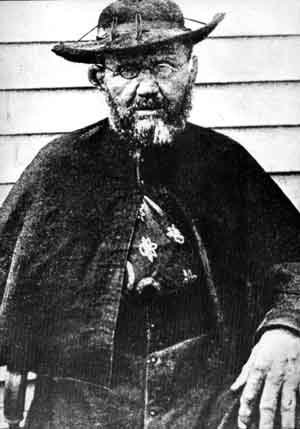 As the world waits for Father Damien de Veuster to be canonized on Oct. 11, 2009, Hawaii celebrates his feast day (May 10) this weekend with three nights of evening prayer services and a statue ceremony in Honolulu.
Last night, HAWAII Magazine was invited to attend the first evening prayer in honor of Blessed Damien of Molokai at Cathedral of Our Lady of Peace. We read psalms, sang Hawaiian songs and recited a Latin hymn. In the middle of the service, we paused to reflect on Father Damien's life. A woman also read an excerpt from Damien: Servant of God, Servant of Humanity. Click here to listen to the excerpt.
Father Damien had compassion for Hawaii's leprosy patients. (The term leprosy is of course outmoded. It's now called Hansen's Disease.)
Damien moved to Honolulu from Belgium in 1864, and later to Molokai on May 10, 1873. He cared for Hawaii's leprosy patients when no one else seemed to care. As the late Hansen's Disease sufferer and Kalaupapa resident Henry Nalaielua said, "He came, he saw, he conquered."
If you're on Oahu this weekend and missed last night's service, there is an evening prayer tonight and on Saturday. On Sunday, the community will hold a ceremony at the Father Damien statue at the State Capitol beginning at 1:30 p.m. All events are free and open to the public.
In addition to the prayer services and ceremony, the Cathedral's gallery has several rare artifacts on display for a limited time. Such items include Father Damien's walking stick, glasses (pictured left), his Meerschaum pipe and a few letters signed by him.
You'll also find Father Damien souvenirs available for purchase in the gallery— from postcards to books about Hawaii's saint. The gallery will be open before and after this weekend's services.
UPDATE, 5/13/09: The exhibit of rare Father Damien artifacts at the Cathedral's gallery has been extended for two more weeks.
Can't make it to the gallery before or after mass? Just inquire at the front desk. "We'll be happy to let them in to view the display!" says the Cathedral's office manager Alika Cullen.