Celebrity chef Ludo Lefebvre pops up on Big Island with ninth "LudoBites" restaurant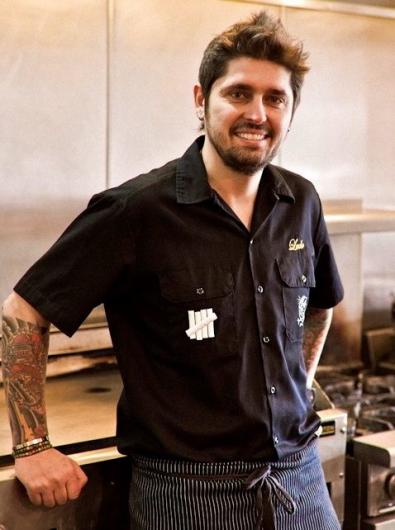 Celebrity chef Ludo Lefebvre's LudoBites restaurant is an eatery with no permanent address. Over the last five years, the "pop-up" or "touring" restaurant has made its way around the Los Angeles area.
Starting today, Hualalai and the Four Seasons Resort on the Big Island's North Kona Coast will serve as the 12-day address for LudoBites Nine-O. The temporary operation marks Lefebvre's ninth multiple-day pop-up venture and his first LudoBites undertaking in a location outside of Los Angeles.
The first LudoBites venture reportedly surfaced in 2007 when Lefebvre, who was tiring of the process of pursuing his own bricks-and mortar restaurant, opened a pop-up in a bakery.
According to a news release issued by the resort, Lefebvre and his wife, Krissy, will "pop up" in the Hualalai Grill through Sat., March 17 with an "eclectic menu of creative small plates and specialty cocktails in a whimsical setting, full of inventive surprises and an abundance of culinary artistry."
Lefebvre said in the release: "I am looking forward to working in such a beautiful setting with really amazing local ingredients."
Also in the works: a special four-night LudoBites package at Four Seasons Resort Hualalai at Historic Kaupulehu. For information about package culinary highlights and other details, click here. Hualalai Resort is a residential resort community and home to luxe Four Seasons Resort Hualalai.
For LudoBites Nine-O dinner only reservations, click here or call (808) 325-8450.
Before launching LudoBites, the French-born Lefebvre was the executive chef at the now shuttered Bastide restaurant in Los Angeles. He is a recipient of the prestigious Mobil Travel Guide Five Star Award. In addition, Ludo has competed on Bravo's hit series, Top Chef: Masters. The chef and his wife currently star in the Sundance Channel's LudoBites America, which follows the couple's one-night pop-ups in locations ranging from Mobile, Ala. to Redondo Beach, Calif. For more information about Lefebvre, click here.