Celebs, music and fireworks light up Royal Hawaiian gala reopening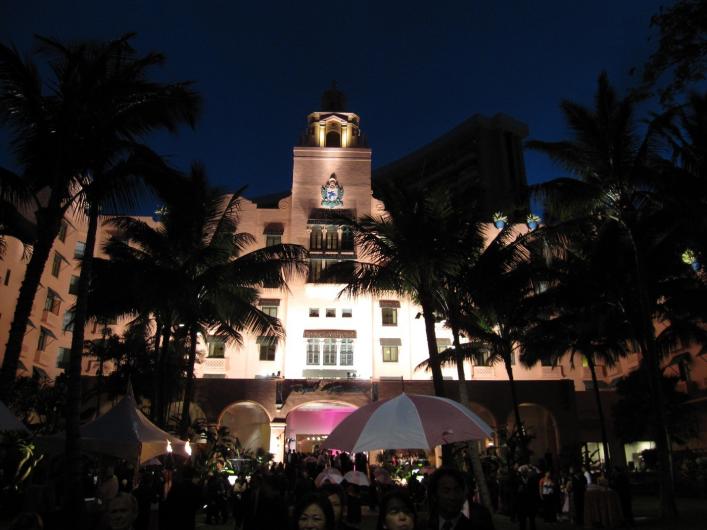 The Royal Hawaiian threw itself a grand opening gala on Saturday, blending the classic and modern eras of the 82-year-old Waikiki hotel into one unforgettable evening.
Guests at the luxe party were treated to much food, drink—including the Royal's signature mai tai—and a performance by virtuoso trumpeter Chris Botti. Celebrities in attendance included actors Hayden Panettiere (Heroes), Justin Long (He's Just Not That Into You), Heather Graham (Boogie Nights) and Jennifer Esposito (Samantha Who?) The entirety of the Royal Hawaiian property was open for exploration throughout the night.
About half the 528 rooms of the "Pink Palace of the Pacific"—newly coral pink, to be exact—have been open since the beginning of the year. Final touches on more than $110 million worth of renovations—launched back in June when the resort was shut down for seven months—ended this week before the big party.
In charge of the gala was New York-based wedding and event designer David Beahm, named one of 2008's Top 25 trendsetters by Modern Bride Magazine. Among his notable credits, Beahm designed the multi-million- dollar 2000 wedding of Michael Douglas and Catherine Zeta-Jones from top to bottom.
Gala guests—who were asked to dress "formal with a nod to pink"—were treated to several simultaneous party areas on the hotel grounds. 101-year-old ukulele virtuoso Bill Tapia and guitarist/vocalist Makana played on satellite stages on the Royal property. Later in the evening, a "convergence of parties"—that's Beahm's explanation—brought everyone together on the Royal's Waikiki beachfront lawn to dance to live music by Botti, performing in the Monarch Room ballroom. Late evening, live music and dancing continued on the lawn beneath the hotel's Spanish-Moorish façade.
Though rain fell intermittently through the evening—clearing up only during the gala's final hours—guests seemed to have a grand time exploring the variety of "parties" Beahm had scattered about the property (see photo slide show below). One of our favorites? A late evening gathering in the Royal's new moodily lit, mod-cool Azure restaurant (bottom photo), which wound up as THE spot for guests eager to party past the gala's midnight end. Among the scenes at beachfront Azure's tables and banquettes? Actor Justin Long (middle photo, arriving at the gala) getting goofy with a posse of friends. Lost cast members Michael Emerson and Daniel Dae Kim chatting with friends, occasionally leaving their pod of banquettes to scope the room. And Chris Botti hanging around long past his Monarch Room performance, making the rounds of Azure tables.
Tickets to the gala were $350 each. Corporate tables (at $10,000 each) and the resort's new beachside cabanas (at $5,000 each) were also available. Proceeds went to Oahu-based Rehabilitation Hospital of the Pacific.