Char's Chopsticks: A Taste of Puka Dog Waikiki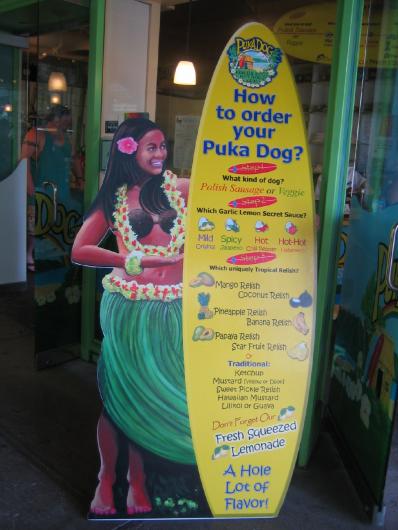 After watching Anthony Bourdain eat at Puka Dog Waikiki during his food travelogue No Reservations on the Travel Network, I had to have a Puka Dog.
But "What is a Puka Dog?" you might ask.
A Puka Dog is like a hot dog, except with an unusual bun. A mini loaf of bread is toasted on a cylinder (pictured below), creating a puka ("hole" in Hawaiian), just the right size for the Polish sausage and condiments.
The menu is printed on a surfboard.
You chose a Polish sausage or veggie hot dog (veggie?). Then you select one of the four garlic lemon secret sauces. Finally, you choose from seven tropical relishes, and, if you want, you can add the traditional condiments such as ketchup and mustard.
My Puka Dog was delicious, with original garlic lemon secret sauce topped with papaya relish and lilikoi mustard—fruit-flavors I'd never tasted before on a hot dog. Surprisingly, it wasnʻt as fruity as I was afraid it was going to be. The grilled polish sausage was juicy and almost as long as the bun. It made me wish I could make lunches like this at home.
The best thing to drink after eating a Puka Dog is their fresh lemonade. Unlike lemonade from a carton, this one is squeezed and made right in front of you.
Besides the restaurant in the Waikiki Town Center on Oahu, there is a Puka Dog restaurant in the Poipu Shopping Village on Kauai.
Caution: Hold the Puka Dog straight up. Do not turn it sideways like you would a normal hot dog. The mustard slides off easily if you tilt it the wrong way.
I learned this the hard way after taking a photo of my lunch.