Char's Chopsticks: Hamura's Saimin, Kauai's mom-and-pop saimin restaurant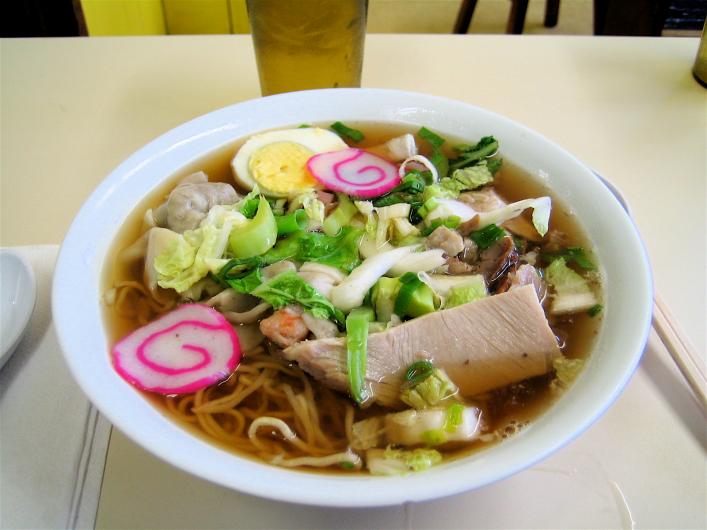 People always say, "If you go to Kauai, you have to try Hamura's Saimin." When I went to the Garden Isle, I had to see what everyone was talking about.
Hamura's Saimin is hidden in the heart of Lihue. Even with the address in hand, you have to drive slowly, keeping your eyes open for a small, old blue building on Kress Street.

Hamura's Saimin has been in business since 1951, and the building looks like it hasn't been painted since then. The restaurant's sign might be missing an "n," but inside the local eatery, you'll find one of Hawaii's best bowls of saimin.
I ordered the "Special Regular": noodles, fish cake, won ton, Chinese cabbage, a hard boil egg and pieces of pork in Hamura's special secret broth.
Besides the ono and, my favorite, Hamura's famous (tasty) saimin, Hamura's also sell BBQ beef and chicken skewerslilikoi chiffon pie.
When the waitress brought my slice of pie, I forgot to take a picture of it. It went straight into my mouth.
My apologies. I guess you'll have to check it out yourself.
UPDATE, 8/11/08: Hamura's Saimin is one of our "Best Places to Eat You Wouldn't Find on Your Own" winners.
For more editors' picks, check out our "Best of Hawaii" cover feature in our September/ October 2008 issue—available at most national bookstores and newsstands, by print subscription and in a digital format you can download.